Home minister, BSF must secure border, not TMC: Abhishek Banerjee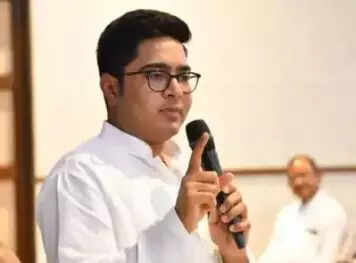 GUWAHATI: TMC national general secretary Abhishek Banerjee on Wednesday hit back at Union home minister Amit Shah for his remarks in Guwahati on Tuesday that the Centre has not received enough support from the West Bengal government to stop illegal infiltration.
"It is the sole responsibility of the BSF to stop cross-border infiltration. They are the ones guarding the border. If they have any issue, it should be taken up with the state government directly. It is also the responsibility of the central government and home minister himself to keep the border secured," said Abhishek.
He added that the silence of Shah regarding the (Citizenship) Amendment Act in his Assam visit and assurance to implement the same in West Bengal shows BJP's dual standard on the issue. "The TMC opposed this draconian bill (CAA) from the beginning. Those who have already given proof of their citizenship, how can you question their legality?" he asked.
He took a jibe at the Centre for allegedly using the ED and CBI to create fear in the opposition camp. "They can defeat the Congress and other party leaders by using the ED and CBI but not the Trinamool," said Abhishek, who went to seek the blessings of Ma Kamakhya soon after landing at the Guwahati airport on Wednesday morning.