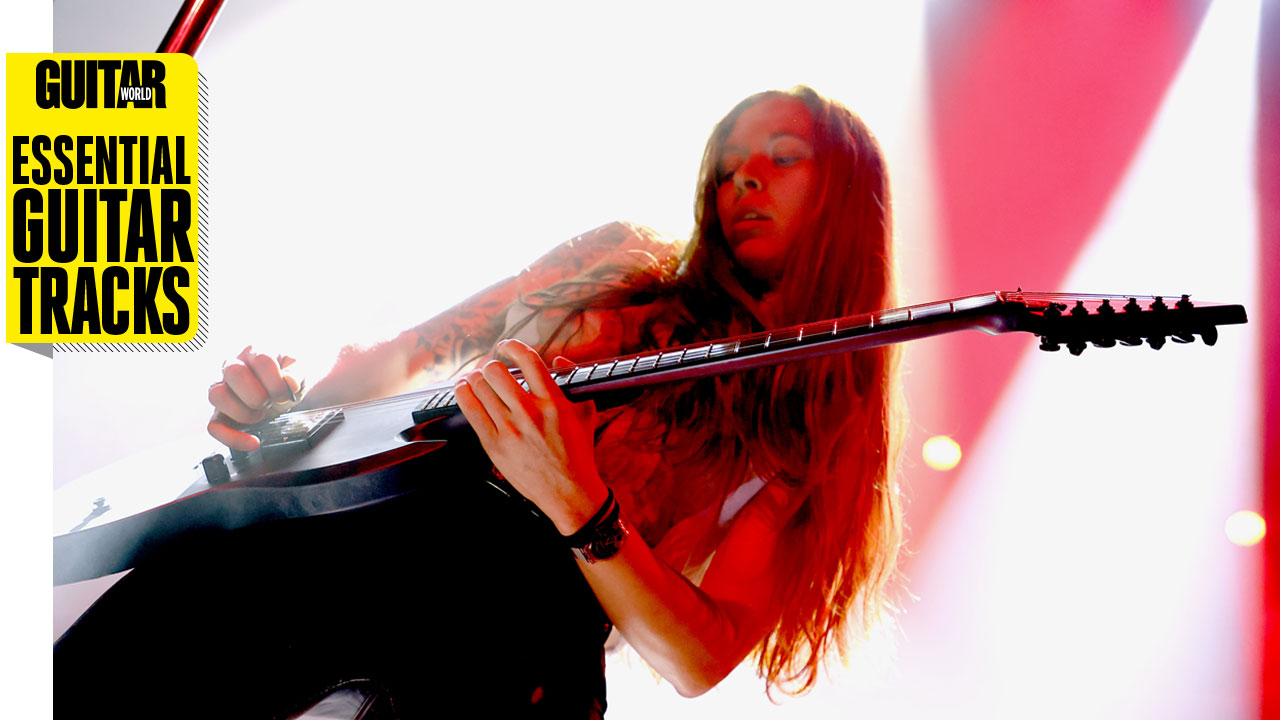 Hello, and welcome to a new Spotify playlist-embiggened Essential Guitar Tracks. As you may well know, every seven days (or thereabouts), we endeavor to bring you a selection of songs from across the guitar universe, all with one thing in common: our favorite instrument plays a starring role.
Our goal is to give you an overview of the biggest tracks, our editor's picks and anything you may have missed. We're pushing horizons and taking you out of your comfort zone – because, as guitarists, that's something we should all be striving for in our playing. 
So, here are our highlights from the past seven days – now with a Spotify playlist (scroll to the bottom for the latest additions).
Code Orange – Take Shape (feat. Billy Corgan)
After the one-two gut punch of The Game and Grooming My Replacement last month, the twice Grammy-nominated metal revolutionaries channel the kind of nu-metal and grunge that dominated MTV2 back in the day, with a Nine Inch Nails industrial edge and their trademark sonic nastiness – all with added Billy Corgan vocals in the middle eight (although, sadly, no solo). Also, anyone know where we can get a Strat like Dominic Landolina's gnarly snakeskin single-pickup offering? Asking for a friend… (MAB)
Dogstar – Everything Turns Around
Having recently starred in the fourth John Wick movie, Keanu Reeves (aka The Nicest Actor In The World) has now swapped visceral action for smooth rock 'n' roll, reuniting with his band Dogstar for Everything Turns Around – a new single that proves he is adept with a Fender Precision Bass in his hands as he is an assault rifle. (MO)
The Gaslight Anthem – History Books (feat. Bruce Springsteen)
What's more New Jersey than a Gaslight Anthem/Bruce Springsteen song? Well, maybe a Taylor ham, egg and cheese, but this hard-driving, anthemic rocker gives that wonderful culinary creation a run for its money. Neither Springsteen nor the Gaslight Anthem are known for extensive fretboard fireworks – their missions are storytelling, and boy, do they both do it well. Case in point are the morse-code leads that run through History Books, which add suspense and tension to the verses and bridges, and play a big role in the huge release of the choruses. (JM)
Alice Cooper – White Line Frankenstein (feat. Tom Morello)
Look, nobody's coming to White Line Frankenstein for the lyrics, which border on Spinal Tap parody. What we're really here for is the guitar onslaught of Nita Strauss, Tommy Henriksen, Ryan Roxie and, for one song only, Tom Morello. The RATM guitarist lends his toggle-switching talents to the track's middle solo, before blazing some of his trademark three-note-per-string alternate-picking runs. Major props to the killer harmonized riff that follows, too. (MAB)
Brothers Osborne – Sun Ain't Even Gone Down Yet
With news of a new studio album comes the release of a new single, and Brothers Osborne's Sun Ain't Even Gone Down Yet finds the bros at their very best. Slinky riffs seasoned with the ideal amount of sonic spice and the snappy strings of a supporting acoustic combine in the most infectious fashion, with a layered, lick-laden breakdown taking the track to even greater heights. (MO)
Buffalo Nichols – Love is All
A preview of the Milwaukee-based bluesman's forthcoming LP, The Fatalist, Love is All is a wondrous thing – a thought-provoking song that's both tough and tender, hewn in tradition and still incredibly modern. Nichols' driving fingerpicking is astonishing, but it's those harmonic chimes that really stand out. (JM)
Night Verses – Arrival
Nick DePirro is one of the most exciting instrumental guitarists tearing it up today, fusing the bombast of prog-metal with a riff swagger and affection for the Whammy pedal that nods to Tom Morello. So, yeah, we're pretty excited about Night Verses' first material in five years. Arrival goes off like an alarm, a wake-up call for unadventurous guitarists as DePirro traverses tight palm-muted chugs, waterfalls of syncopated delay lines and some seriously nasty pitch bends. (MAB)
Squirrel Flower – Full Time Job
Man, who said grunge was dead? To be as eloquent as possible – the leviathan, grime-crusted riffage that drives the latest tune from singer-songwriter/guitarist Ella Williams absolutely rips. And those sneaky leads! Talk about guitar hooks you can sing… (JM)
Big Thief – Vampire Empire
They played it live on late night TV in March – and it's been a setlist stalwart since long before that – but now Big Thief have finally given Vampire Empire its official release. There's always a sense of trepidation when a live favorite gets tracked in the studio, but Vampire Empire has turned out impeccably: Adrianne Lenker and co dial in the decorative percussion and gurgling guitars for a quintessential Big Thief number that we'll have on repeat for days to come. (MO)
Explosions in the Sky – Ten Billion People
After a run of soundtrack experiments, the poster boys of gut-wrenching post-rock are back with their first album in seven years, which is titled End but is apparently not the band's final album. That's good news, as time has done nothing to dampen the weepy appeal of their gossamer single-coil melodies and scorching tremolo-picked lines through cranked Fender tube amps. Ten Billion People is a slow-burn masterclass in subtle groove and hammer-on melancholy – and we wouldn't have it any other way. (MAB)
MJ Lenderman – Rudolph
The Wednesday guitarist has a second solo album in the works and this first slice is a delightful meld of fuzz and pedal steel – a 'fuzz-pedal' if you will. It's full of the wry references and laid-back rhythms of slacker rock, but there's an addictively sugary power pop edge to that crunching descending riff. (MP)
Evile – When Mortal Coils Shed
If The Unknown is the Ol Drake-fronted outfit's Black Album, new single When Mortal Coils Shed is its Unforgiven, as the track's stadium-sized tone and haunting clean arpeggios build to a gnarly blues-inspired middle section and some neat harmonized bend sections. It's a metal ballad done right, with light and shade, mood and feeling – and showcases the new avenues the band can explore when they ease off the gas from their "500mph" thrash metal roots. (MAB)
Also on this week's playlist…
Baroness – Beneath the Rose
The Mountain Goats – Clean Slate
Hail the Sun – Maladapted
beabadoobee – the way things go
The Armed – Everything's Glitter
Taking Meds – Outside
The Glorious Sons – Dream
GA-20 – Still As the Night
Sorry – Screaming in the Rain Again
Illuminati Hotties – Truck
Bob Vylan – Dream Big
Sylosis – A Sign of Things to Come
The Menzigers – There's No Place in the World for Me