Gene-editing breakthrough could 'transform understanding of human biology', say scientists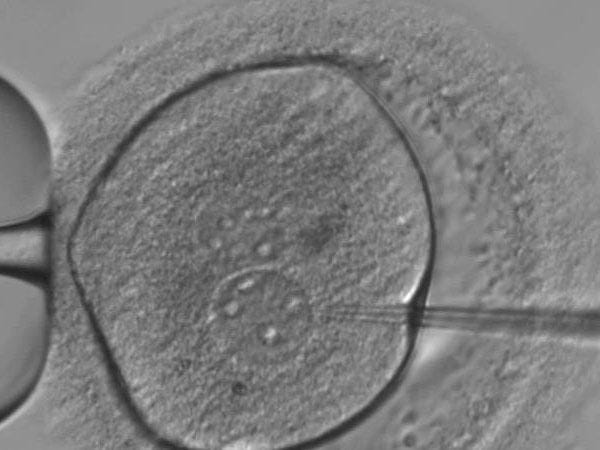 Genetic modification of a human embryo has led to an "exciting and important" breakthrough that could "transform our understanding of human biology", scientists have said.
For the first time, researchers used a genome-editing technique to remove a gene from an embryo in an early stage of its development, they reported in the journal Nature.
Doing so appeared to prevent the five-day-old embryo from forming the structure that later creates the placenta, suggesting the gene plays a key role in that process.
The scientists, led by Dr Kathy Niakan of the Francis Crick Institute in London, said the technique could now be used to find out a whole host of genetic factors that affect pregnancy, which are at present poorly understood.
This could revolutionise IVF, helping couples with fertility problems have children, but also lead to advances in regenerative medicine. This involves using stem cells, which can form any kind of tissue, to replace missing structures in the body or repair damage.
Commenting on the breakthrough, the Medical Research Council's chief science officer said it cemented Britain's position as "a global leader for scientifically and ethically rigorous laboratory studies using genome editing to understand early human development".
Dr Niakan said: "One way to find out what a gene does in the developing embryo is to see what happens when it isn't working.
"Now we have demonstrated an efficient way of doing this, we hope that other scientists will use it to find out the roles of other genes.
"If we knew the key genes that embryos need to develop successfully, we could improve IVF treatments and understand some causes of pregnancy failure."
However she added that the study was "just the first step" and cautioned it "may take many years to achieve such an understanding".
In the Nature paper, the researchers said that despite their "fundamental biological and clinical importance", the processes that govern the first "cell fate decisions" of a human embryo were "not well understood".
To help address this, they used the Crispr-Cas9 genome editing technique to investigate the effect of a gene known as POU5FI, which affects a developmental regulator called OCT4.
While finding out the gene's role in the creation of the blastocyst, an early embryo structure which later helps create the placenta, is itself an advance in our understanding of the creation of human life, the scientists also wanted to find out if it was actually possible to edit the genome of an embryo.
"We conclude that Crispr-Cas9-mediated genome editing is a powerful method for investigating gene function in the context of human development," they wrote.
"This proof of principle lays out a framework for future investigations that could transform our understanding of human biology, thereby leading to improvements in the establishment and therapeutic use of stem cells and in IVF treatments."
Another member of the team, Dr Norah Fogarty, also of the Crick institute, cautioned that further research was needed.
"We were surprised to see just how crucial this gene is for human embryo development, but we need to continue our work to confirm its role," she said.
"Other research methods, including studies in mice, suggested a later and more focused role for OCT4, so our results highlight the need for human embryo research."
Sir Paul Nurse, the former president of the Royal Society and now director of the Francis Crick Institute, described the research as "exciting and important".
"The study has been carried out with full regulatory oversight and offers new knowledge of the biological processes at work in the first five or six days of a human embryo's healthy development," he said.
"Kathy Niakan and colleagues are providing new understanding of the genes responsible for a crucial change when groups of cells in the very early embryo first become organised and set on different paths of development.
"The processes at work in these embryonic cells will be of interest in many areas of stem cell biology and medicine."
Other scientists also praised the study as a significant step for science.
Dr Rob Buckle, chief science officer at the Medical Research Council, said: "This ground-breaking research cements the UK's position as a global leader for scientifically and ethically rigorous laboratory studies using genome editing to understand early human development.
"Genome editing technologies – particularly Crispr-Cas9 used in this study – are having a game-changing effect on our ability to understand the function of critical human genes.
"While the science is at a relatively early stage, these findings pave the way for uncovering the function of genes critical to human development and health, and importantly can tease-out critical differences to knowledge gained through working with animal models."
Apparently referencing the concerns held by some about gene-editing of humans – such as the suggestion scientists could create 'designer babies' – Dr Buckle said it was "vital that this work continues within a robust yet adaptable regulatory framework so that its full potential can be realised in a scientific, ethical and legally rigorous way".
Dr Dusko Ilic, an expert in stem cell science at King's College London, pointed out how important such research was for many prospective parents and added that it had also revealed the limitations of research on animals.
"One in every four couples has been affected by infertility and to address the issue, we have to understand the biology of the earliest stages of human development," he said.
"To do that, we cannot rely only on animal, mostly mouse, models. In this proof-of-concept study, using genome editing Crispr/Cas9 technology, the scientists have demonstrated that a gene POUF51 plays somewhat different roles in human than in mouse preimplantation embryos.
"This is in a way unexpected, because of the dogma that the earliest stages of development are common for all mammalian and even some non-mammalian species. The study is another proof that the findings from experimental animal models cannot be always extrapolated to humans."