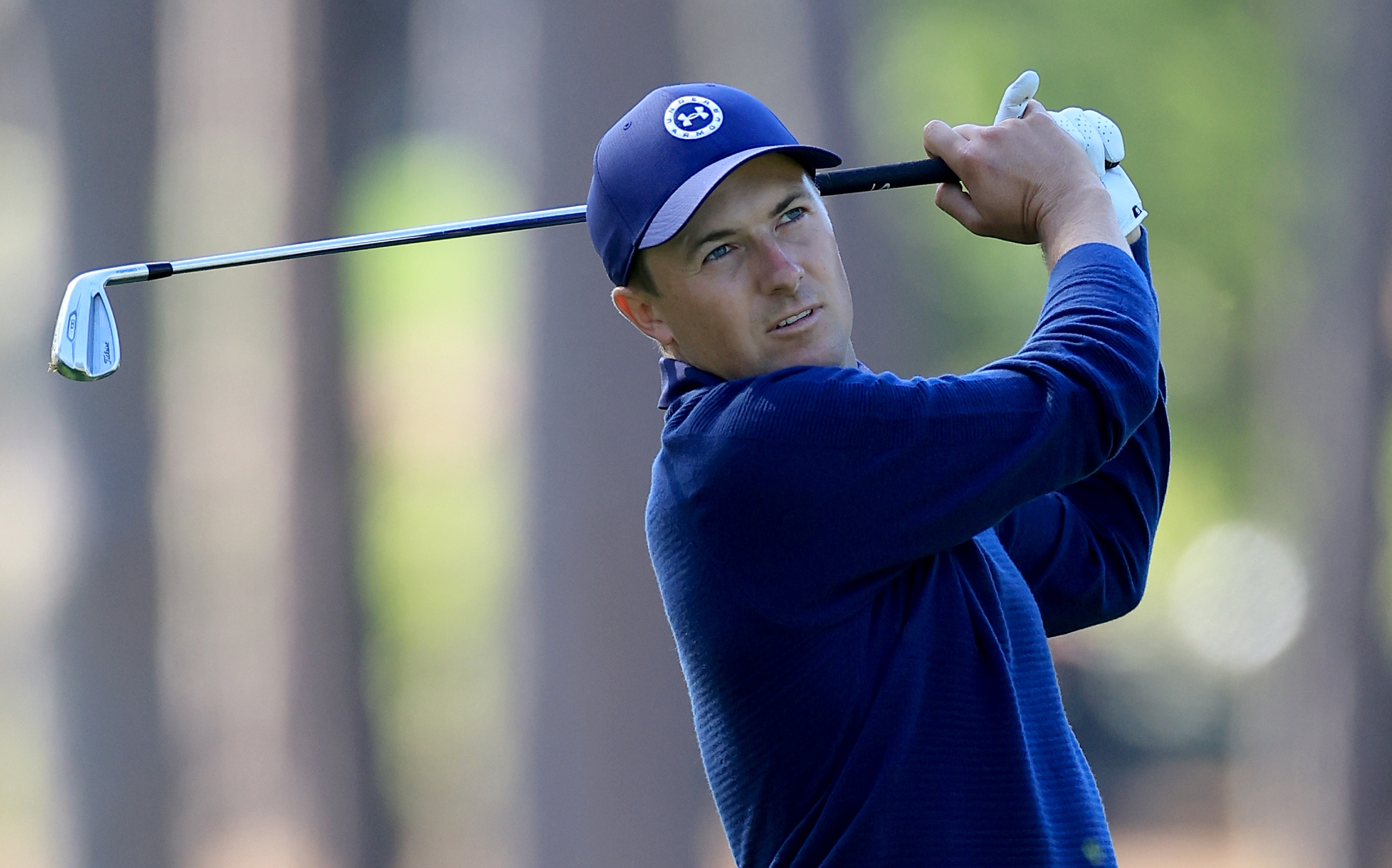 This week, we're back for another exciting stop on the PGA Tour at Hilton Head Island, South Carolina. The 2023 RBC Heritage just became a designated event, which means the majority of the best golfers on the Tour will head eastward from Augusta to the coastal shores of the low country in South Carolina for a chance to compete at Harbour Town Golf Links. It's a par 71 track that runs just over 7,200 yards, featuring 3,700 square foot Bermudagrass greens, which is a much different test than players were dealt during The Masters. Ball striking and accuracy off of the tee and tee-to-green become more critical at the RBC Heritage, as the putting surfaces are a bit slower on Bermuda at 12.5 feet via the Stimpmeter.
It was exciting to watch Jon Rahm win his first Green Jacket after strong opening and closing rounds, battling the elements and delivering sensational iron play, and putting in to outplay Brooks Koepka down the stretch. My recommended DFS plays were a mixed bag of results. Jordan Spieth could've been in contention if not for a +4 round on Saturday, delivering a six-under-par closing round to climb into a T4 finish. Patrick Cantlay (T14), Sungjae Im (T16), and Justin Rose (T16) all logged T16 finishes or better, while Rory McIlroy suffered a huge disappointment by missing the cut at +5. Even Jason Day, who began The Masters at -5-under-par, imploded after making the cut, winding up T39 (+5) due to an absurdly high round of 80 on Sunday. Despite McIlroy and Day falling flat, the other four plays were commodities in DraftKings and FanDuel lineups, so hopefully, you tailed them and wound up cashing a few DFS contests. 
I've scoured the RBC Heritage slate and have identified six of my favorite prospects who can help us cash our DraftKings and FanDuel lineups at the RBC Heritage. Let's find out why each player should be prioritized in DFS lineups ahead of Thursday's opening tee times from Harbour Town Golf Links. 
Before we get into our RBC Heritage DFS Picks and Targets, make sure to take a moment to check out these awesome sports betting offers for this week. You can use one of the HUGE first bet offers to wager with more confidence on your 2023 RBC Heritage selections this week.
DraftKings $50,000 Maximum Salary
Jordan Spieth ($10,400)
We've heard Jordan Spieth talk about the mental exhaustion he's experiencing due to an increased PGA Tour schedule, but that won't stop me from recommending the defending champion at RBC Heritage. Spieth can be a bit volatile at times, but he's one of the best bounce-back players on the PGA Tour and ranks 27th in strokes gained tee-to-green, which is a significant metric to adhere to when playing a short, precision course like the one we're getting at Harbour Town. Spieth is also ranked 19th in strokes gained around the green, and the intermediate cut surrounding most of the Bermudagrass greens creates ideal conditions for him to collect his fifth T10 finish in 12 events played this season. He's nearly $1K cheaper than Jon Rahm and Scottie Scheffler, so consider Spieth a high-value blue-chip prospect to insert into DraftKings lineups this week. 
Tony Finau ($9,400)
Tony Finau has been a bit underwhelming since the 2023 PGA Tour season began; however, he's consistently hovering around T25 finishes in 10 of 11 events played. The 33-year-old has some of the best irons, ranking fourth in total strokes gained, including fifth tee-to-green, third approaching the green, and 22nd in strokes gained putting. Finau has produced 12-21 birdies in each of his previous five events, yielding anywhere from 61.5 - 89.5 DraftKings fantasy points in DFS lineups. The last time Finau competed at RBC Heritage, he logged a T33 finish, staying below par in all four rounds. At $9.4K on DraftKings, we're getting solid value by inserting Finau into lineups, so go ahead and add him with confidence, especially since his skill set aligns with the challenges of a course like Harbour Town. 
Justin Thomas ($8,900)
I have to be fully transparent here; recommending Justin Thomas is not something that I do a lot. However, he's among the best strokes-gained tee-to-green players on the PGA Tour, ranking 11th, while no one performs better around the green. The putter has been Thomas' Achilles heel this season, as he's ranked 145th in this metric, but at Harbour Town, irons reign supreme. Few players do it better and more consistently than Thomas, so at an $8.9K salary on DraftKings, consider Thomas a massive value addition to lineups. Previous finishes of T35 and T8 at the RBC Heritage, combined with the motivation we can expect from Thomas after missing the cut at Augusta National last week, make him an ideal candidate to roster in DFS lineups. 
FanDuel - $60,000 Maximum Salary
Scottie Scheffler ($12,100)
It'll be fun to watch Scottie Scheffler acclimate to Harbour Town for the first time in his career. You read that correctly. The World No. 1 ranked golfer will make his debut at RBC Heritage following its recent upgrade as a designated event on the PGA Tour. Scheffler is the best player when it comes to strokes gained tee-to-green, which we saw at Augusta, but the putter flared up and prevented him from contending on Sunday. That won't be the case at Harbour Town, where irons and play around the green can reward players with red scorecards. We're paying up for Scheffler at $12,100 on FanDuel, but he's still $100 cheaper than Jon Rahm, plus his strengths fit the layout of Harbour Town. It's always a bit nerve-wracking backing a player making his debut at a course, but we're talking about Scheffler, not a value bin commodity. Let's ride the hot hand, which hasn't dipped below a T12 finish since October. 
Tommy Fleetwood ($9,700)
Since RBC Heritage tends to reward quality iron players, 32-year-old Englishman Tommy Fleetwood, is someone to prioritize in DFS lineups. Not only are we landing good value at a reduced salary, but Fleetwood has been solid in previous outings at Harbour Town, logging a T10 finish here in 2022 and a T25 back in 2019. He's ranked 12th in strokes gained tee-to-green, second in strokes gained around the green, and 25th approaching the green. He's one of the rare quality iron players who possess a consistently good putter, ranking 53rd in strokes gained putting. The key to Fleetwood's success will be scrambling on the small greens, as he ranks outside the top 100 in hitting them in regulation while performing well with scrambling closer than 30 yards and from the rough. At a sub-$10K salary on FanDuel, I like Fleetwood's floor and ceiling quite a bit, so plug him in. 
Chris Kirk ($9,600)
Staying in the mid-$9K range, Chris Kirk jumps off the board in terms of value. The 37-year-old is recently removed from his fifth outright win at The Honda Classic, which he's followed up with two more T25 finishes, including a T10 at Valero. Kirk missed the cut at RBC Heritage last year but drew a T7 finish in 2021, staying below par in all four rounds and saving his best for the second and fourth rounds to climb into the top ten. He's ranked 16th in total strokes gained, which includes 32nd tee-to-green, 12th around the green, and 24th putting. Kirk is also ranked inside the top ten when it comes to sand save percentage, which bodes well for him confronting the dozens of sand traps scattered throughout Harbour Town. Kirk is the best player in three-putt avoidance and has 63 - 84 FanDuel fantasy points in three of his previous four events, so he's another rare player with quality putting and irons blended together to form an ideal prospect at RBC Heritage.