A new crop of talent hits the NFL every year, and fantasy managers across the nation are looking for impact players to help them secure a league title. In 2022, we enjoyed a splash rookie season from Seahawks RB Kenneth Walker III. There were big moments for rookie wide receivers like Garrett Wilson, Chris Olave, Christian Watson and George Pickens.

As we near the 2023 NFL draft, let's take a closer look at the prospects in SI NFL's latest NFL mock draft from Kevin Hanson and consider the fantasy implications of his selections.
Note: Hanson's mock draft was written before the end of the NFL season so the draft order is different now.
1. Houston Texans: Bryce Young, QB, Alabama
Fantasy player comparison: Tua Tagovailoa 

The silver lining for the 2022 Texans was Dameon Pierce and a new quarterback like Young or C.J. Stroud would go a long way to change the complexion of a struggling franchise. What I appreciate about his game already are traits like poise, pocket comfort, reading defenses, progressing through his routes and excellent decision-making. There are questions about his arm and I feel the Tagovailoa comparisons are inevitable. The Texans still need help at receiver, so Young would need more help to blossom into a startable fantasy QB in Year 1.
5. Indianapolis Colts: C.J. Stroud, QB, Ohio State
Fantasy player comparison: Justin Herbert 

The Matt Ryan experiment failed and after calling in veterans the last few years, it's time for the Colts to seriously address the quarterback position. Stroud would be a welcome stylistic contrast to their power running game. He can stand in the pocket and deliver great passes with a big arm, great feel, elite timing and generous accuracy. Like Herbert, the arm talent is real and there's enough athleticism to get the job done, extend the play and keep plays alive outside the pocket. Stroud would give a huge boost to Michael Pittman, Parris Campbell and Alec Pierce, while also giving the offense enough of a pass attack to improve Jonathan Taylor's chances with fewer defenders stacked in the box.
8. Carolina Panthers: Will Levis, QB, Kentucky
Fantasy player comparison: Nick Foles
So far, what others see in Levis, I don't see it. To be fair, most view him as a hit-or-miss prospect who didn't get a chance to show his full talents because of a weak supporting cast at Kentucky—that's fair. However, plenty of developing signal-callers play under duress and show their talent. I haven't seen much of that yet. Blessed with ideal size and a very strong arm, Levis throws a good ball. The problem is when the pocket collapses or his feet aren't set. There were a lot of mistakes. His pocket feel really concerns me. I believe the Panthers should take Florida's Anthony Richardson if they want a QB, as I rate him as a slightly better prospect. Levis will need a year and forcing him to play early would be a problem for Carolina. I don't believe he will have any fantasy potential until his second season. 
11. Houston Texans (via Browns): Quentin Johnston, WR, TCU
Fantasy player comparison: Cordarrelle Patterson
Some may view the comp to Patterson as a slight. It's not intended as such. There's just a certain hunger a receiver can put on display after the catch. Think back to Terrell Owens, who also ran with tenacity with the ball in his hands. Johnston has that flair, and he already shows above-average hands and body control to make tough catches. The measurables are all excellent, but I don't believe he's half the route runner many are making him out to be. Excellent prospect with a first-round grade who would supercharge the Texans' receiver depth chart.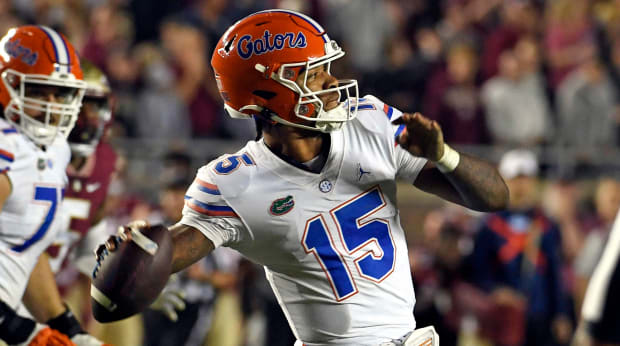 12. Seattle Seahawks: Anthony Richardson, QB, Florida
Fantasy player comparison: Cam Newton 

Just a big, strong, athletic dual-threat quarterback who will need patience from his team. If teams are so willing to give Will Levis a pass and overlook his incomplete resume, they should do the same with Richardson. I'd love to see Richardson sit a year (or two) behind Geno Smith in this situation. While Richardson is not similar to Smith as a prospect, Smith excels in many of the ways the rookie is lacking, like mechanics and accuracy. Richardson may not have a 2023 impact, but there's plenty to be optimistic about long-term.
14. New England Patriots: Jordan Addison, WR, USC
Fantasy player comparison: Brandin Cooks 

Some guys just have it. An undersized prospect at 6'0" and 175 pounds, Addison plays bigger than his size. While often used as a deep threat, I like his route tree enough to where I believe he'll excel in the short and intermediate game as well. Landing in New England seems like a stretch to me, given the franchise's stone-cold refusal to ever adequately address the position. But he would provide Mac Jones a difference-maker and release valve to open up areas of the field that fit with the Patriots' style of play.
17. Green Bay Packers: Michael Mayer, TE, Notre Dame
Fantasy player comparison: Rob Gronkowski

There's been no shortage of Notre Dame tight ends coming into the NFL over the years—Kyle Rudolph, Tyler Eifert and Cole Kmet to name a few. But Mayer may be the best TE prospect from that school ever (sorry, Mark Bavaro). The comparisons to Gronkowski are quite common, as the the speed and separation aren't that great. But he just has a knack for making big catches in tight windows while scratching and clawing his way to more yards after the catch. The Packers giving Aaron Rodgers a better option than Robert Tonyan to open up the middle of the field for Christian Watson would do wonders.
20. Tampa Bay Buccaneers: Bijan Robinson, RB, Texas
Fantasy player comparison: Christian McCaffrey 

The lone running back mocked in this first round is a special one. Many believe he's the best RB prospect since Saquon Barkley and could be even better. As Hanson highlights, Robinson has "outstanding size, speed, contact balance and elusiveness and is a talented receiver out of the backfield." He's the consensus No. 1 dynasty player and depending on his landing spot, Robinson is the most appealing rookie running back and could be a second-round fantasy pick.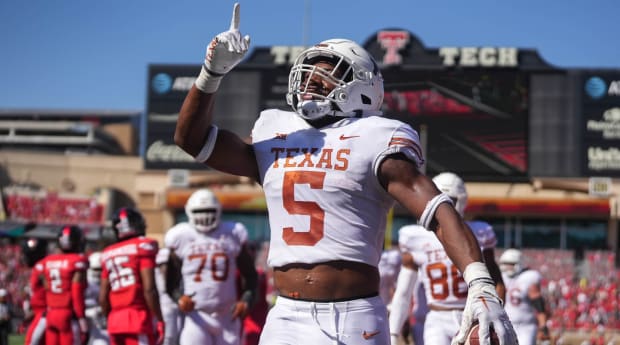 22. New York Giants: Jaxon Smith-Njigba, WR, Ohio State
Fantasy player comparison: Hines Ward

Like Ward, grit, intelligence and tenacity will provide the lubrication to JSN's career. I don't like the measurables—speed, agility, hands, route-running and so on. I didn't like Ward as a prospect, either. But some guys just get it done. I don't believe JSN is a Day 1 or Day 2 prospect. That doesn't mean he's a bust, but considering it is the Giants taking him here in this mock, a bust at wide receiver makes sense. I don't believe JSN is a No. 1 receiver. If he could join a team like the Eagles, who already have A.J. Brown and DeVonta Smith, that'd be perfect to take pressure off the rookie.