Emma Raducanu's January tweet about A Levels shows just how much has happened in 2021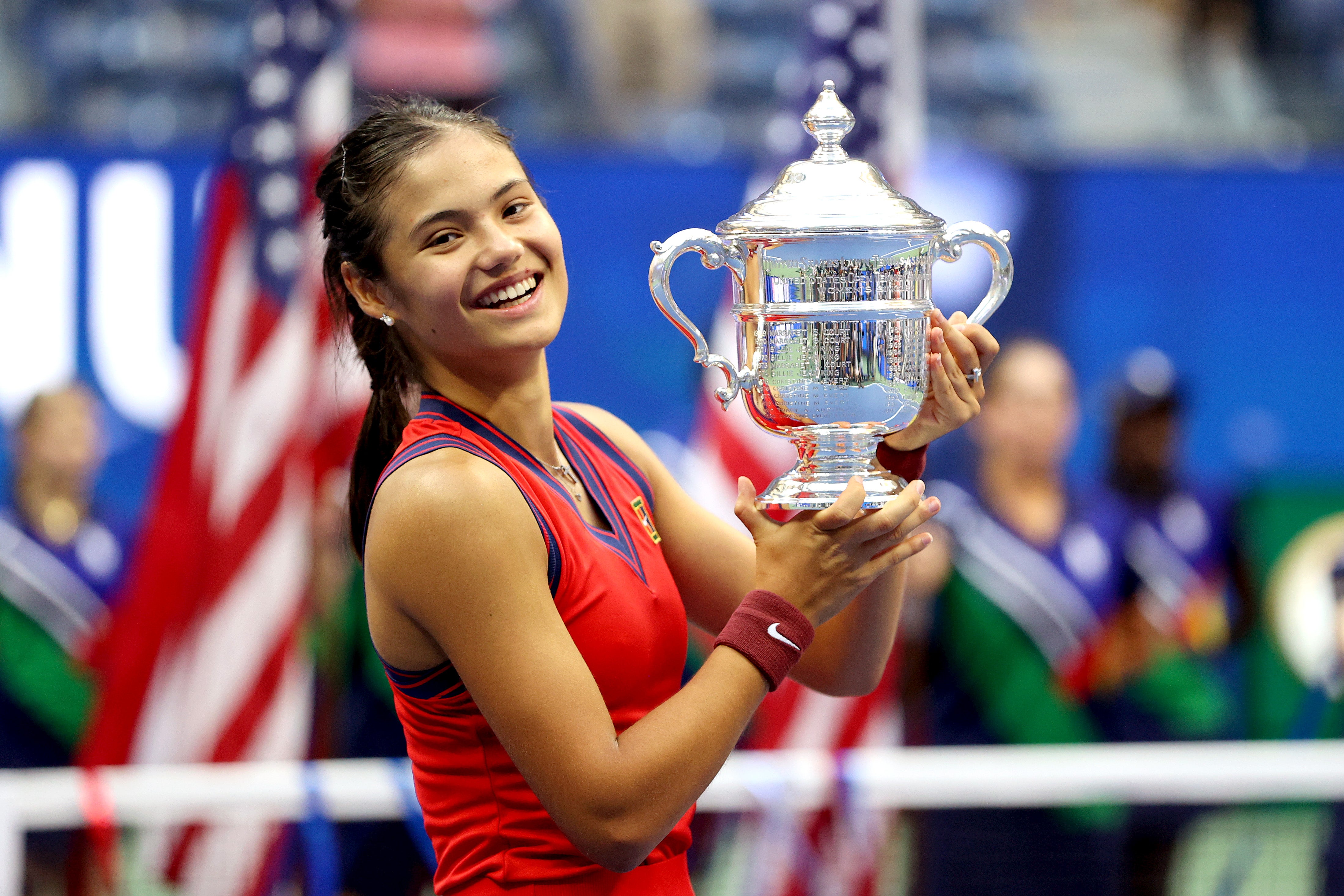 It's been a long year for all of us so far and sometimes it's hard to fathom just quite how much has happened in the past eight months.
From lockdown at the start of the year (where do we even start with all the ups and downs of that?), to the promise of a summer of freedom – with the Euros, the Olympics, new variants and frankly terrible weather all thrown in the mix.
But there surely can't be any better example of the sheer rollercoaster that this year has been than that of British tennis star Emma Raducanu, who was tweeting about her A Levels in January – and is now the US Open champion.
Little over three months ago, the 18-year-old was a full-time schoolgirl completing her exams, with competitive tennis having taken a back seat for more than a year. And, in the months before that, she was just like every other teenager, worrying and wondering what on earth was going on with her school exams amid the chaos of the pandemic.
Yet, despite that, Raducanu soared to victory in a straight-sets win against fellow teenager Leylah Fernandez in a thrilling final in New York on Saturday.
After the breathtaking win, several people shared a tweet that Raducanu had posted in January about her exams, amazed at how far she had come in such a short space of time:
Do love that @EmmaRaducanu was tweeting about A Levels 8 months ago https://t.co/mOwEMqci17

— Helena Wilkinson (@BBCHelena) September 11, 2021
In comparison, Raducanu is now getting Twitter mentions from the likes of the Duchess of Cambridge and England captain Harry Kane after going overnight from a rank outsider to one of the top names in the game.
Others, meanwhile, just couldn't believe how much the teenager had achieved in the past few months, so soon after finishing her education:
Many congratulations @EmmaRaducanu - after I got my A Levels I worked nights in a frozen vegetable factory, so I think we know who the real winner is here. #Raducanu #USOpen2021

— Ian Lewins (@ianlewins) September 11, 2021
This time 12 years ago, after I'd finished my A Levels, I couldn't even complete a Halls Admissions form for Halls at the University of Birmingham properly, so ended up living above a Korean supermarket. Emma Raducanu on the other hand. Absolutely fucking magic. Hero. #USOpen

— Alex Butler 💙 (@ButlerAlexG) September 11, 2021
The biggest achievement I had in the September after my A levels was finding the boy I met and fancied on the uni open day on Facebook whose name I didn't even know. #EmmaRaducanu https://t.co/h3DT8f1mTc

— Áine O'Brien (@aineclareob) September 11, 2021
Thinking back to the summer after my A Levels & what I got up to... all those international tennis tournaments I won..
or not...@EmmaRaducanu out. of. this. world...

— Duncan Shrubsole (@duncanshrubsole) September 11, 2021
What did you do after your A Levels?

Went to New York, won the US Open, and banked $2.5m.

Nice one @EmmaRaducanu pic.twitter.com/7aIVhpB2dC

— Andy Lewis (@AndyLewis_RE) September 11, 2021
Emma Raducanu casually doing A Levels one minute then just wiped out the US open the next. Deeply impressive stuff 👏🏽

— FunkLip is Well-T (@funkomi) September 11, 2021
Absolutely incredible @EmmaRaducanu! How do you go from sitting your A Levels three months ago…to qualifying for the #USOpen for the first time…then winning it without dropping a set?! What a story 🌟🎾

— Becky Davis (@Becky_Davis) September 11, 2021
Raducanu's 6-4 6-3 victory made her the first British woman since Virginia Wade – who was watching from the stands – 44 years ago to win a slam singles title, and the first in New York since Wade in 1968.
As well as a cheque for £1.8million – dwarfing her previous earnings of £220,000 – Raducanu collects 2,000 ranking points and will soar up the standings from 150 to 23.
It's fair to say that Raducanu's rise to a grand-slam champion is one of the greatest ever seen in the sporting world.
With all that in mind, we wonder what she'll be tweeting about in January 2022?