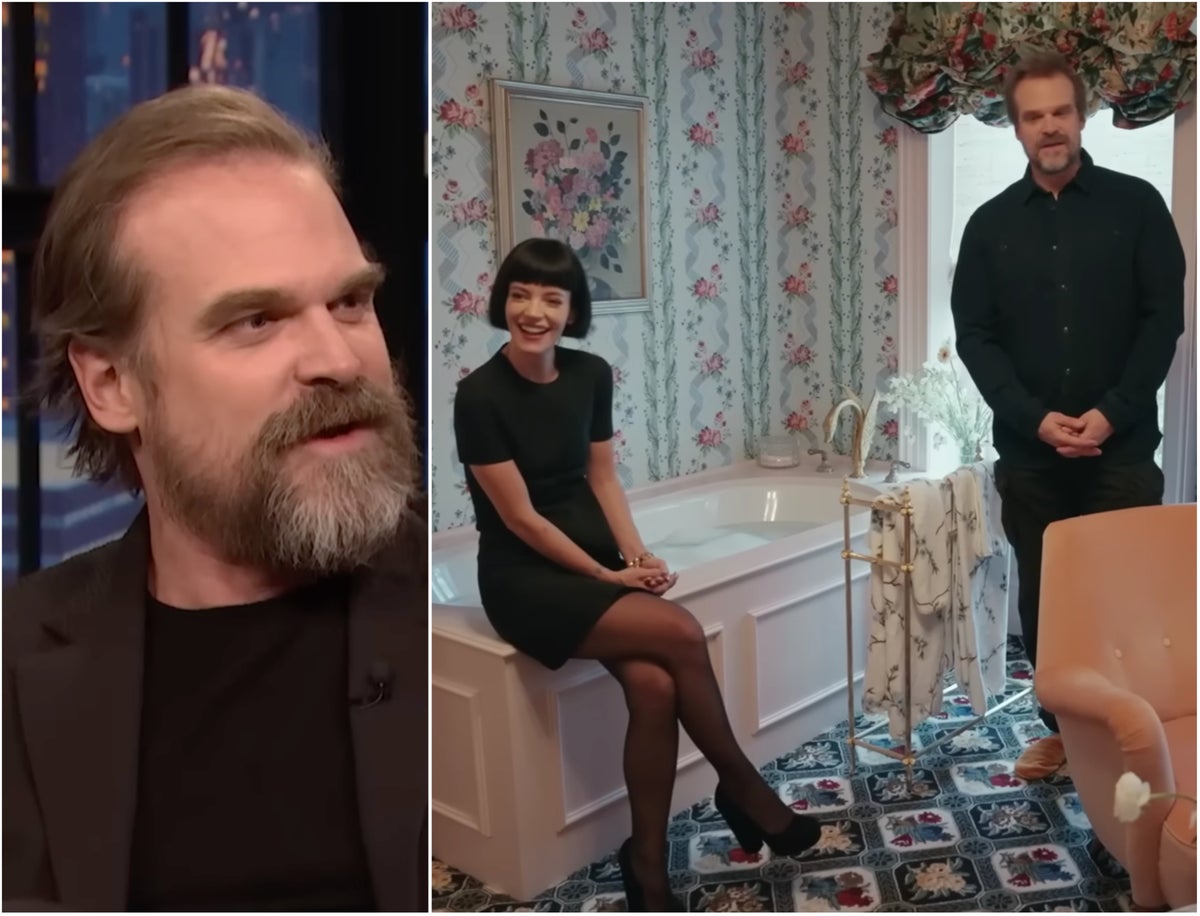 David Harbour had the opportunity to defend himself on Late Night with Seth Meyerson Monday (13 February) after fans mocked his and wife Lily Allen's carpeted bathroom.
Harbour and Allen showed off their Brooklyn townhouse in a home tour for Architectural Digest earlier this month.
However, the bathroom, which featured floral carpets was heavily derided online by fans who said it gave them "anxiety".
"Listen to the groaning already!" Harbour exclaimed after Meyers showed the audience his bathroom.
Asked if the carpet in the bathroom was a couple's decision, Harbour replied: "No. I made very few decisions in this house."
Meyers then asked how the actor felt about it, to which he replied slow and unconvincingly: "Look, I like it...
"There's a romance to a carpeted bathroom," the Stranger Things star continued. "[You feel like you're] in Paris in the '20s."
"Before they invented tiles?" Meyers interjected.
Asked about the social media backlash against the bathroom, Harbour laughed and said: "I think everyone's become such a nerd since Covid, you know what I mean? Such squares! It's like, whatever, it's a little bit of mould."
Meyers then had his guest read out tweets about the bathroom, which included: "Not even David Harbour can make me feel good about carpet in the bathroom."
In the Architectural Digest interview, Allen revealed her children call their home "the clown house, but they say it in the most loving way".
The "Smile" singer is the mother of two, Ethel, 11, and Marine, 10, whom she shares with ex-husband Sam Cooper.
Harbour and Allen got married in Las Vegas in September 2020.
Elsewhere in the Late Night interview, Harbour said that Jennifer Coolidge got "really pissed" at him for not strangling her hard enough in their new Netflix comedy, We Have a Ghost.
"I'm not gonna strangle America's Sweetheart," Harbour said.
We Have a Ghost premieres on Netflix on 24 February.