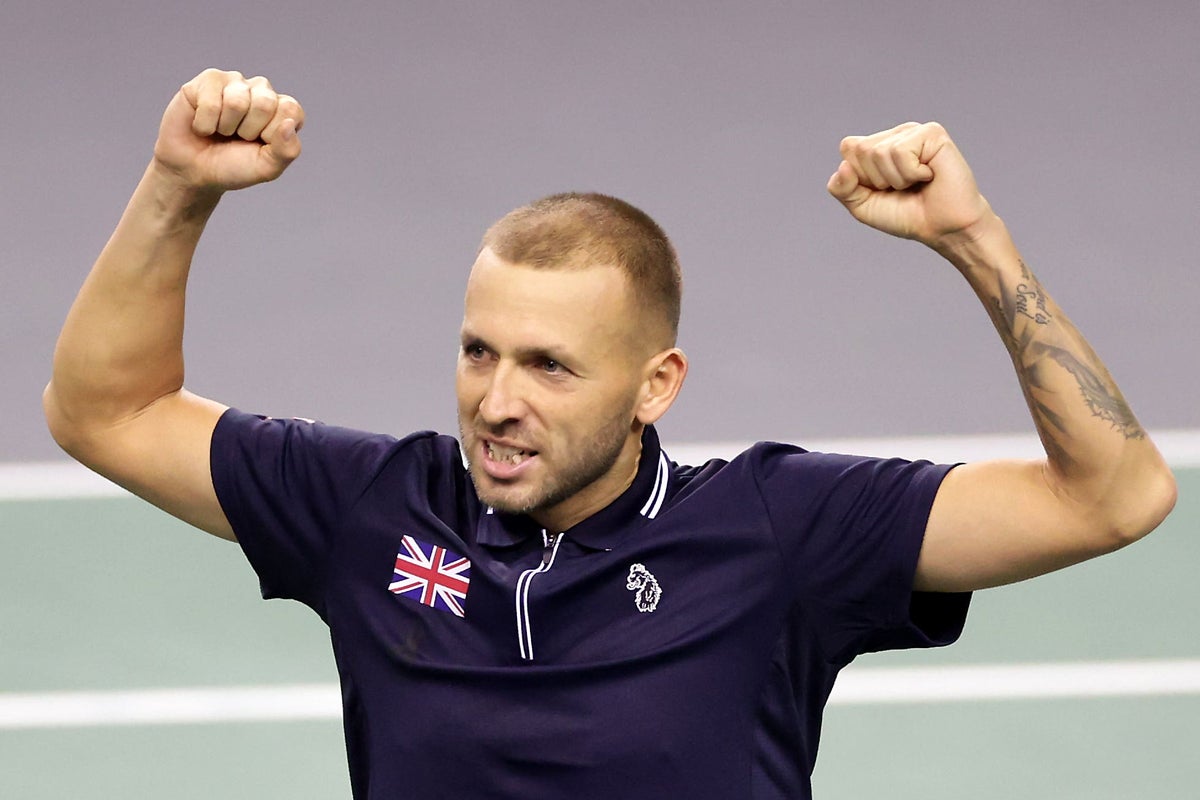 Dan Evans would like to see Davis Cup ties revert to the old home-and-away format following the collapse of the International Tennis Federation's long-term deal with Gerard Pique's Kosmos group.
The ITF controversially partnered with the former Barcelona and Spain footballer in 2018 to revamp the historic competition, with Kosmos promising to invest three billion US dollars in the sport over 25 years.
It seemed hugely unlikely at the time that the competition would generate the sort of income to support such an investment and so it has proved.
British number two Evans reacted to the news with typical candour, saying: "It is disappointing that they can't keep filling our pockets. It was a matter of time, wasn't it? We were getting paid a little too much for not a lot, I guess."
Kosmos largely scrapped the home-and-away format in favour of a World Cup style event, with 18 teams contesting the inaugural finals week in Madrid in 2019.
It was not a disaster but ties not involving Spain were marred by low attendances and fans and players bemoaned the loss of the sort of atmospheres that were the competition's biggest strength.
The format has been tweaked over the past two years after the 2020 edition was postponed because of the Covid-19 pandemic, with this year's tournament featuring a group stage held across four cities including Glasgow in September before a final eight showdown in Malaga in November.
The ITF has committed to keeping the same format for this year but the future direction of the competition is now clouded in uncertainty.
One of the criticisms of the old format was top players were no longer prepared to commit several weeks across the year to Davis Cup but Evans believes reverting back could prove a success.
"The younger generation, I think they are pumped to win the Davis Cup," he said. "We changed it when I don't think it necessarily needed the whole format changing.
"Davis Cup is about the fans. It's not about the players, in my opinion. If you've got home and away, I think you're still getting a good crowd. Glasgow was tough for the other matches (not involving Britain). It doesn't look good for the tournament."
The ITF tried to put a positive spin on the news, saying in a statement: "The ITF negotiated a strong deal for tennis in 2018. The partnership increased participation, prize money and interest in Davis Cup and produced funding to support the global development of our sport."
I know in this world now it's hard to tell the truth but I was brought up to tell the truth and speak your opinion and I won't change that.

— Dan Evans on his criticism of Leon Smith
The qualifying round does still feature home-and-away ties and Evans is set to be part of the British team that heads to Bogota to take on Colombia immediately after the Australian Open.
The outspoken 32-year-old previously indicated he was considering not playing in future ties after criticising captain Leon Smith for not picking him for doubles in Glasgow.
But he has had a change of heart, saying: "Playing with the Union Jack on your chest doesn't happen very often and sooner or later you won't be good enough to be in the team. So I think every chance I get now I'll put myself forward to play.
"Although it is in Colombia miles away, it's terrible travel, not a great spot, I think that's when you stand up and be counted for your country."
Evans' comments regarding doubles selection did not go down well but he insisted there was no need for clear-the-air talks with Smith, saying: "He asked me if I would play and I said yeah. That was it.
"That was my opinion on the matter. I know in this world now it's hard to tell the truth but I was brought up to tell the truth and speak your opinion and I won't change that."
Intriguingly, Evans called for Tim Henman, who earned plaudits for his captaincy at the recent United Cup, to be brought more into the British tennis fold.
While acknowledging the former world number four's services would come at a price, he said: "(I don't know) if that question has been asked or not by the federation. But, if it has not, it is staggering.
"These guys, the ex-players, need to be kept in the game, the very good ones anyway. He was popular, he was great, he really helped."
Evans, who hopes he has put a recent illness behind him, will play Facundo Bagnis in the first round of the Australian Open on Tuesday.