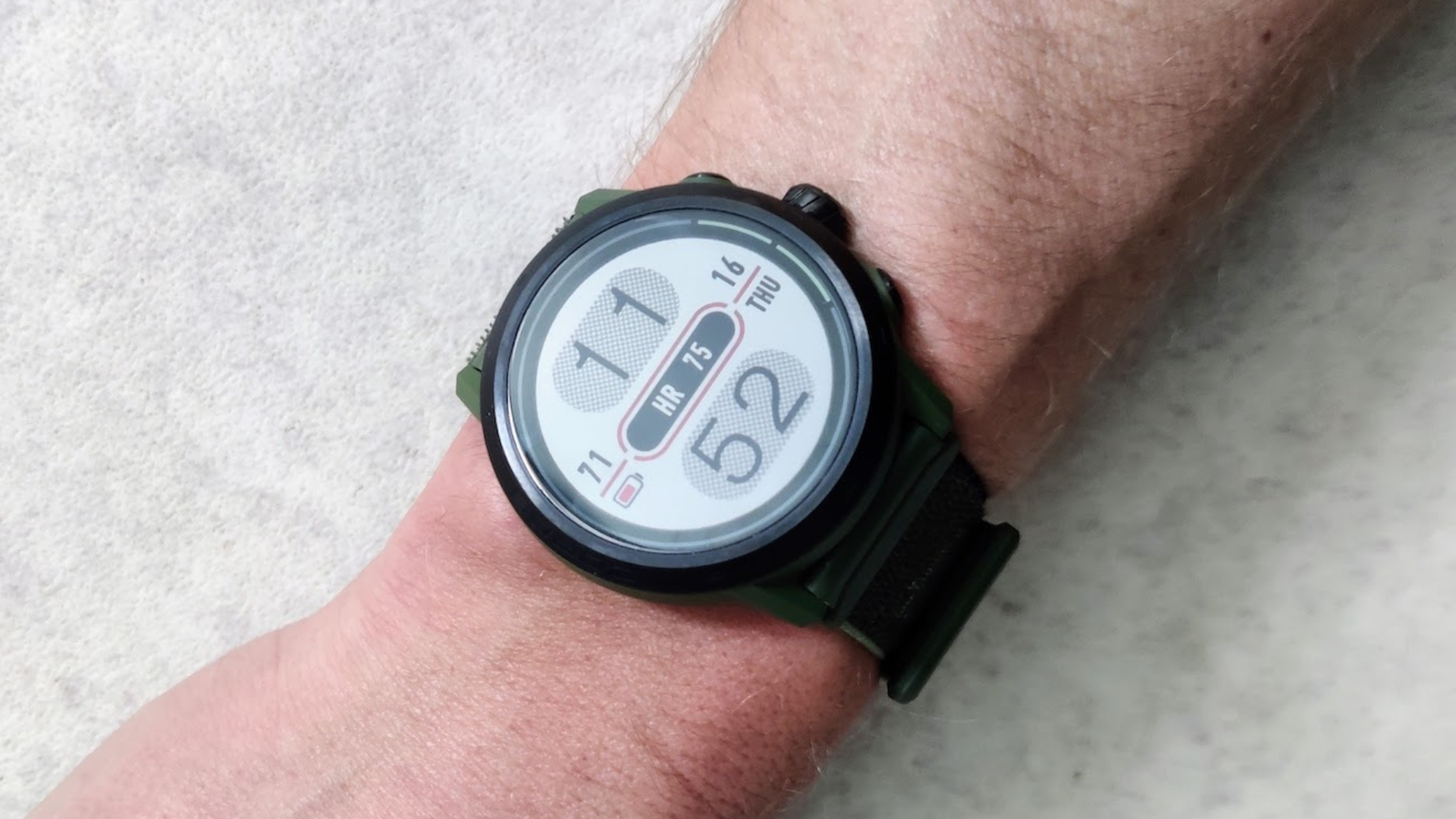 I'd grown very attached to my old Garmin Forerunner 220. It had given me years of reliable service – amazingly the watch itself outlasted its original rubber strap – but finally the battery was on the way out, no longer holding more than about an hour's charge. When I asked my running mates what would be the best replacement, Coros seemed to come out on top – and so I decided to test the Apex 2 Pro and see compared it compared to the best smartwatches for cycling.
My no-frills Forerunner 220 had only cost about £150 ($182) on offer, whereas the RRP of the Apex 2 Pro is $499 / £499 – that's a massive price difference and I was intrigued to find out whether it would be justified in terms of function. Or indeed whether I could live up to it.
Coros Apex 2 Pro: Battery life
The most striking benefit of the Apex 2 Pro is its incredible battery life. After its first charge, I was amazed when my first run used only 1% of charge. Later I discovered that even longer sessions and rides still only used 2-3%, despite using auto-pause and Bluetooth. Coros claims 30 days of regular use per battery charge, equating to 75 hours of GPS-enabled activity – note, that is 30 hours more than is claimed for the Apex 2. I haven't measured this scientifically but I'm only just charging for the second time after two months of use, so it seems to stack up – and is by far the best battery life I've ever known from any GPS device. In fact, it seems almost miraculous! 
Coros Apex 2 Pro: Optical heart rate
In the past, whenever I'd used optical, wrist-based heart rate monitors (from various brands), I'd found them annoyingly unreliable. So when I started using the Apex 2 Pro, I paired it via Bluetooth to a Polar HR strap (the Apex is not Ant+ enabled). On my second run, the HR displayed on the watch was clearly wrong and it took me a while to realise that the wrist sensor was overriding the strap, as I hadn't switched it off. This prompted me to jettison the chest strap, tighten the wrist strap and see how the Apex's in-built sensor performed. 
I was very pleasantly surprised. The Apex's heart rate sensor uses a five-LED system with four photodetectors 'reading' your heart beats from the back of the watch body. I found that, provided the strap is done up nice and tight, the HR measurement is very accurate and dependable. This really is a new level in wrist-based heart rate monitoring, and a tech breakthrough I wasn't sure would ever be achieved. Not having to faff around with a chest strap is a real convenience perk too.  
Coros Apex 2 Pro: Satellite features
So far this device has been 100% reliable in terms of connecting to satellites promptly – within a few seconds – and maintaining the connection throughout runs and rides. It has all bases covered, in that it can communicate with five satellite systems, GPS, GLONASS, Galileo, QZSS, and Bidou. It automatically tunes in to the best frequency. I haven't tested the Coros in any particularly challenging environments but colleague Tom Epton who has used the same system on the brand's Vertix 2 reports excellent performance along tree-lined roads, and even through forests and in urban areas with high-rise buildings. 
Similarly, I haven't used the Apex 2 Pro on unfamiliar roads or terrain, so have not troubled its navigation function. It provides GPX route-following, which Tom found was adequate on the bike. That said, if navigation is a high priority, you may want to consider a device that offers turn-by-turn directions.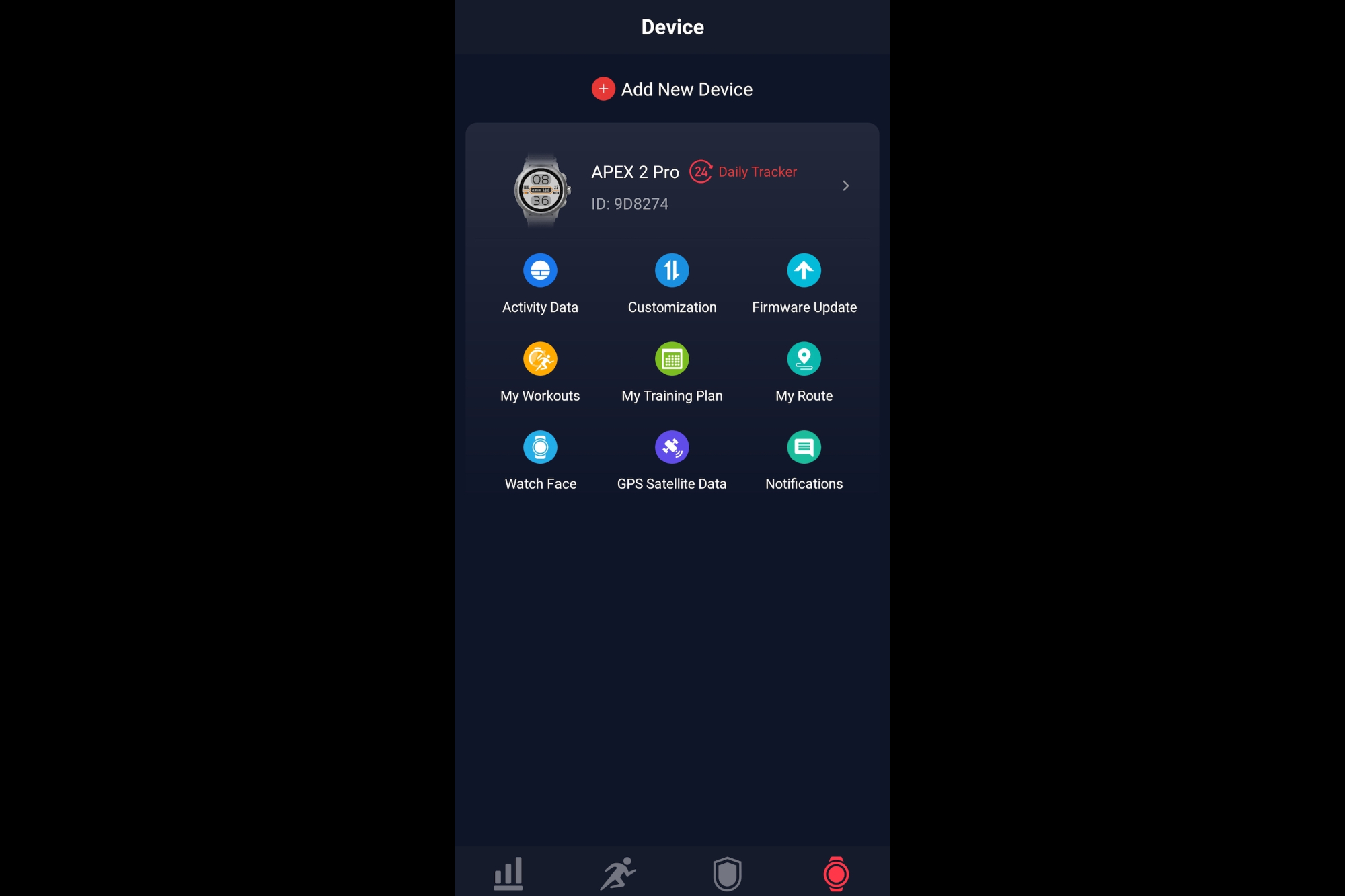 Coros Apex 2 Pro: Ease of use
The body of the Apex 2 Pro is 14mm-thick and weighs 66g, which is substantial but never felt too bulky or heavy on the wrist. I was slightly dubious about the scroll wheel, which doubles up as the main start/stop button, as I feared it might foul on my sleeve and switch between screens inadvertently. Happily the sensitivity proved to be set just right and no such issues occurred; indeed, I didn't find it necessary to use the lock function. Once or twice I accidentally scrolled between screens when only intending to press start/stop but it certainly wasn't a significant nuisance. I'd prefer buttons to the scroll wheel, but that's a minor quibble. 
Getting started with the Apex Pro 2 was as easy as I could have hoped. It linked effortlessly to Strava and activities have been shared without glitch. Connecting to the dedicated Coros companion app was likewise simple and reliable. The app is used to personalise the display, and I was blown away by the huge number of customisation options available, including being able to choose different settings for different activities (for example, auto-pause on for cycling, off for running). In terms of the display, my preference is a stripped down and uncluttered selection of just two different screens, the secondary one showing heart rate and lap time with large enough digits to read while running at pace – and it was simple to set up the configuration I required.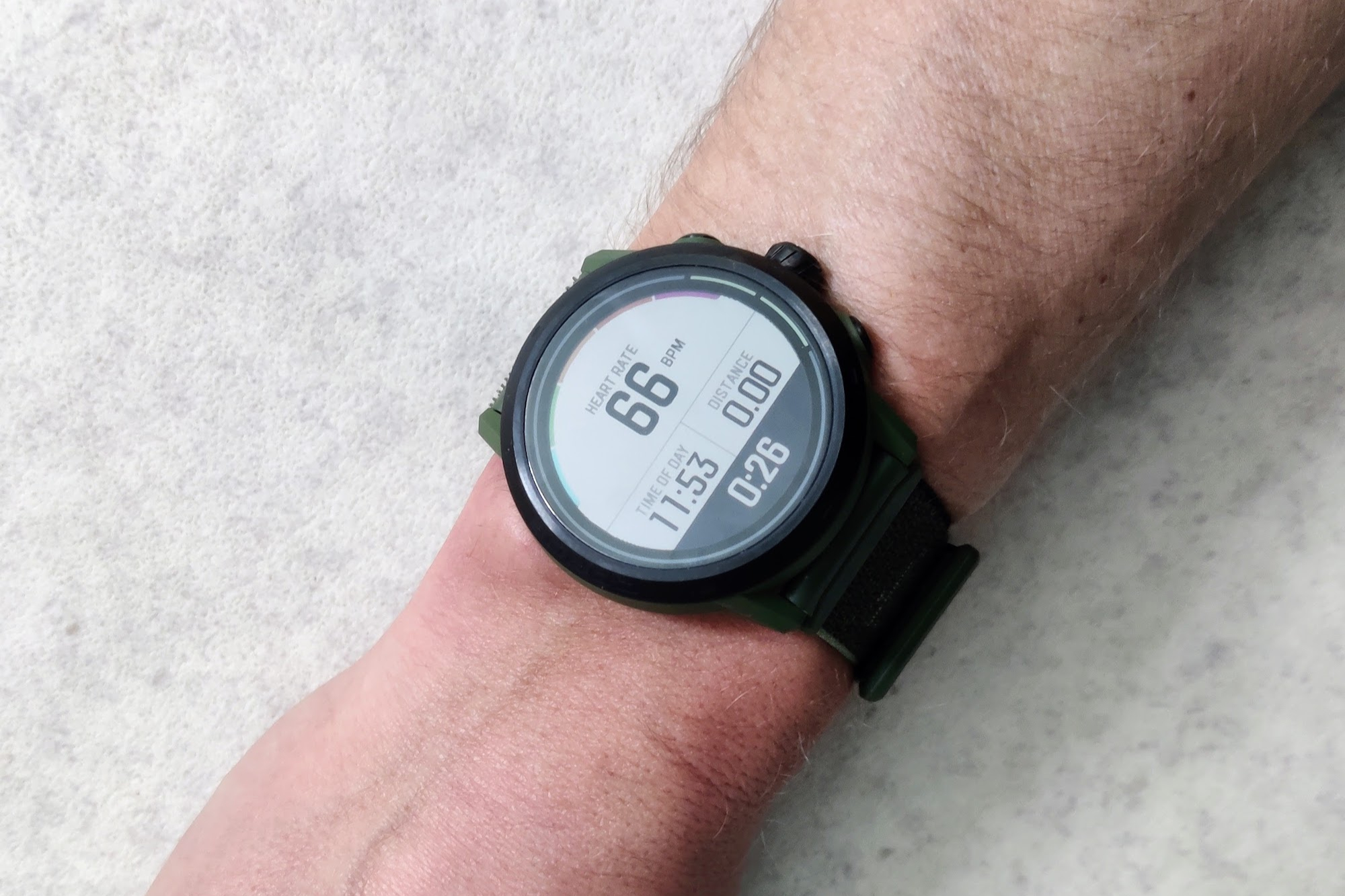 Coros Apex 2 Pro: other features
This being an adventure watch, it has a whole host of features that I did not use, including modes for climbing, swimming, snow sports, strength training and even white water rafting. It even offers sleep tracking, optical pulse oximeter and the facility to test heart rate variability (HRV). I prefer not to train with music, but you can store MP3 tracks on the Apex 2 Pro, though it does not have streaming capabilities. After my many contented years with my basic Garmin Forerunner, I must admit that I felt borderline overwhelmed – and certainly over-spec'd – using the Coros.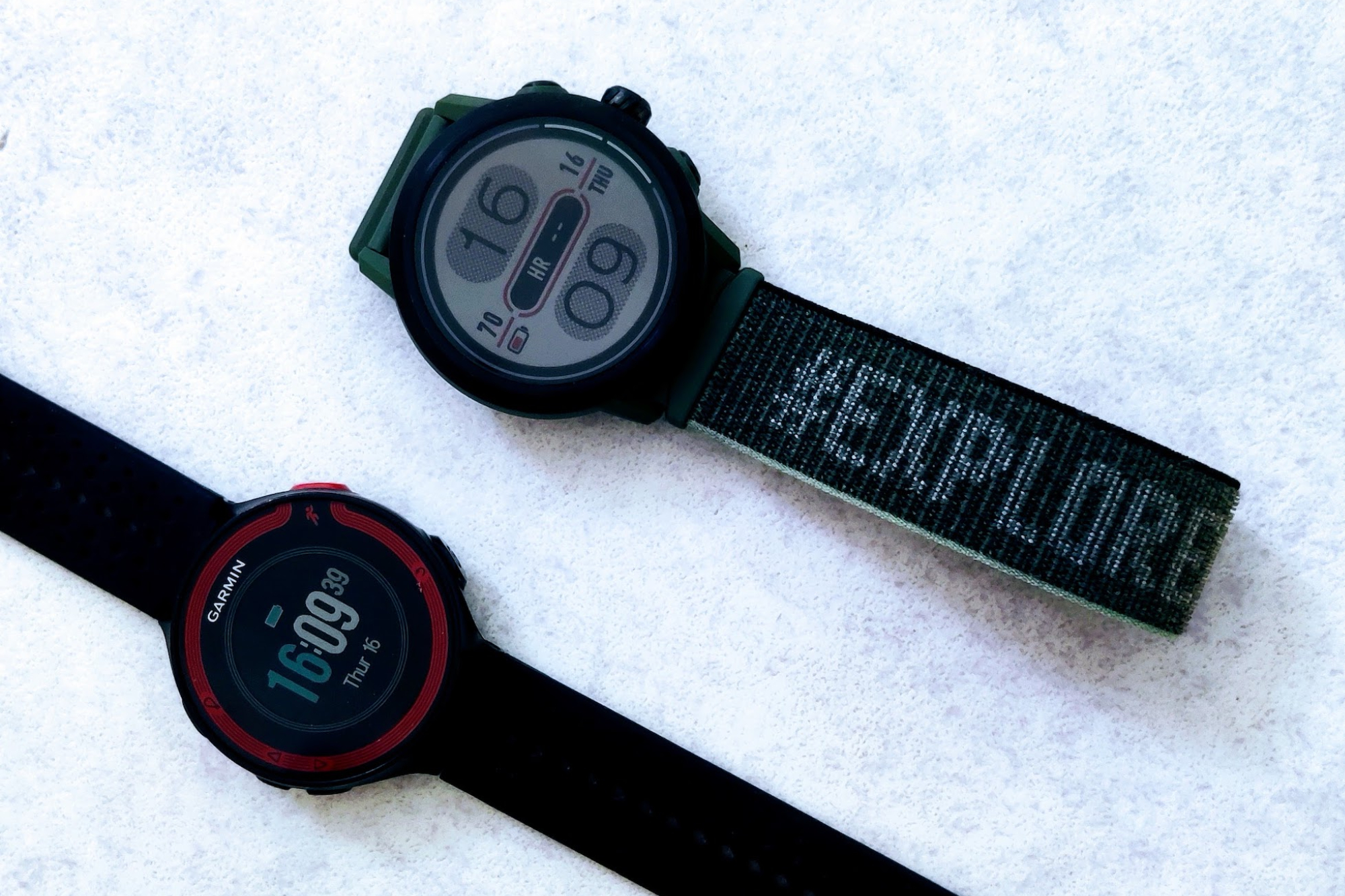 Coros Apex 2 Pro: value and conclusion
Which brings me to the all-important question: would I buy the Apex 2 Pro, priced at $499 / £499? And the honest answer is, no, probably not – there are just too many features wasted on me. On the other hand, Coros's entry-level model the Pace 2, which weighs just 30g, has all the features I would need, including excellent battery life (claimed 30 hours), and costs less than half the price. Alternatively I could opt for Garmin's Forerunner 55, available for just $190 / £159, which would be a direct replacement for my dear old Forerunner 220, though the shorter battery life might put me off – now that I've been spoiled. If you are in the market for a feature-packed watch like the Apex 2 Pro, you should also consider the Garmin Forerunner 955, which is slightly lighter and slimmer-profile and has a few extra software features, though it can't match the Coros for battery life.