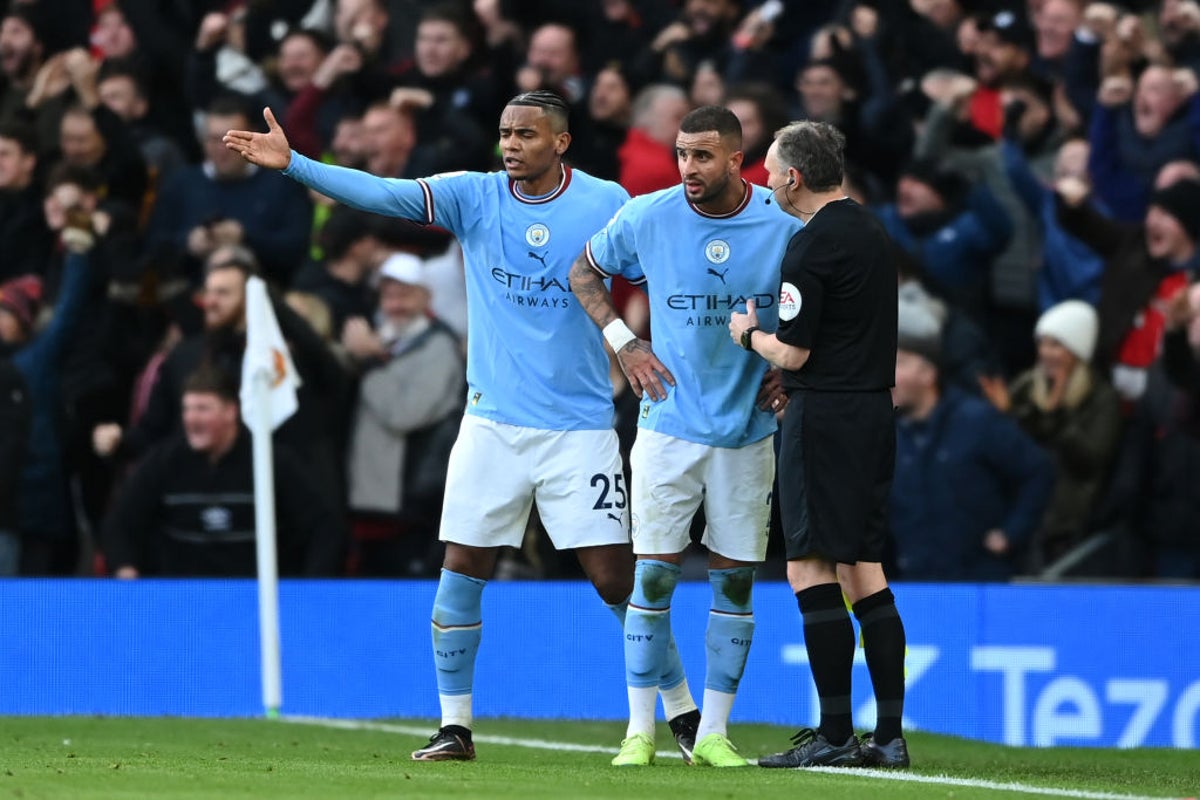 Manchester City defender Manuel Akanji says the decision to award Manchester United their controversial equaliser was a "joke".
United forward Marcus Rashford was clearly offside when he ran onto a pass from Casemiro but, despite appearing to take possession, never touched the ball before Bruno Fernandes arrived to curl the hosts level at Old Trafford.
After speaking to assistant Darren Cann, referee Stuart Atwell awarded the goal by deciding Rashford had not interfered with play, with the England international then scoring the winning goal three minutes later to earn United a 2-1 turnaround win over their rivals.
When asked about the controversial equaliser after the game, Akanji said he believed Rashford had intervened in the play as he had been prevented from making a tackle. Akanki also claimed that Premier League teams have been briefed by referees that such situations would be given as offside.
"To be honest the first goal is a joke, that is allowed like this," the Swiss centre-back told the BBC. "I saw Rashford, he was clearly offside, so I played him offside. He runs until the last second and he stops when the ball is in front of him and he's right in front of [goalkeeper Ederson], ready to score the goal, because Bruno Fernandes is shouting [at] him.
"I understand he doesn't touch the ball but he's running for 30 metres and until the last second. For me it is clearly offside. The referee doesn't even look at the situation. It got explained at the start of the year that this would be clearly offside."
Pep Guardiola said Rashford's run clearly impacted the reactions of both Akanji and Ederson.
"The decision is the referee's, the VAR, (but) our defenders make a line (for Rashford)," he said. "If we know it's Fernandes we don't make the line, we follow the action, and after the action the interference for Eddy…
"For Eddy he is going to shoot, that's the point, but the rule is the rule and the interpretation belongs to the referees…
"This is the decision in this stadium with the referee and the VAR. After conceding a goal we cannot concede the next one, this is the most important detail we have to improve in the future."
"I thought I went a bit early so I didn't run," Rashford said. "If I ran for the ball I would have just took it or shot or passed. I thought I was offside so I didn't touch the ball.
"That's all I can do in that situation and then it's up to the referee and linesman. In my opinion I wasn't involved in the play. I felt like it should have stood."