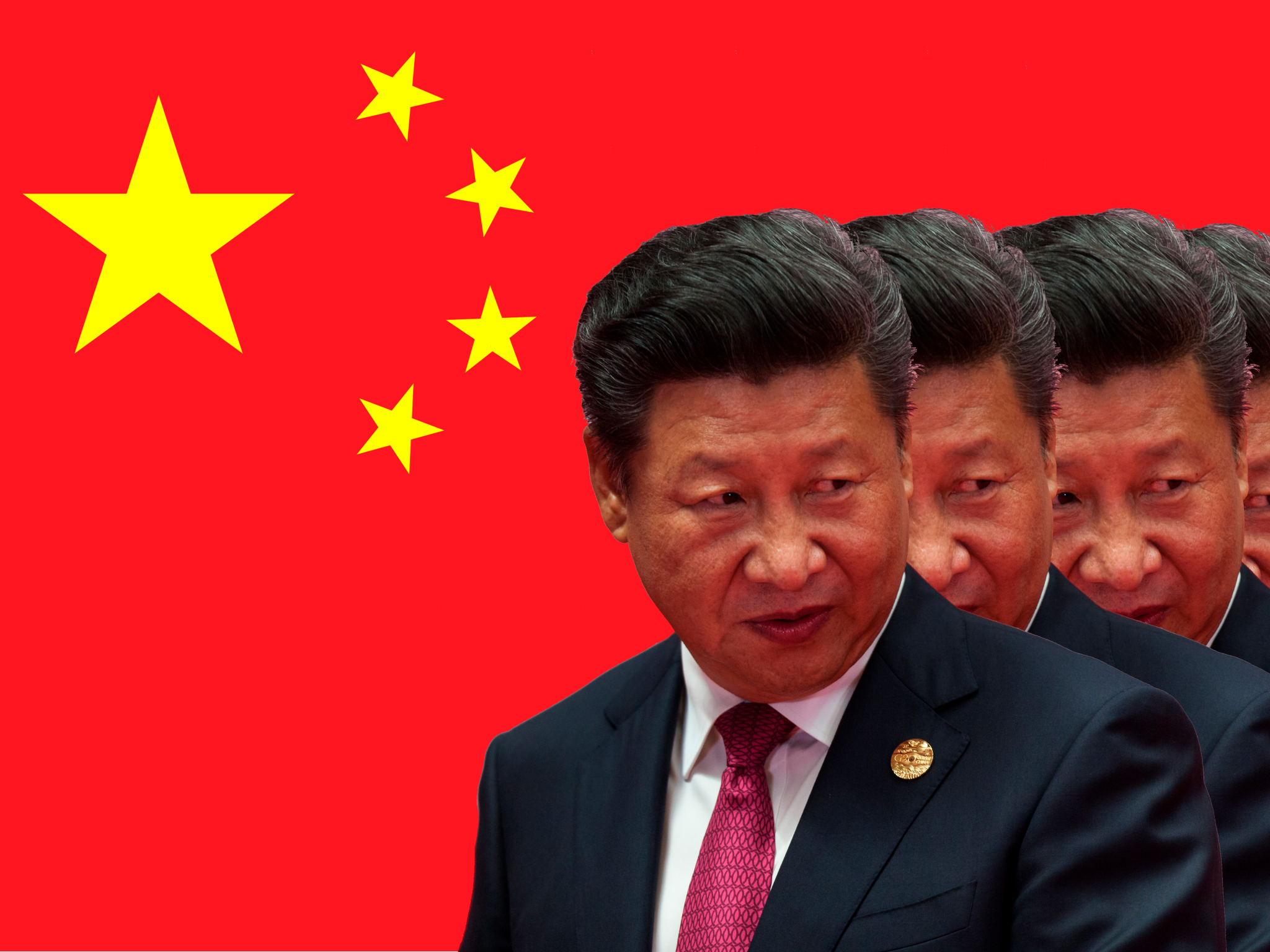 Xi Jinping has been confirmed for a third five-year mandate as Chinese Communist Party general secretary.
Were he to complete his third term, he would become the longest-running paramount leader since Mao Zedong.
The news sent shockwaves across China's stock market. In one day, the country's domestic equity market saw foreign investors pull out more than $2.5 billion. The market's reaction is one of rejection due to Xi's growing posture as a totalitarian and inviting newly-minted fears of a Mao-like figure with a cult of personality built around him. These traits don't bode well for a globalized, frictionless economy that allows trade to flow freely and predictably, which global markets tend to favor.
See Also: Alibaba Plummets Following Xi Jinping's Reelection
Wartime Cabinet
The Politburo Standing Committee is the Chinese Communist Party's ruling body, composed of seven officials that harness the country's core political power in one room, with Xi Jinping on the top.
"Xi's wartime cabinet is in place," Kyle Bass, founder and chief investment officer of Hayman Capital Management, said on Twitter.
The committee is fully composed of Xi loyalists. Three members carried over from the previous committee. Among those excluded was Premier Li Keqiang, whose views on market reform contrasted with Xi's.
Observers noted that the new committee is more focused on preparing China for military conflict than economic growth.
"National security and the party's political security is clearly a higher priority than achieving high rates of economic growth," Drew Thompson, a researcher at the National University of Singapore, said to the New York Times.
According to Hayman Capital's Bass, the committee's appointees clearly illustrate the country's deprioritizing economic objectives in favor of a military-oriented readiness.
Xi "sacked the only three men with markets experience" from the committee, he said.
The removals also replicated into China's Politburo and the Central Committee, the second and third ruling bodies in order of priority after the all-powerful Politburo Standing Committee. Some include:
Yi Gang, the head of the People's Bank of China
Liu He, director of the Central Financial and Economic Affairs Commission
Guo Shuqing, head of the China Banking and Insurance Regulatory Commission.
Financially-savvy members of the previous committees were removed in favor of military-oriented officials including two commanders that serve as Xi's vice chairmen on the Central Military Commission: General Zhang Youxia and Chen Wenqing, the minister of state security.
"These moves send a clear message to the world that conflict and 'Great Struggle' are coming soon," Bass says.
Impact On The Markets: From China To The World
"Today's 10-20% crash in Chinese shares is just the beginning of the destruction of western capital invested in Chinese companies," Bass wrote.
After Xi's reelection, Alibaba Group Holding Ltd. (NYSE:BABA) plunged 20% off Friday's closing price at one point Monday before bouncing up about 6% from the low-of-day.
The Chinese multinational tech company plummeted in tandem with a number of other China-based stocks in the tech sector.
Diana Choyleva of Enodo Economics echoed other analysts by saying in The Wall Street Journal that for Xi, "ideology and national security trump all other considerations, including growth."
This means that China's open market mentality is shutting down in order to protect its own domestic interests with a steadier grip that can lead to increased isolation and exacerbated tensions with its trading partners, inducing the U.S.
Monday's sell-off of American depositary receipts from Chinese companies is probably the latest chapter in a trade war that became palpable during the Trump administration, and is now leading U.S. capital further away from the Chinese economy, and vice-versa.
"These outflows will now likely become a torrent," Robin Brooks, chief economist at the Institute of International Finance, wrote on Twitter, citing how Western money is flowing out of Chinese companies.
"Markets have changed on China," Brooks added.
Taiwan, US-China Tensions And The Semiconductor Industry
Xi seemingly spoke out of both sides of his mouth in a speech last week that China wants "peaceful reunification" with Taiwan, yet "will never promise to give up the use of force and reserve the option to take all necessary measures."
Taiwanese President Tsai Ing-wen's office, for its part, reiterated that war is not an option. The country will continue to defend its national sovereignty, he said. 
Both U.S.-China tensions and conflicts around Taiwan's sovereignty are bad news for the semiconductor sector.
Mark Liu, chairman of the Taiwan Semiconductor Manufacturing Company (NYSE:TSM), said that "the U.S.-China trade conflict and the escalation of cross-Strait tensions have brought more serious challenges to all industries, including the semiconductor industry."
The company's stock was down 7% in the past 5 days as news of Xi's tightening grip on power became more evident.
China's semiconductor manufacturing market also comes threatened by a $52 billion federal program to boost the U.S.' chipmaking capabilities, launched by President Joe Biden In August.
The Chips And Science Act of 2022 bars companies from procuring federal funding for materially expanding production of chips more advanced than 28-nm in China or a country of concern like Russia, for ten years. 
Benzinga's Take: TSM and chipmakers like Intel (NASDAQ:INTC) and Samsung Electronics Co., Ltd. (OTCPK: SSNLF) could benefit from the CHIPS Act, while causing turbulence for Chinese chip manufacturers.
However, a more macro-hostile environment could be bad news for tech stocks invested in good China-U.S. relations. Research from venture capital firm Loup Funds shows:
"We do business on both sides of the Strait. So we can't listen to the U.S. and not do any business with mainland China. Then what would everyone eat?" said Frank Huang, chairman of Powerchip Semiconductor Manufacturing Corp, headquartered in Taiwan. 
As China doubles down on showcasing its strength as a military powerhouse, Taiwanese chipmakers become caught in the global power game. The outcome continues to be unknown, but instability in international relations will likely come with volatility in the equities market.
Original photo: Shutterstock. Edited by Benzinga.