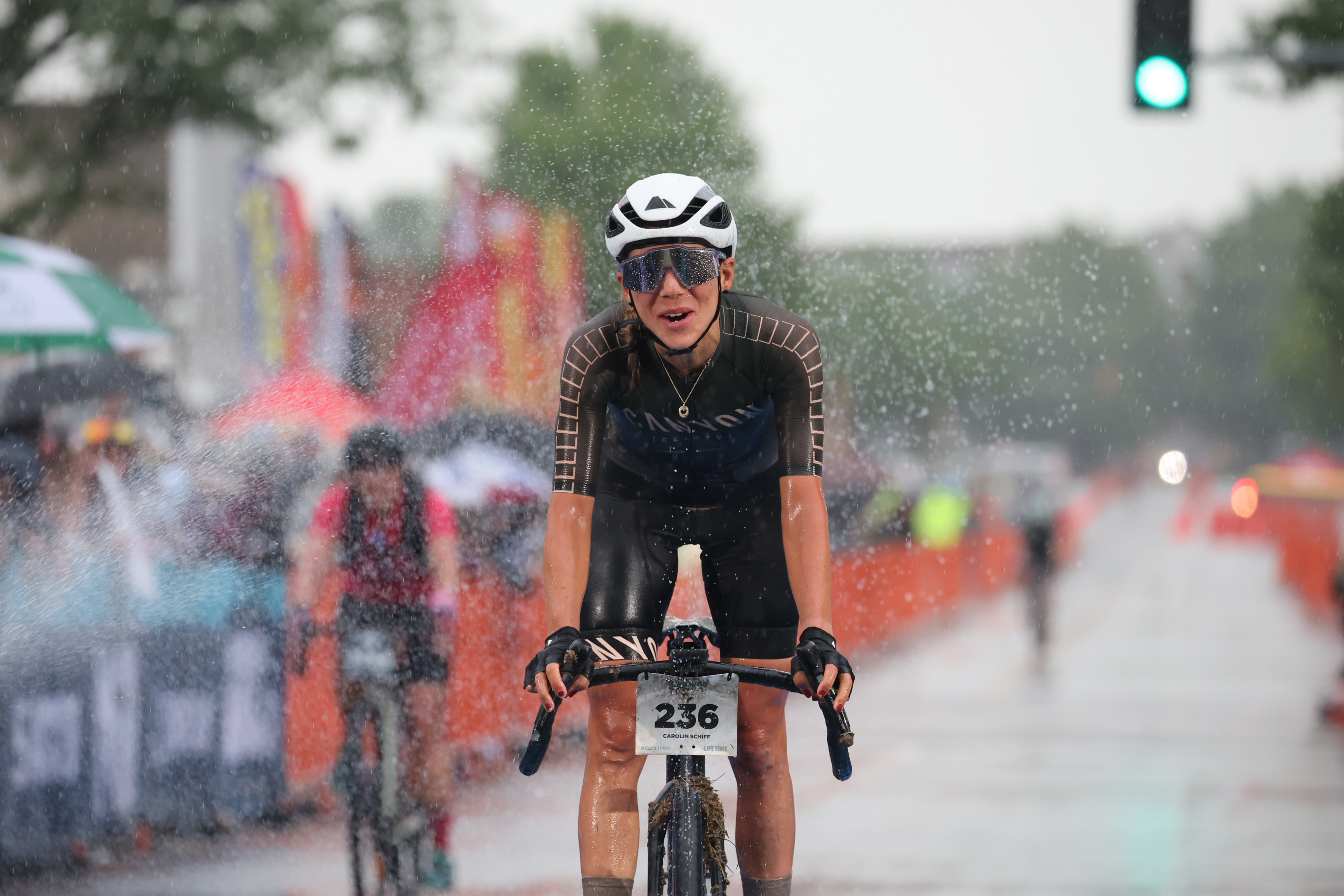 Carolin Schiff took an enormous solo win in the Unbound Gravel 200, amid some testing conditions. Riding solo for nearly 100 miles, Schiff was the only woman to finish in under 12 hours with a time of 11:46:39. 
The 37-year-old German was the winner of the first round of the UCI Gravel World Series as well as the US-based Gravel Locos and continues an already stellar season with a notable win at gravel racing's premier event.
Defending champ Sofia Gomez Villafañe finished second this year, 15 minutes back on Schiff. Third was Sarah Sturm with British rider Danni Shrosbee, only 11 seconds behind, in fourth. Sarah Lange rounded out the top five.
Villafañe put the pressure on early, establishing a one-minute gap by mile 21 utilizing the early mud to get some separation. Race favorite Lauren De Crescenzo had multiple flat tires early on taking her out of contention, Heather Jackson lost time early, also due to mechanicals
At the Eureka aid station the top four women were back together with Schiff, Villafañe, Ruth Winder and Alexis Skarda. Jenna Rinehart was sitting alone in fifth almost seven minutes down on the leaders. Eight minutes down was a large group containing ten women including Haley Smith, Nuss, Sturm, Campbell, Justine Barrow, Crystal Anthony, Lange, Jade Treffeisen, Sarah Max and Marisa Boaz.
Villafañe and Schiff got out of the aid station first and are in a leading group with Ruth and Alexis two minutes behind.
At Mile 105, Skarda reconnected with Schiff and Villafañe halfway through the race. The gap to the group fighting for 4th had grown with Smith, Sturm and Boaz 12 minutes back.
By mile 124, Schiff had put in a major attack and had a lead of seven minutes over Skarda and Villafañe, Lange moved up to fourth, nine minutes down on the leader, Smith.
Just 20 miles later, as Schiff approached "the Judge" climb, she had extended her lead to 14 minutes over Villafañe in second. Lange would trail in third, three minutes down on Villafañe. Smith and Sturm remained together working to chase down the solo riders ahead of them. Behind, Shrosbee had moved up to sixth and Rebecca Fahringer put in a massive effort to move up to seventh after a slow start.
The German would remain out front solo and take an emphatic win. Villafañe would hold onto second with Sturm moving up to third. Shrosbee moved up another two places to finish fourth, just 11 seconds behind, with Lange in fifth. Fahringer would end the day at sixth and Smith would finish seventh after being in the chase for third with Sturm.