With just another day left for electioneering in Puthuppally to end, the leading contenders are on a high-decibel campaign with the charged atmosphere looking set to sustain till the last minute.
While the coalitions focussed on their star campaigners, candidates undertook whirlwind tours across the Assembly segment. All the major contenders have stepped up political heat on one another as several of the issues that were in focus initially have now taken a back seat.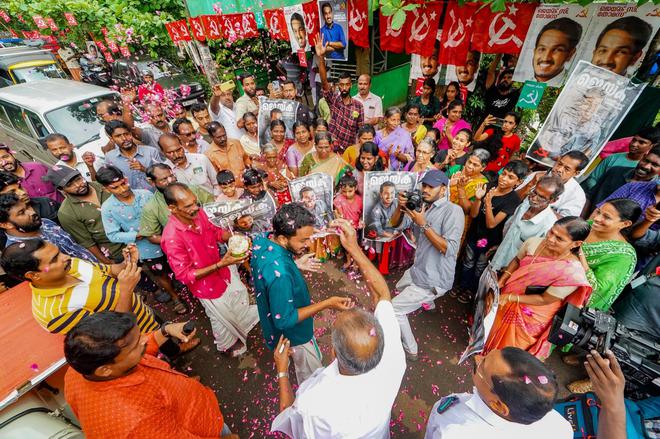 Earlier on Saturday, Communist Party of India (Marxist) State secretary M.V. Govindan visited the Assembly segment and reviewed the poll preparedness of the Left Democratic Front. Addressing mediapersons, Mr. Govindan dismissed the presence of any emotional wave in Puthuppally and exuded confidence that the LDF would win.
"The two key issues that are being discussed in this election are politics and development. Accordingly, the electorate of Puthuppally will give a clear mandate to the LDF," he said. Mr. Govindan also dismissed the various survey reports predicting the outcome of the byelection.
LDF candidate Jaick C. Thomas spent the day reaching out personally to the maximum number of voters in different parts of Kooroppada panchayat.
For the United Democratic Front, Shashi Tharoor, MP, took out a road show through the Assembly segment on Saturday evening while K.C. Venugopal, MP, and KPCC president K. Sudhakaran also joined the door-to-door canvassing.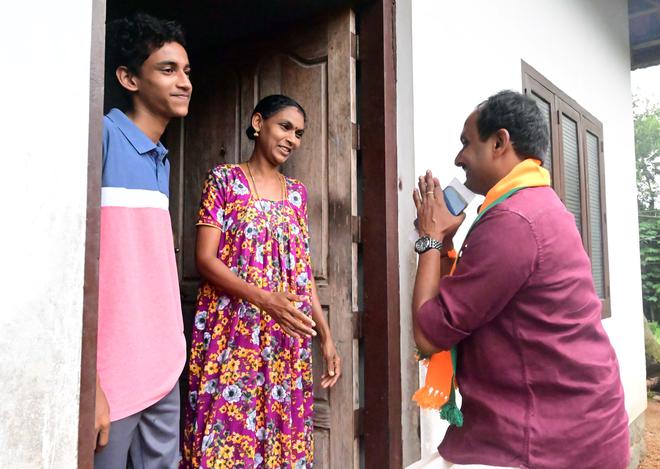 Despite the repeated assertions by the LDF in the reverse, the Congress-led coalition is counting on the sympathy wave triggered by the death of former Chief Minister Oommen Chandy to work in its favour. "There is a strong anti-incumbency sentiment among the voters of Puthuppally who regard this byelection as an opportunity to register their protest against the government," Mr. Sudhakaran said.
Giving buoyancy to the poll campaign of the National Democratic Alliance, Union Minister V. Muraleedharan visited Puthuppally and reviewed the pre-election strategies of Bharatiya Janata Party candidate G. Lijin Lal. In a statement, Mr. Muraleedharan flayed attempts by the LDF government to blame the Union government for the delay in paying the dues for paddy farmers in the State.
Apart from the issues being debated as part of electioneering, the charged up political atmosphere at Puthuppally has also triggered a few controversies on its own.
Geethu Thomas, wife of Jaick C. Thomas, has lodged a police complaint against the raging online attacks on her, allegedly from some pro-UDF handles. A few days ago, Achu Oommen, daughter of Oommen Chandy, too had filed a similar complaint against some Left-leaning cyber handles.