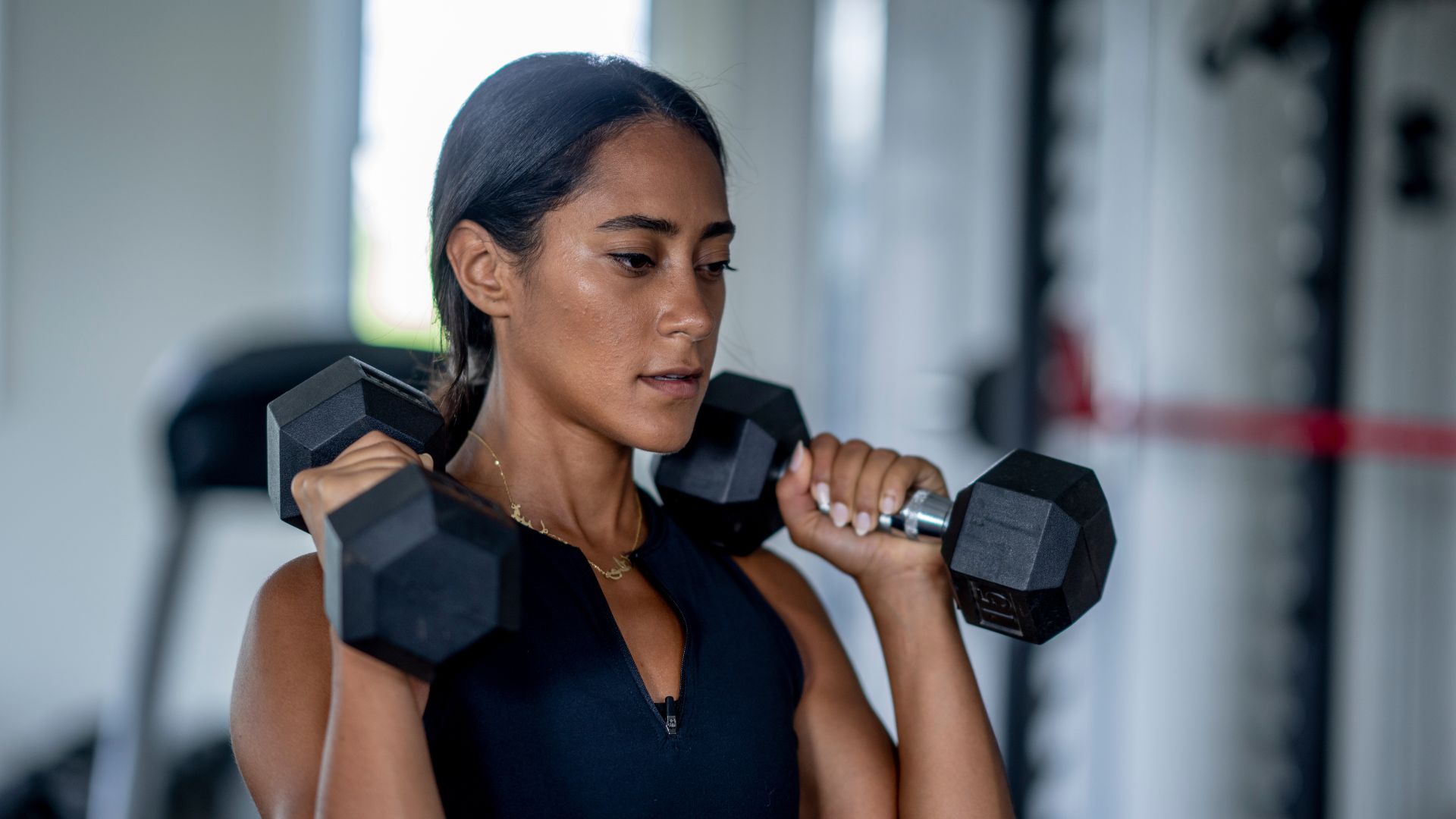 If you want start to strength training at home, we think you've made a great choice. After all, this type of exercise can help you build muscle, lose fat, boost your metabolism and even improve your heart health, among other benefits. 
But, while you might think you need to splash the cash on heaps of expensive gear to do this effectively, in reality it's possible to make impressive progress with minimal equipment.
This workout from Sweat app trainer Britany Williams use just a resistance band and a set of dumbbells to work every major muscle group in your upper body. 
It consists of two time-efficient supersets (complementary exercises performed back to back with no rest in between) followed by a three-move circuit to finish, so you can get a great workout in less than 30 minutes. 
Use the technique cues in Williams' video below to make sure you're using the correct form for each exercise, and follow her routine to find out how many repetitions you need to do of each of the seven moves. 
Watch Britany Williams' full-body dumbbell workout
By using supersets and circuits, Williams lowers the amount of rest periods needed in this workout. This is ideal if you're looking to squeeze some movement into a busy day, allowing you to work through the same number of exercises, sets and reps as a conventional strength training session in a fraction of the time. 
Yet, despite being shorter in length, it still offers the same strength-building benefits for your chest, back, shoulder and arm muscles, as well as a secondary core workout. 
This is because, while none of the exercises actively target your stomach muscles, your core is needed to stabilize the spine and prevent it from bending or twisting when moving an external load like a dumbbell. 
This is why Williams advises you to brace your core (contract your midsection muscles) before several of these movements.
If you want more minimal equipment home workouts, try this 25-minute full-body dumbbell session. Or, if you don't have any weights at home, this bodyweight workout doesn't need any extra fitness accessories at all.