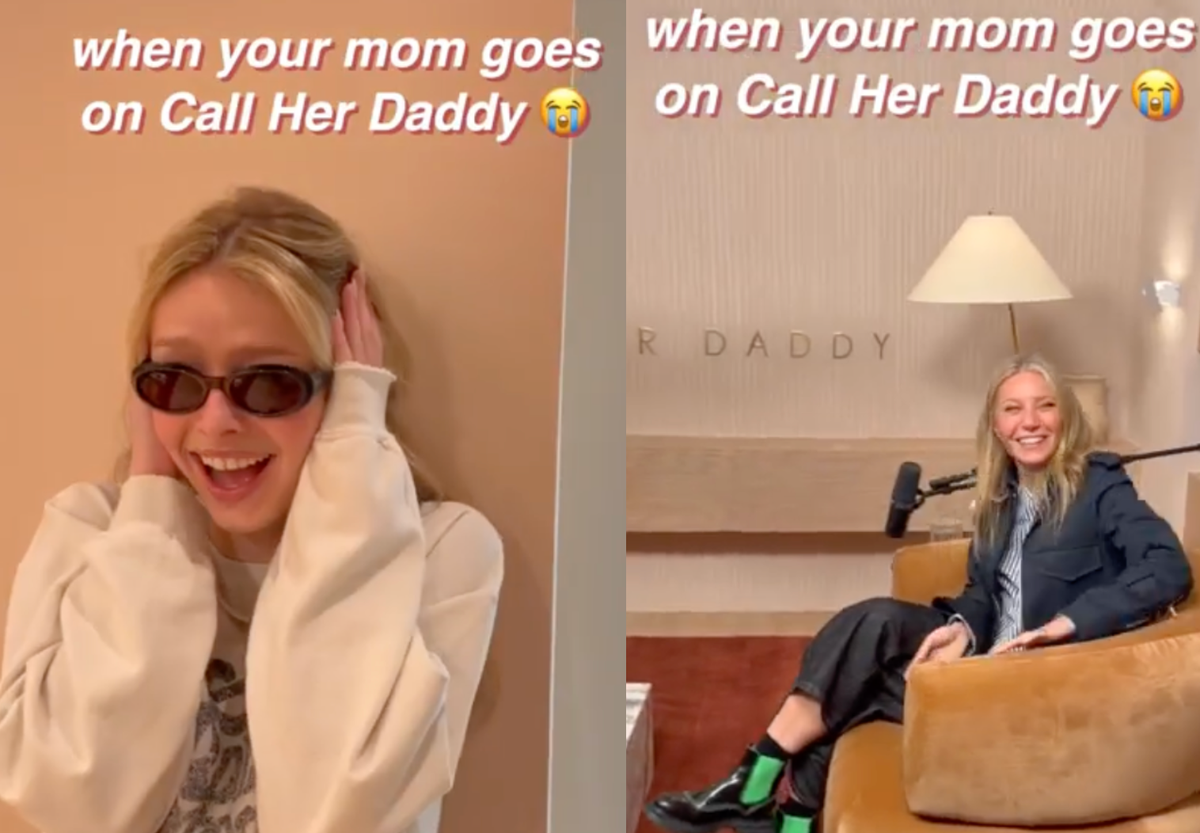 Apple Martin has poked fun at mother Gwyneth Paltrow's episode of Call Her Daddy, where the actor made some candid confessions about her love life.
The podcast's official Instagram account shared a video on Thursday of Apple, as she stood next to Paltrow and host Alex Cooper, who was in the midst of doing their interview. This came after the Goop founder shared details about exes, including Brad Pitt and Ben Affleck, and their skills in the bedroom, during Wednesday's episode of Call Her Daddy.
At the start of the Instagram clip, Martin proceeded to cover her eyes and had her mouth open, to show her shocked reaction to her mother's comments.
She posed in a white sweater, jeans, and black sunglasses, as she leaned on a wall. The text over the video read: "When your mom goes on Call Her Daddy," along with a crying face emoji.
The video went on to show Paltrow sitting on the couch and talking to Cooper, as part of the video interview. The Call Her Daddy host then raised her arms up and smiled for the camera.
Cooper applauded the 18-year-old for making this video, as the caption of the post read: "LMAOO ily Apple thanks for supporting the show… and your mom on this ep."
In the comments of the video, many fans expressed their amusement over Martin's reaction to the podcast episode.
"This was SO CUTE! I love Alex fangirling and it seemed like Gwyneth was super into the vibe too," one wrote.
"Hysterical," another person commented, while a third added: "This is amazing! Can't stop laughing!"
Other fans expressed their shock about how old Paltrow's daughter is. In addition to Martin, Paltrow and her ex-husband, Chris Martin, share a 17-year-old son, Moses.
"Not Apple being grown," one commented. "Remember her being the first unique baby name I ever heard."
"I feel so old seeing Apple, I remember when she was born and waiting to find out the name," another added.
During Wednesday's episode ofCall Her Daddy, Cooper asked Paltrow who was better in bed: Pitt or Affleck. In response, the Iron Man star noted that this was a "hard" decision to make, before comparing her two exes.
"Brad was sort of major chemistry, major love of your life, at the time, you know," she said. "And Ben was like technically excellent."
"Holy f***," Cooper responded. She then praised Affleck's wife, Jennifer Lopez, adding:  "God bless J-Lo and everything she is getting over there."
Paltrow also acknowledged that Martin was in the studio as the episode was being filmed, so the teenager heard everything that her mother was saying.
"I can't believe my daughter is listening to this," Paltrow said.
The Shakespeare in Love star started dating Pitt in 1994 after they met on set of the film Seven. They got engaged in 1996 and split six months later. She also had an off-and-on relationship with Affleck from 1997 to 2000.
Paltrow went on to marry Chris Martin in 2003, before they split in 2016. In 2018, she remarried to writer Brad Falchuk.