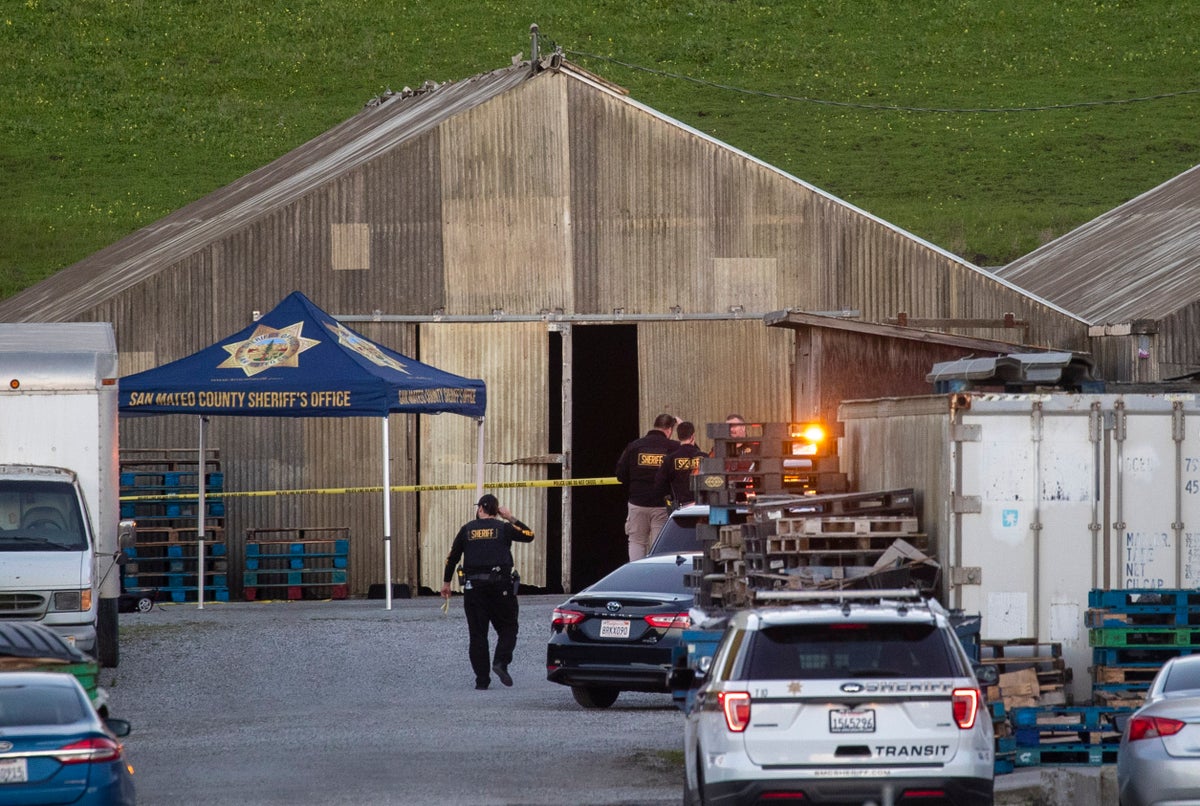 Here are the AP's latest coverage plans, top stories and promotable content. All times EST. For up-to-the minute information on AP's coverage, visit Coverage Plan.
————————
ONLY ON AP
————————
ISRAEL-US-EXTREMIST FUNDRAISING — An Israeli group raising funds for Jewish extremists convicted in some of the country's most notorious hate crimes is collecting tax-exempt donations from Americans, according to an investigation by The Associated Press and Israeli investigative platform Shomrim. By Uri Blau of Shomrim and Tia Goldenberg of The Associated Press. SENT: 1,100 words, photos.
————————
TOP STORIES
————————
NORTHERN CALIFORNIA-FATAL SHOOTING — Seven people were killed in two related shootings at agricultural facilities in a California coastal community south of San Francisco, marking the state's third mass killing in eight days, including Saturday's attack at a dance hall that killed 11 during Lunar New Year celebrations. Officers arrested a suspect in Monday's shootings, 67-year-old Chunli Zhao, after they found him in his car in the parking lot of a sheriff's substation, San Mateo County Sheriff Christina Corpus said. By Jeff Chiu and Olga R. Rodriguez. SENT: 660 words, photos, video.
CALIFORNIA-SHOOTING — Investigators searching for a motive in the worst mass shooting in Los Angeles County history said the gunman was previously arrested for illegally possessing a firearm, had a rifle at home, hundreds of rounds of ammunition and appeared to be manufacturing gun silencers. Investigators had not yet established why 72-year-old Huu Can Tran gunned down patrons Saturday night at a ballroom dance hall in Monterey Park, where tens of thousands attended Lunar New Year festivities earlier that evening. By Amy Taxin, Stefanie Dazio, Terry Tang and Brian Melley. SENT: 1,340 words, photos, videos. With CALIFORNIA-SHOOTING-ALERT DELAY — Police took 5 hours to warn dance hall shooter was on the run; CALIFORNIA-SHOOTING-VICTIMS — "Last dance": Those slain in California shooting remembered.
CONGRESS-DEBT CEILING — Lessons learned from the debt ceiling standoff more than a decade ago are rippling through Washington, as the White House and Congress brace for another fiscal showdown — one that appears headed toward a very similar outcome. Neither Republicans nor Democrats are willing to budge. By Congressional Correspondent Lisa Mascaro. SENT: 1,110 words, photos.
GEORGIA ELECTION INVESTIGATION — A judge is set to hear arguments on whether to release a report by a special grand jury tasked with investigating whether then-President Donald Trump and his allies broke any laws as they sought to overturn his narrow 2020 election loss in Georgia. By Kate Brumback. SENT: 790 words, photo. UPCOMING: 990 words after noon hearing.
GENE THERAPY-BRAIN — Scientists say delivering gene therapy directly to the brain holds great promise. The first brain-delivered gene therapy on the market was recently approved in Europe and the U.K. for a rare genetic disorder called AADC deficiency. By Science Writer Laura Ungar. SENT: 1,130 words, photos.
OSCAR NOMINATIONS — A year after a streaming service won Hollywood's top honor for the first time, big-screen spectacles are poised to dominate nominations to the 95th Academy Awards. By Film Writer Jake Coyle. SENT: 690 words, photos. UPCOMING: Developing from 8:30 a.m. announcement.
————————
TRENDING
————————
NYPD-CONCERTGOERS FILMED — Concern over NYC police filming of people leaving Drake show. SENT: 180 words, photo.
HAWAII-BIG WAVE SURFING-WINNER — Lifeguard Luke Shepardson wins Hawaii surfing "Super Bowl." SENT: 190 words, photos.
INDIA TRADITIONAL ARCHERY-PHOTO GALLERY — Archery tradition thrives in northeast India. SENT: 510 words, photos.
HOSPITAL SHOOTING-FLORIDA — Woman who killed ill husband in hospital faces murder charge. SENT: 180 words, video.
CALIFORNIA-GAS STATION SHOOTOUT — Gun battle kills one, wounds eight at Oakland gas station. SENT: 200 words.
————————-
WASHINGTON
————————-
BIDEN-CLASSIFIED DOCUMENTS-STRATEGY — President Joe Biden's decision allowing the FBI to search his home in Delaware last week is laying him open to fresh negative attention and embarrassment following the earlier discoveries of classified documents at that home and a former office. but it's a legal and political calculation that aides hope will pay off in the long run as he prepares to seek reelection. SENT: 1,300 words, photos.
————————
NATIONAL
————————
SCHOOL SHOOTING-DES MOINES — Two teenage students were killed and a man was seriously injured in what police said was a targeted shooting at an alternative educational program designed to keep at-risk youth away from trouble. SENT: 1,140 words, photos.
HAWAII MURDER-INNOCENCE PROJECT — Attorneys for a Native Hawaiian man imprisoned for more than 20 years after his conviction for the 1991 sexual assault, kidnapping and murder of a white woman visiting the Big Island will ask a judge to dismiss his conviction due to new evidence — including new DNA testing — in the case. SENT: 960 words, photos. UPCOMING: Hearing at 2 p.m.
MOTHER AND SON KILLED — Before testimony begins in South Carolina attorney Alex Murdaugh's murder trial, defense lawyers will ask the judge to make a pair of key rulings this week that could strike a massive amount of evidence from the case. SENT: 720 words, photos.
————————
INTERNATIONAL
————————
MYANMAR-GERMANY-JUSTICE — A human rights group and 16 people from Myanmar have filed a criminal complaint in Germany seeking punishment of Myanmar's generals for genocide, war crimes and crimes against humanity they alleged were committed in that country after their 2021 government takeover and during a 2017 crackdown on Muslim Rohingya. SENT: 840 words, photos.
ASIA-HUNGER — Growing numbers of people in Asia lack enough to eat as food insecurity rises with higher prices and worsening poverty, according to a report released by the Food and Agricultural Organization and other United Nations agencies. By Business Writer Elaine Kurtenbach. SENT: 610 words, photos.
NEW ZEALAND-ARDERN — Jacinda Ardern made her final public appearance as New Zealand's prime minister, saying the thing she would miss most was the people, because they had been the "joy of the job." SENT: 450 words, photos.
YELLEN-AFRICA — U.S. Treasury Secretary Janet Yellen will tour agriculture-related sites on the final day of her visit to Zambia. UPCOMING: 600 words, photo by 9 a.m.
GERMANY-HOLOCAUST EXHIBIT — A new exhibition opening at the German parliament brings 16 objects from Holocaust survivors and those who perished in the genocide back to their country of origin for the first time. SENT: 830 words, photos.
————————
BUSINESS/ECONOMY
————————
CRYPTO LENDING-EXPLAINER — In a span of less than 12 months, nearly all of the biggest cryptocurrency firms have failed spectacularly. What went wrong? And what happens next? By Business Writer Ken Sweet. SENT: 710 words, photo.
CHINA-REINVENTING HUAWEI — Huawei is reinventing itself as a supplier of technology for self-driving cars, factories and other industries that it hopes will be less vulnerable to U.S. pressure. By Business Writer Joe McDonald. SENT: 1,120 words, photos.
FINANCIAL MARKETS — Stocks were higher in Asia after a tech-led rally on Wall Street as investors bet the Federal Reserve will trim its rate hikes to tamp down inflation. By Business Writer Elaine Kurtenbach. SENT: 650 words, photos.
————————
SPORTS
————————
BEHIND THE CALL — Two years in a row the Dallas Cowboys have flubbed their last-ditch drives against the San Francisco 49ers in the playoffs. By Pro Football Writer Arnie Stapleton. UPCOMING: 800 words, photos by 6 a.m.
————————
HOW TO REACH US
————————
At the Nerve Center, Jerome Minerva can be reached at 800-845-8450 (ext. 1600). For photos, Wally Santana (ext. 1900). For graphics and interactives, ext. 7636. Expanded AP content can be obtained from http://newsroom.ap.org. For access to AP Newsroom and other technical issues, contact apcustomersupport@ap.org or call 844-777-2006.