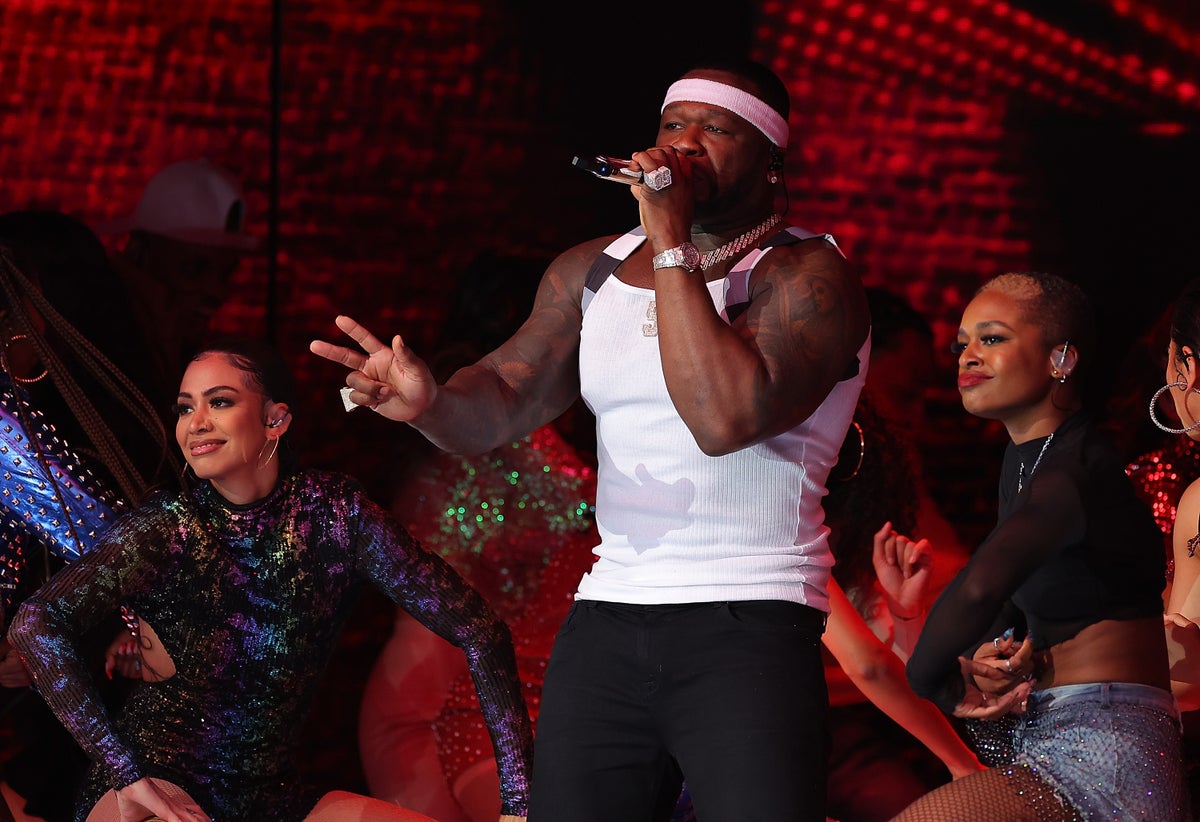 50 Cent allegedly injured a fan at his Wednesday (30 August) concert after hurling a faulty microphone into the crowd.
The 48-year-old rapper (real name Curtis James Jackson III) is currently celebrating his mark on 50 years of hip-hop with his Final Lap Tour.
During the first night on his five-stop California circuit at the Crypto.com Arena in Los Angeles, 50 Cent threw two microphones into the crowd.
In footage of the incident circulating social media, the "Candy Shop" rapper is seen flicking the first one off the side of the stage while fellow rapper YG performs for the audience.
He is then handed a second microphone, which also doesn't appear to work. He then hurls the second microphone into the crowd, too.
According to TMZ, the second microphone struck Power 106's midday deejay Bryhana Monegain, leaving her with a forehead laceration.
Photos published by the tabloid show Monegain with a sizeable gash on her forehead and remnants of dried blood covering her face.
The radio DJ hasn't publicly commented on the incident herself. Although, according to TMZ, Monegian has filed a criminal battery lawsuit against 50 Cent.
A spokesperson for the Los Angeles Police Department confirmed to The Independent that no police radio calls were made, nor had the LAPD responded to a call to the concert venue.
The Independent has contacted 50 Cent's representatives for comment.
In April, 50 Cent announced he would be embarking on a global tour in celebration of the 20th anniversary of his debut studio album Get Rich or Die Tryin'.
"The Final Lap Tour will feature the rap icon performing dozens of fan-favourite and chart-topping hits along with select tracks that have not been performed live in decades," a press release stated.
50 Cent will also be joined by longtime friend Busta Rhymes across all the tour dates, and R&B singer Jeremih will support the North American leg with more special guests to be announced.
The "21 Questions" rapper surprised Los Angeles concertgoers with special guests Chris Brown and Nas.
The North American leg of the Final Lap Tour kicked off in Salt Lake City, Utah in July, with the European tour leg commencing on Thursday 28 September in Amsterdam, Netherlands.