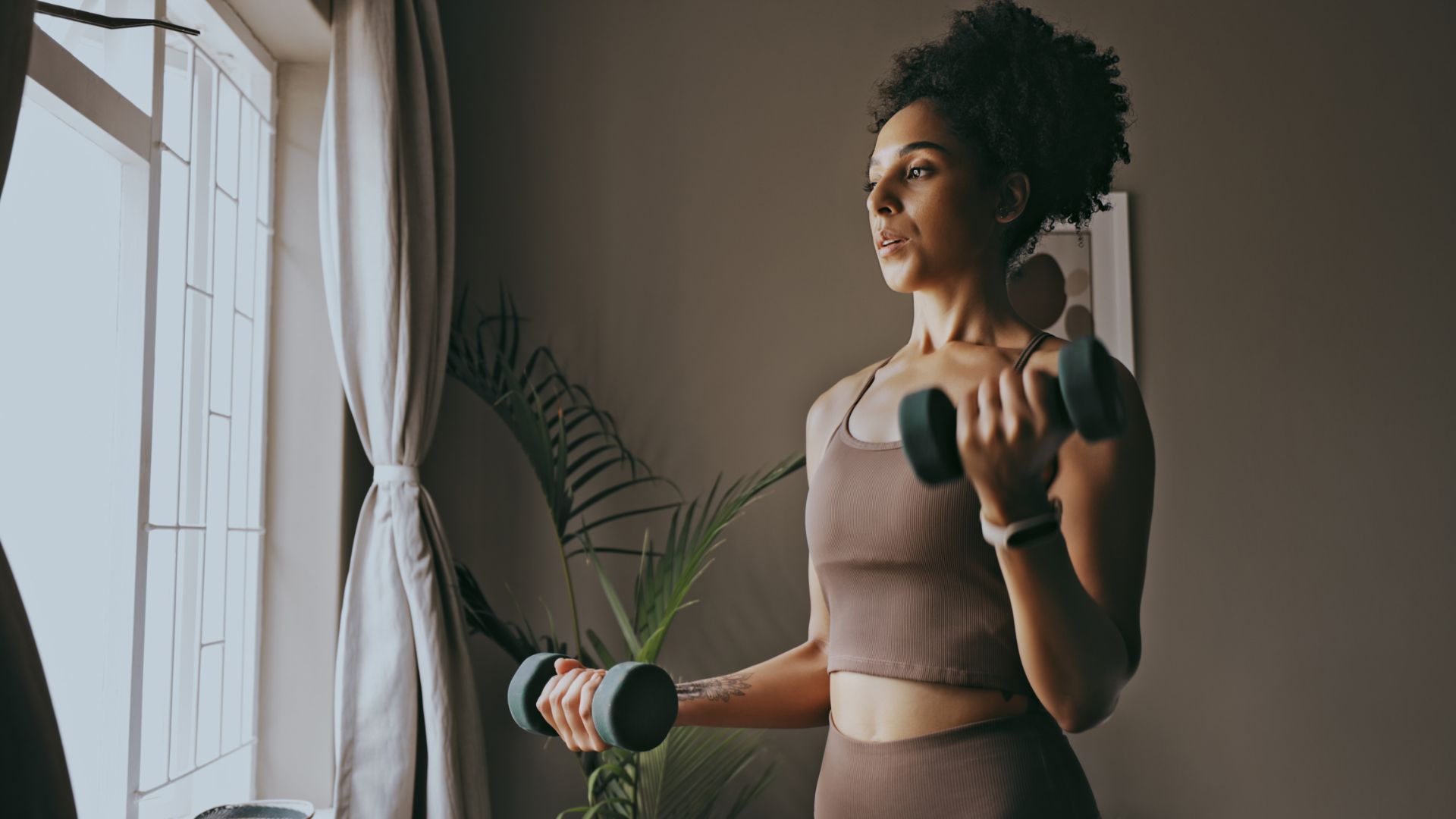 A good workout doesn't need to take an hour or more; this session uses a couple of dumbbells to work your whole body in just 30 minutes. 
This makes it ideal for a quick trip to the gym or — if you own a pair of fixed weight or adjustable dumbbells — an efficient home workout when you have a few minutes spare. 
It's been designed by Sweat app trainer Britany Williams to develop comprehensive strength, with 10 moves that will hit every major muscle group in your body — talk about time-efficient!
To give it a go, perform 10 repetitions of each exercise back to back, resting as little possible between them. If it's a one-sided exercise like the single-arm press or single-leg deadlift, complete 10 repetitions on each side before moving on. 
After you've finished all 10 exercises, rest for 90 seconds then restart the sequence. When you've done three rounds, you've reached the end. 
Watch Williams' videos below for a demonstration of each exercise, then all that's left to do is lace up your sneakers, warm up and get started. 
Watch Britany Williams' full-body dumbbell workout
If you struggle to find time to exercise, full-body workouts like this one could be the solution. With this type of training, you can work every muscle group, so you don't have to train every day; two or three times per week could be enough. 
And that isn't the only way Williams' workout represents a time-savvy choice. It's an example of a high-intensity resistance training (HIRT) workout, combining strength-boosting moves with low rest times to build muscle. 
Training in this way also raises your heart rate and boosts your metabolism for all-day fat-burning effects. And by using all your major muscle groups, total-body workouts tend to require greater effort than sessions focusing on a single body part, and will burn more calories as a result. 
As well as recruiting your muscles, HIRT sessions will also be a workout for your heart and lungs. Over time, this can lead to improvements in your cardiovascular fitness and aerobic capacity (the amount of oxygen your body can take in and use during intense exercise). 
If you want to try more full-body HIRT workouts, why not try this five-move dumbbell session. Or, if you want a lower-intensity activity for an active recovery day workout the next day, consider starting our Pilates for beginners plan.