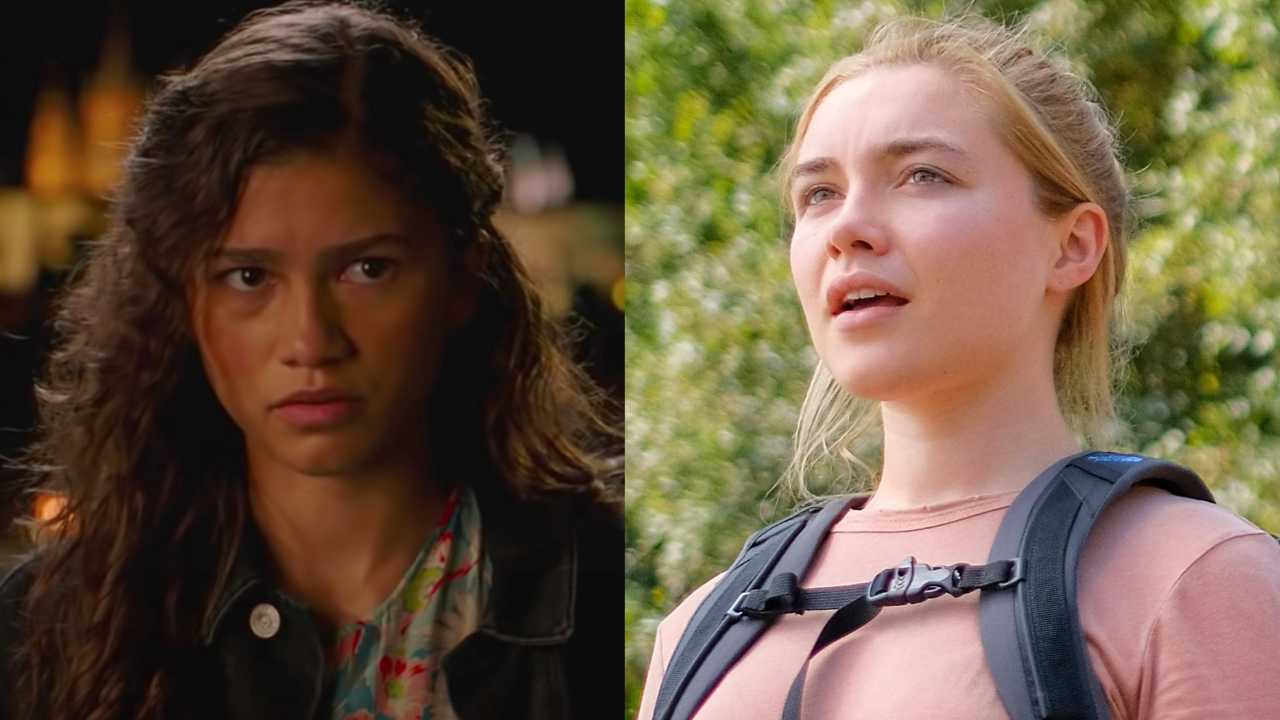 While social media can certainly be overwhelming and all-consuming with the FOMO of it all, it also reminds us sometimes to connect with people in our lives we don't see physically everyday, including old co-workers. It just connected Zendaya and Florence Pugh, who wrapped production on Dune: Part 2 back in December, and are apparently as excited to see each other in real life as we are to see them share the screen in the highly-anticipated 2023 new movie release. 
When Florence Pugh took to Instagram on Wednesday to share she's now the face of Valentino after going viral for her sheer pink gown last year, Zendaya had literal heart-eyes for the announcement. First, here's the post that got the pair talking over social media: 
Both Zendaya and Florence Pugh have ties with Valentino, with Zendaya recently strutting on a red carpet with a viral light pink gown with 190 hand-embroidered roses all over it. Anyway, here's how it went down for the actresses in the comment section: 
Zendaya: "😍😍😍"
Pugh: "@zendaya when am I seeing you?! I miiissss you xx"
Zendaya: "@florencepugh hopefully very very soon💕🥰"
Pugh: "@zendaya okay cool I can now rest peacefully at night. 💋"
Just like any other 20-something on social media, these two ladies just want to hang out, and when they forget to call or text each other, they are flooding one another's social media to carve out some plans. Ahead of these comments, we really had no idea these two actresses were getting close on set, but considering the use of lovey-dovey emojis, Chani and Princess Irulan were two peas in a pod. Both actresses are similar in age and among the biggest stars in Hollywood, so they must have a ton to bond over. 
The first reports of Florence Pugh joining the cast of Dune 2 came in one year ago, alongside a number of new additions like Austin Butler, Léa Seydoux and Christopher Walken. Pugh has spoken to working with Timothée Chalamet again after previously playing co-leads in Little Women, calling him the Leonardo DiCaprio of our time along with saying him, Zendaya and Butler are "sparkly people" that she feels lucky to call her friends after working with them on Dune: Part 2.  
During this week's CinemaCon in Las Vegas, Nevada, it was Zendaya and Timothée Chalamet who showed up in fashionable looks to preview first footage for Dune: Part 2 while Pugh films an upcoming drama with Andrew Garfield called We Live In Time. While the actresses' must have taken their public conversation to sidechat to talk over their schedules, we certainly can look forward to seeing the pair's dynamic in real life while they promote Dune: Part 2, heading to theaters on November 3.