YouTuber Mr Beast divides internet after building every challenge from Squid Game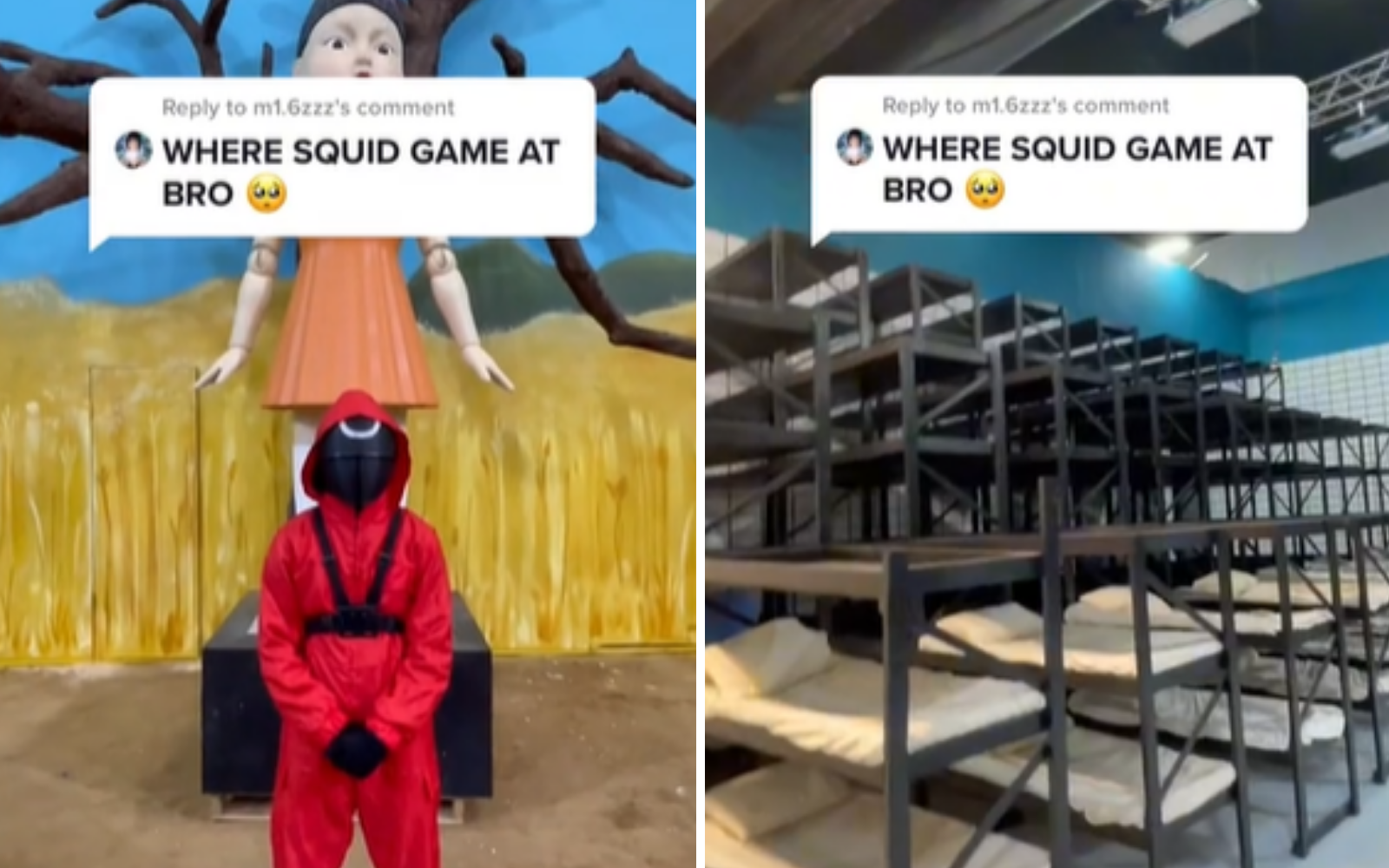 A YouTube star is recreating Squid Game challenges - and people are unsure of how to take it.
Mr Beast, who is well known for his outlandish challenges and incredible cash prizes, dropped a video showcasing perhaps his boldest challenge yet.
The video shows that his team recreated key locations from the show, including the fake neighbourhood where the marble challenge took place, the set of the honeycomb challenge, and of course, the red light green light arena (complete with the horrifying doll).
On Twitter he revealed it cost an eye-watering $2 million to build, with a further $1.5 million going towards prizes.
Responding to the video, a comment with over 300,000 likes reads: "He is too rich".
TikToker Amir De Leon wrote: "You might as well just shoot season two."
Sign up to our new free Indy100 weekly newsletter
The Squid Game sets are coming together! Wish the 456 contestants good luck next week 😈 pic.twitter.com/LdHf3OSsOE

— MrBeast (@MrBeast) November 3, 2021
Recreating Squid Games is costing more then I thought it would but i'm in to deep to stop now lol pic.twitter.com/Z196lyz4Ig

— MrBeast (@MrBeast) November 7, 2021
It all started when the YouTuber, whose real name is Jimmy Donaldson, uploaded a video to TikTok promising if the clip received 10 million likes, he would recreate Squid Game in real life.
The likes quickly racked up, with the video garnering 17.8 million likes since it was posted last month.
Karl, who frequently takes part in Mr Beast's videos, commented: "I'm one in 10 million".
Popular TikTok account The Mannii Show also replied, asking: "Where do I sign up?"
A few days later Mr Beast posted an update to let fans know they smashed their goal of 10 million likes. He then invited people to follow him because he is "grabbing random TikTok followers" to compete.
Commenting under the video, the YouTuber added: "I will actually fly you out."
Despite preparations well underway for Mr Beast's version of the popular Netflix show, some feel he missed "the point" of the show, which is largely a critique of capitalism.
It's really like you haven't even seen the show or got the point of it.

— JayQuillin (@Syntaximu) November 13, 2021
hot take but i feel once you've reached this level of wealth maybe you should be using said wealth to benefit the impoverished and not use it to recreate a show that is a direct critique of the exact thing being done here but hey that's just me https://t.co/UnK0mxgXKZ

— isis (@ISISST0P) November 14, 2021
The creator of squid game prolly having an aneurysm at how much his "show that's about capitalism" is getting exploited by capitalism

— Hassan 🇵🇰 (@Xassaan0) November 14, 2021
A ludicrous waste of money and resources. Shameful.

— Andrew (@virgo_ascending) November 14, 2021
However some stood up for him, highlighting Mr Beast's previous and ongoing philanthropy.
November 15, 2021
i don't get why people are mad about this, mrbeast gives away a lot of money & a chunk of the proceeds from this video alone will go to a food bank that he opened up… plus he's giving away money to people in this video as well. he's the most generous rich guy & y'all still mad- https://t.co/KJBteWUDFt

— stan daddy Reigen (@mewniepie) November 17, 2021
Some people are very excited and can't wait to see how it all unfolds:
such a legend

— marshmello (@marshmellomusic) November 13, 2021
Am I the only one who is excited for @MrBeast Squid game video? pic.twitter.com/vhIxXSV3h1

— ESP Mexi (@Mexiwnl) November 16, 2021
JESUS CHRIST, can't wait to watch this

— Forpz (@forpzy) November 13, 2021
This looks so great man! I can't wait to see how cool this is, and how much this will do for people!! https://t.co/0eOZgeV0XI

— KaK (@bageldacat) November 16, 2021
I'm very excited to see this https://t.co/TYnfzofl6Y

— Angel_Chri$tine (@AngelTags13) November 16, 2021
If you didn't get chosen to take part in Mr Beast's version of the game, you can try the honeycomb challenge for yourself at home by recreating this recipe.
Would you take part in Mr Beast's Squid Game?