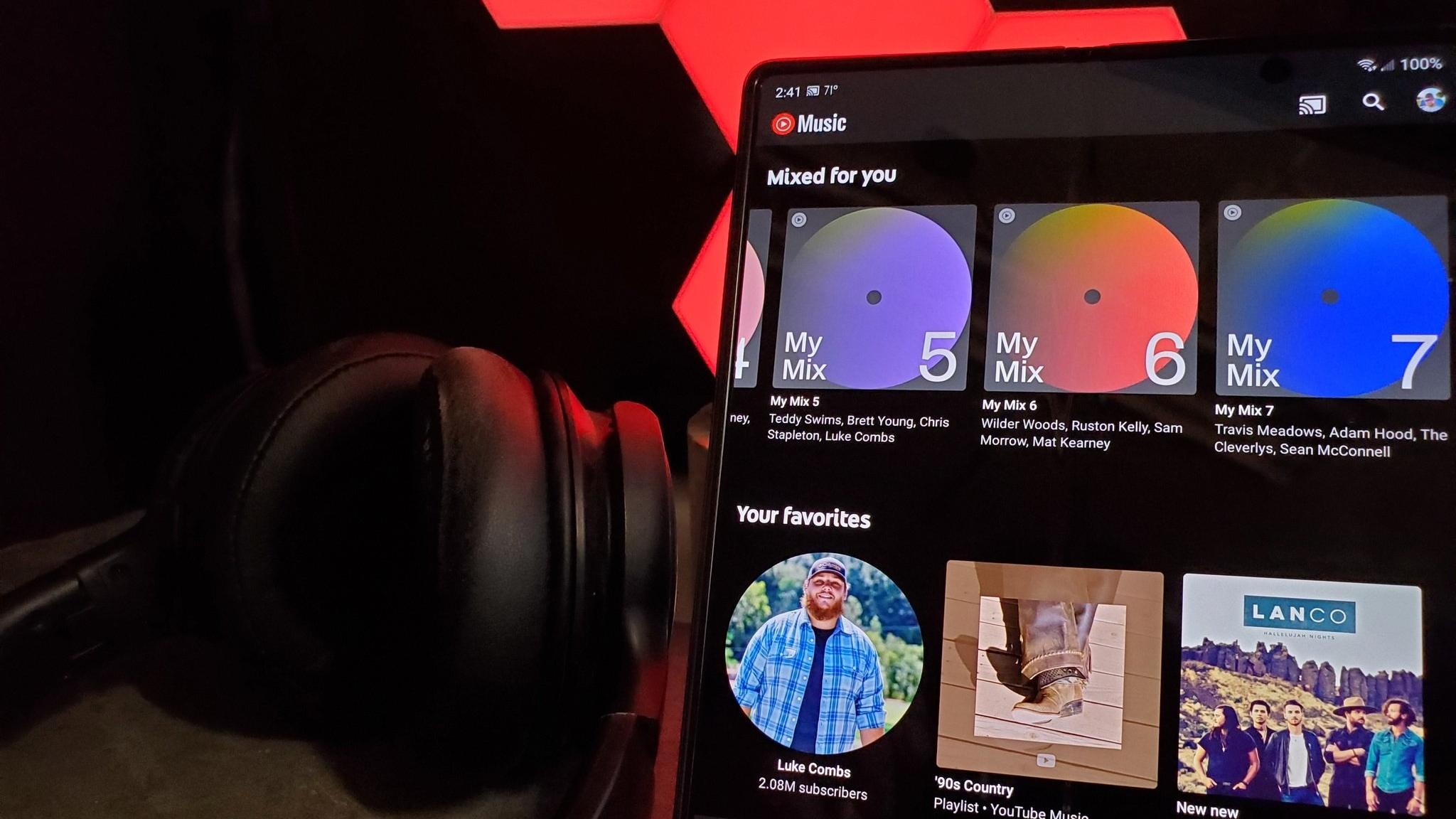 What you need to know
YouTube Music on Nest speakers now automatically connects to its mobile app version via a Google Cast session.
The new functionality allows you to pause a song or play the next one in queue on your smart speaker, among other operations, using your smartphone.
This also means that the songs playing on your speaker will override whatever is playing on your phone.
YouTube Music will now automatically launch a Google Cast session on your phone when you play music on a Nest speaker using your voice, overriding whatever song is currently playing on your handset.
A few Reddit users noticed the new functionality, as well as the fact that the same casting session automatically starts when playing songs on the Chromecast with Google TV dongle using the remote. We can also confirm that this works with the Nest Hub (2nd Gen). 
According to Android Police, this is now live on YouTube Music app version 6.03.52, though the update is likely to be a server-side change, which means it won't be available to all users right away. The new feature allows you to control music playback on many of the top Google Assistant speakers, like the Nest Audio, from your phone, as if you were casting music from your handset to the speaker. You can use your phone's YouTube Music app to pause, play, skip, and adjust the volume of music playing on your Nest speaker.
For what it's worth, these operations are nothing new. It's already possible to control music playback on your speaker from your phone, but only if you've cast music from your handset by tapping the Cast button on the playback page. The latest change mimics a popular Spotify Connect capability.
So, the next time you ask your Nest speaker to play music, you can head over to YouTube Music on your phone to adjust the volume level on the speaker, for example. It should be noted, though, that this only works when the two devices are connected to the same Wi-Fi network. Based on our testing, it usually takes two seconds for the app to detect that YouTube Music is playing on a Nest speaker and begin a Cast session.
However, there's a catch. Once a song begins playing on your speaker and a Cast connection is established, whatever is playing on your speaker will take over the current playlist on your phone.
Some people may find this feature convenient, as it allows them to easily control music playback without having to touch their Nest speaker. Others, on the other hand, may find it irritating because they do not want their phone's current playlist to be interrupted.
Despite the name change from Google Home to Nest Audio, Google's latest speaker is more focused on improved audio quality, faster Google Assistant response time, and a striking, multi-colored tower design. This device will appeal to regular Google and Nest Security users.