China's green future and red past: the message in Xi's visit to Shaanxi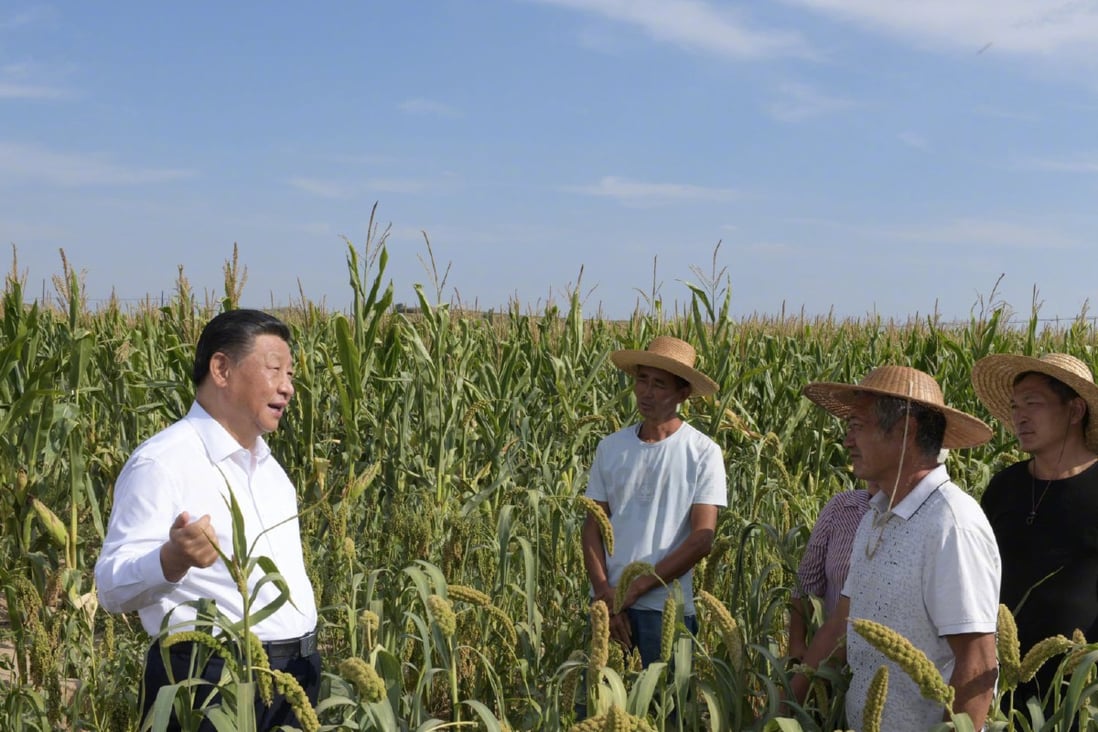 President Xi Jinping began an inspection trip to Shaanxi province in northwestern China on Monday stressing the importance of environmental health and of maintaining the Communist Party's revolutionary spirit, according to state media.
State news agency Xinhua reported that Xi visited a clean-coal enterprise, a large-scale soil erosion rehabilitation project and a revolutionary site during his first stop in the city of Yulin.
Xi is expected to attend the opening ceremony of the National Games in the provincial capital Xian on Wednesday evening. It will be China's first major sporting event of the Covid-19 era and is seen as a rehearsal for Beijing's Winter Olympics.
The visit is the president's second inspection trip to follow the leadership's Beidaihe annual retreat in August.
The province is regarded as the starting point of Xi's political long march that saw him rise to be the most powerful man in the world's second-largest economy after serving as the party leader of a village in the 1970s.
This trip also comes less than two months before top party leaders gather in Beijing for a pivotal meeting in the lead-up to next year's national congress to work out major party policies for the coming years.
According to Xinhua, Xi inspected China Energy Group's Yulin chemical plant. The plant, which was built in 2012 for over 1 billion yuan (US$155 million), was China's pilot project for the complete use of coal to produce chemical products – including methanol to polyolefins – while generating barely any industrial waste water.
With coal as China's dominant source of energy, making coal "greener" has been a critical part of the nation's environmental drive. Beijing has set emissions and efficiency standards for coal-fired power plants higher than the European Union and the United States. It is also encouraging similar "clean coal" projects that convert coal to methanol to produce ethylene and propylene, the building blocks of various plastics and chemical products.
Xi also inspected the village of Gaoxigou in Mizhi county, urging officials to push to control soil erosion and promote "ecological civilisation building", Xinhua said.
The village, in a rugged area of the Loess Plateau in northern Shaanxi, was almost uninhabitable in the 1950s. Residents spent decades restoring the habitat and later turning the village into an eco-park.
It is now hailed as a success story in Xi's poverty alleviation campaign, with a per capita income nearly 50 per cent above the county's average.
Xie Maosong, a senior researcher with Tsinghua University's National Strategy Institute, said Xi's recent inspections have focused on environmental projects that required "generations of hard work to bear fruit", sending a message to the party to "think and plan for a longer term".
During his trip to Hebei province last month, Xi visited Saihanba, the world's largest artificial forest which took over four decades to establish.
"While some party cadres may want to see short-term results as they need it for career advancement, Xi's message to them is clear that he will assess them based on long-term results."
Xinhua said Xi paid tribute to party pioneers at the Yangjiagou Revolutionary Memorial Hall and listened to a report on the protection and promotion of such sites to enable cadres to inherit a revolutionary spirit.
China's former revolutionary leaders, including Mao Zedong, Zhou Enlai and Ren Bishi, convened a top party meeting in the small village in December 1947, agreeing to a nationwide offensive strategy to beat the nationalist troops.
Yangjiagou, just like the remote village of Liangjiahe where Xi was sent during the Cultural Revolution, is now a key party historic education site and the destination for a constant stream of party pilgrims.
Xi was sent to Liangjiahe in 1969 at the age of 15 as part of Mao's "Up to the Mountains and Down to the Countryside Movement", which saw millions of educated city youth sent to learn from peasants in rural areas.
Xi spent seven years in Liangjiahe hauling grain and sleeping in cave homes. In 1974, Xi joined the Communist Party and later became the party secretary of Liangjiahe.
The president said he "left his heart" in Liangjiahe and that the experience shaped his political orientation.
Shaanxi is also considered Xi's home province because his father Xi Zhongxun was born in Fuping county.
Xi last visited Shaanxi in April last year, when he focused on anti-corruption in talks with cadres.
He inspected the Qinling Mountains, an area at the centre of a major corruption scandal involving senior members of the provincial leadership three years ago.