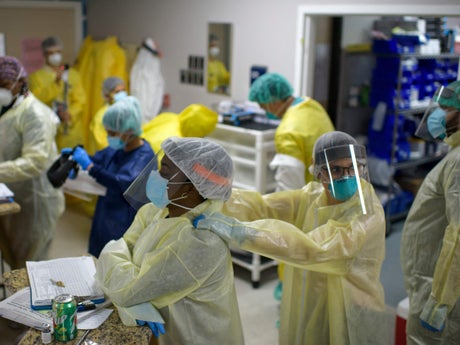 Women are being failed and "short-changed" by predominantly male leaders overseeing the response to the Covid crisis, a new report has suggested.
The study, conducted by global humanitarian agency Care International, warns the world is grappling with a global crisis that combines climate change, conflict and the pandemic and that women are being hardest-hit.
Researchers found women make up 70 per cent of global health workers toiling on the pandemic frontlines, yet on average accounted for only one quarter of coronavirus taskforce members during the initial stages of the Covid emergency.
The study argued the United Nations and rich countries often neglect women and girls in their responses to crises as researchers note more than one in 33 people around the world - which equates to 235 million in total - will require humanitarian support this year.
Care International has launched a campaign for more women leaders titled March4Women - with the Women's Institute, Fawcett Society, Friends of the Earth, Unison, Women for Refugee Women, and other organisations joining.
Helen Pankhurst, the convenor of Centenary Action Group, also involved in the campaign, said: "For too long, the world has been run by only half of humanity. And for too long, women have been kept at the margins. The Covid-19 pandemic has shone a spotlight on the dangers of policies developed only with a male lens.
"Yet in addition, globally, we are also facing humanitarian and climate crises and the problems are compounded if each time it is only men making the decisions.
"As part of the March4Women campaign around International Women's Day, we are therefore demanding diversity of leadership now and not in some distant future."
Ms Pankhurst, the granddaughter of Suffragette Sylvia Pankhurst, said a dearth of women within policymaking will have a detrimental effect on leadership, adding that "poor leadership today" will impact "all our tomorrows."
The Care International report examines the 10 countries that make the biggest overseas aid donations, and five UN agencies, on three critical subjects: women's leadership, funding for gender equality programmes and women-led organisations.
Researchers found that, with some exceptions, the nations and organisations had failed to substantially fund women's groups in "fragile and conflict-affected states" — with seven of 11 top donors putting less than one per cent of aid into pockets of women's organisations.
The financial and social fallout of the pandemic risks rolling back "even modest progress on funding gender equality efforts", the report warned.
Researchers found just 0.27 per cent of UK Aid funding for fragile countries gets to women's rights organisations, movements and government bodies — substantially lower than the four per cent advised by Care International.
Katherine Nightingale, of Care International, said: "The proposed reductions to the aid budget, and a lack of political commitment to continue support for gender equality and women's leadership as a priority across aid and foreign policy puts this further at risk, just as women and girls are grappling with recovery and response to climate, conflict and Covid-19."
A previous study by the Centre for Economic Policy Research and the World Economic Forum found nations led by women rather than men had more successful responses to the coronavirus outbreak and implemented lockdowns more quickly as well as experiencing half as many deaths.
While Christine Lagarde, the president of the European Central Bank, said last year that the policies and communication of female-led nations had been "quite stunning", adding: "I would say for myself I've learned that women tend to do a better job."