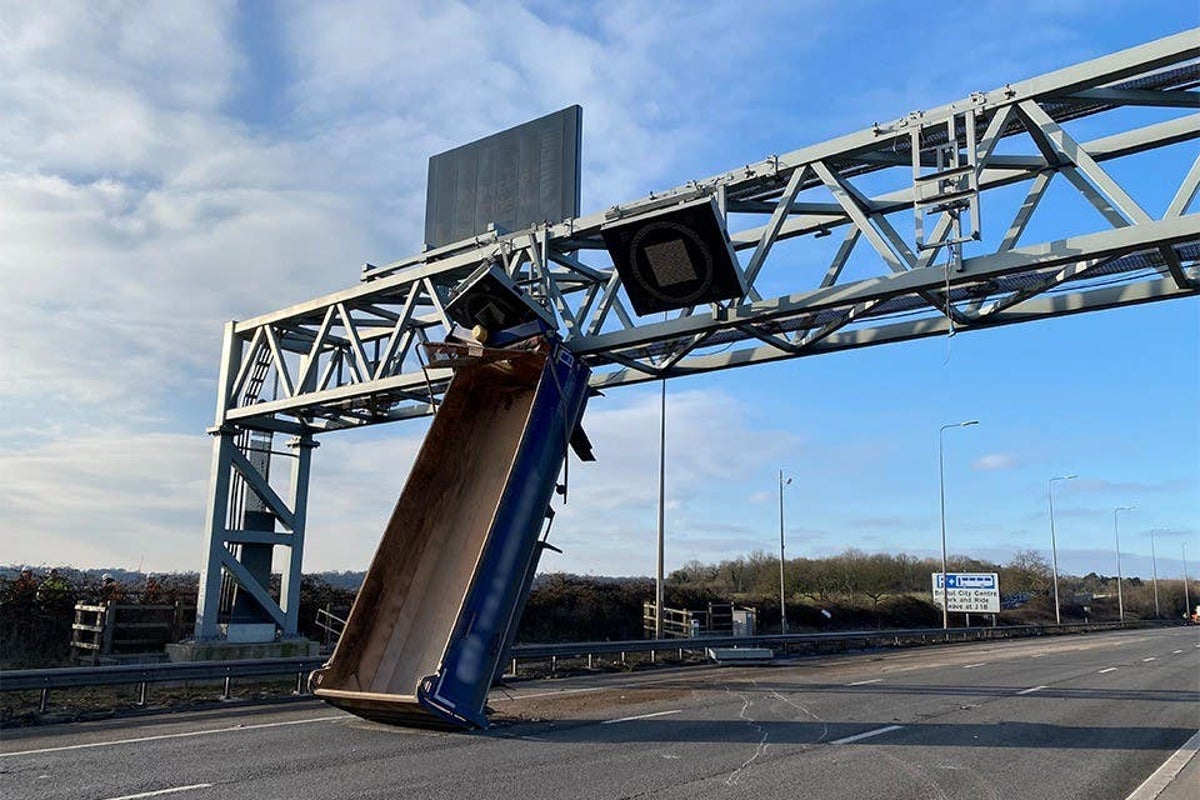 Police are appealing for witnesses after a tipper truck smashed into an overhead gantry on a motorway.
The crash happened just after 8am on Thursday on the M5 near Bristol, closing the road in both directions and causing serious delays to motorists.
Part of the vehicle was wedged under the gantry in lane one, but was later removed.
At least one sign attached to the structure fell onto the road, and all other signs on the gantry were disrupted as electrical cables were severed.
Hydraulic fluid also spilled onto the carriageway.
The carriageways were closed northbound between Junction 18A and Junction 17, and southbound between Junction 17 and Junction 18.
The northbound carriageway has since been reopened, with the southbound carriageway anticipated to be open later this evening, National Highways confirmed.
In the meantime, southbound traffic is continuing to be diverted via the M4 westbound to the M49 to rejoin the M5 at junction 18.
Avon and Somerset Police said no injuries were reported. The force is now appealing for witnesses to the crash.
In a statement, a police spokesperson said: "We understand the lorry joined the M5 at junction 17 and are keen to hear from anyone who witnessed the collision or the vehicle in the moments leading up to the incident.
"Dashcam footage from drivers in the area and showing the lorry would also be gratefully received.
"If you can help our enquiries, please call 101 and give the call-handler reference number 5223050000."
Terry Robinson, south west engineering manager for National Highways, said: "We were forced to close the M5 today to protect the travelling public and given the scale of the damage, we and our teams have been working extremely hard to ensure we could reopen by this evening.
"The incident occurred on a particularly busy section of the M5, we have been working with our police partners throughout the day, and we appreciate the closure has caused significant delays to people's journeys.
"The gantry is now perfectly safe but the extent of the damage means we will need to replace the structure and we'll be looking to move a new gantry into place in the coming days, under a planned overnight closure.
"We'll communicate that once we have a date confirmed, and in the meantime we thank all drivers for their co-operation and patience today."
Drivers can check live updates at website trafficengland.com or follow @HighwaysSWEST on Twitter.