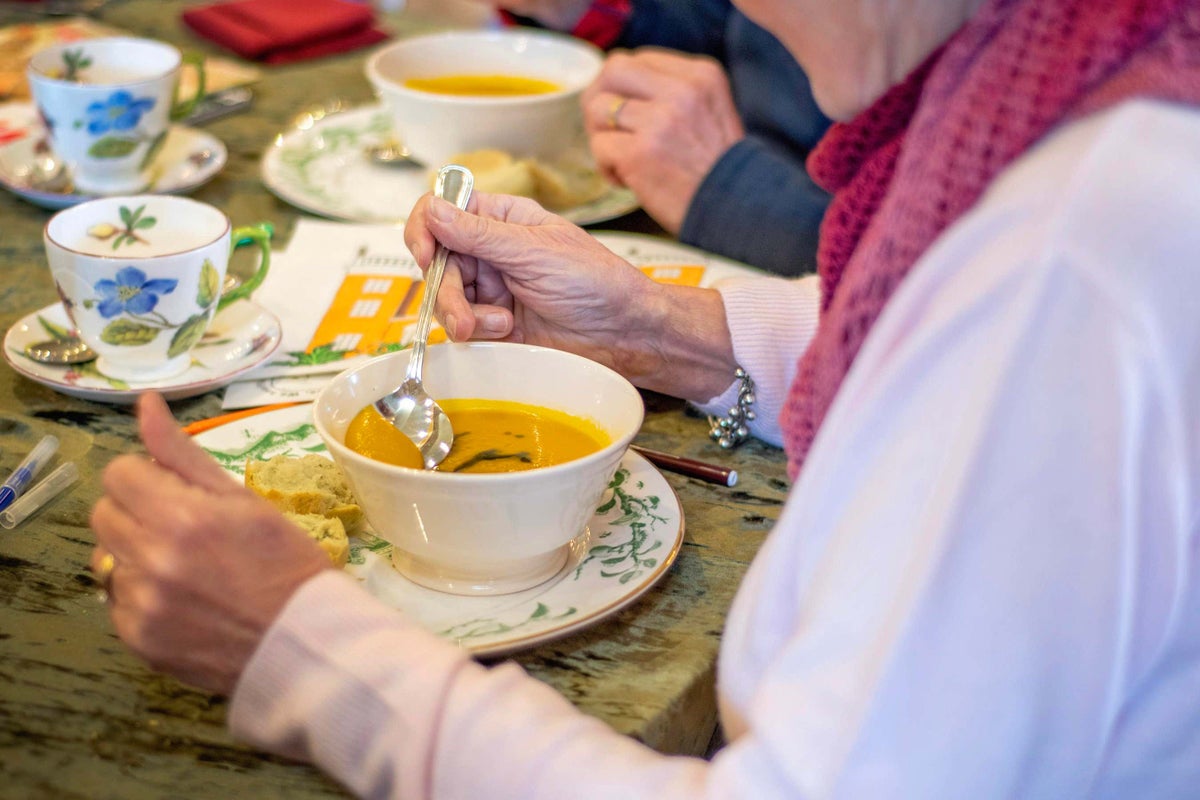 An initiative to help combat loneliness and the cost-of-living crisis across the UK is being run by the King's charity.
Hundreds of people from the local community are enjoying free hot drinks and soup, and practising sociable activities such as craft, board games and knitting in the Orchard Room on Charles's Highgrove estate in Tetbury, Gloucestershire, as part of the Winter Warmers project.
The scheme – organised by The Prince's Foundation – is also taking place at the charity's headquarters Dumfries House in East Ayrshire and the Queen Mother's former home the Castle of Mey in Caithness.
Running from January to March, the weekly initiative provides a welcoming place for local people to gather and offers a warm haven for those who may not be able to heat their own homes amid the rising energy costs.
Such has been the demand the free tickets have already sold out for all sessions.
Charles highlighted the cost-of-living difficulties facing the nation in his first-ever Christmas message, sympathising with families struggling to make ends meet and praising individuals, charities and faith groups supporting those in need.
He spoke about the "great anxiety and hardship" experienced by many trying to "pay their bills and keep their families fed and warm" during his televised message, which featured footage of a food bank and other scenes of meals being distributed to the homeless.
Footage of a Winter Warmers event being staged on the Highgrove estate on Tuesday showed members of the local community seated at round tables in the Orchard dining room, tucking into bowls of soup and having cups of tea, as they chatted, with some making wool pompoms as part of a craft activity.
The Orchard Room, which is usually open to visitors after Garden Tours, is set within the gardens of Charles's beloved Highgrove.
Emily Cherrington, executive director of The Prince's Foundation, said: "Since establishing The Prince's Foundation's integrated health and wellbeing programme in May 2016, we have run many initiatives to help strengthen communities.
"At a particularly hard time for many, we felt we had the capacity in the quieter winter months to utilise our spaces to benefit those in the surrounding communities, many of whom perhaps cannot afford to heat their homes or whom may not have the opportunity for social interaction.
"We hope that by offering a space for people at these three communities across the UK to meet for a cup of tea and some enjoyable activities, we can play a small part in ensuring our guests benefit from some warmth and friendship each week."
The Winter Warmers initiative runs in line with The Prince's Foundation's mission to build communities and help reduce the effects of social isolation.