Winner claims HK$10.8 million flat offered to boost Hong Kong vaccination rates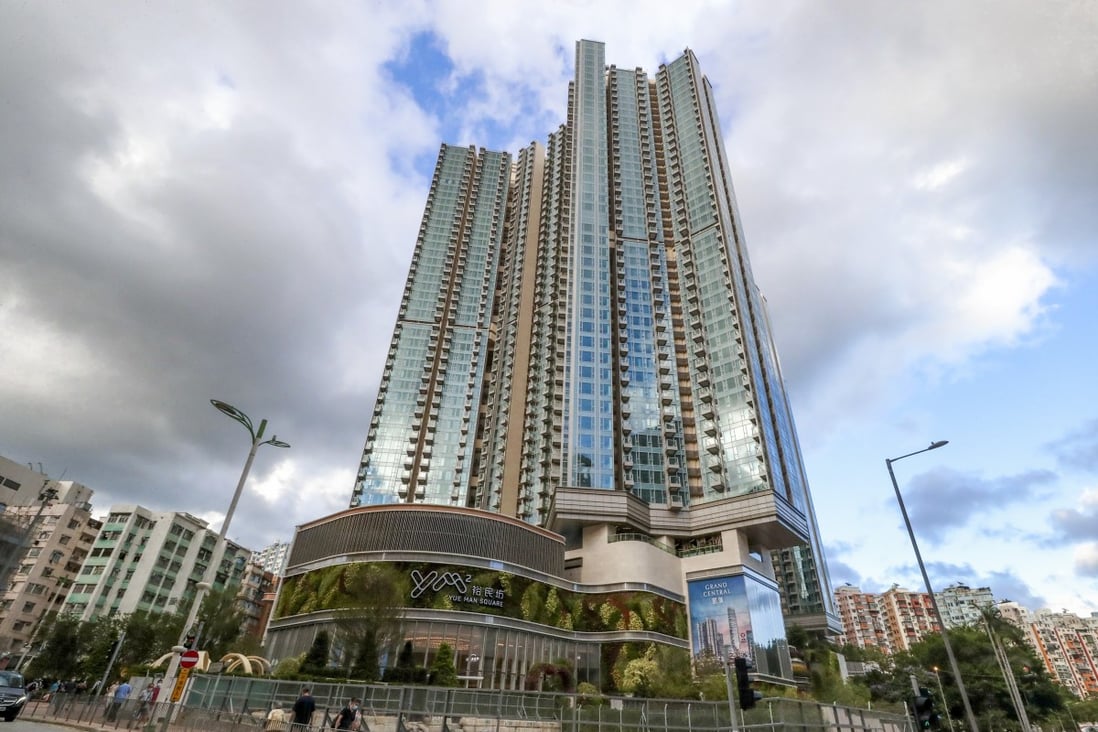 A lucky winner in Hong Kong has claimed the HK$10.8 million (US$1.4 million) flat offered as the grand prize in an unprecedented lottery aimed at boosting the city's coronavirus vaccination rates.
The individual, identified only by a portion of his or her Hong Kong ID and telephone numbers, was chosen from among 2.5 million permanent residents.
A night before the draw results were announced, the vaccination rate had reached 69.55 per cent among Hongkongers aged 12 to 69 who had taken at least one dose, though jabs among the elderly still lagged.
Sino Group's philanthropic arm – the Ng Teng Fong Charitable Foundation – and developer Chinese Estates Holdings announced in late May they were sponsoring a lucky draw with a grand prize of a one-bedroom flat measuring 449 sq ft at the Grand Central project in Kwun Tong.
Another 20 prizes were also handed out on Wednesday, including prepaid credit cards valued at HK$100,000 each. The cash prize portion of the lottery was open to all residents, including those holding Hong Kong employment visas and foreign domestic helpers.
The draw was witnessed by two justices of the peace, Rita Fan Hsu Lai-tai and Tam Yiu-chung, as well as a representative of Woo Kwan Lee & Lo, the draw organiser's legal advisers.
At an event unveiling the results on Wednesday, Tam said the giveaway had accomplished its primary goal. "The lucky draw has been a very good chance for us to get more people vaccinated," he said.
Tam added he was confident Hong Kong's infection controls were stable, and that as the inoculation rate increased, it could provide the basis for a reopening of the border with mainland China.
Winners were randomly selected by a special Ernst & Young computer system, while auditors on site matched their HKID numbers and names. The first part of the top prize winner's Hong Kong ID card number was revealed as Z710, while their phone number ends with 0215.
Winners will receive an SMS message and phone call from organisers no later than Thursday, and the results will be published online.
When the draw was first unveiled in May, the city's vaccination rate stood at 17.6 per cent for those with at least one shot and 12.9 per cent for those with two.
As of Tuesday night, about 7.92 million vaccine shots had been administered in the city, with 57 per cent of the total population, or 4.27 million people, having received at least one dose, and 48.7 per cent, or 3.65 million, fully vaccinated.
But the number of people receiving their first jab each day has been on a downward trend, dropping to about 15,400 on Monday from roughly 30,000 in mid-August.
Chief Executive Carrie Lam Cheng Yuet-ngor took note of the trend while speaking to lawmakers on Wednesday, urging residents to get vaccinated.
"I said earlier that we have to have more than 20,000 residents receive a shot each day to reach the target [70 per cent in September], but it is now dropping to barely over 10,000 shots a day," she said.
A second Kwun Tong flat worth HK$12 million will also be given away in a lucky draw, but only if 5 million city residents have had at least one vaccine shot by the end of September.
Eligible permanent residents who registered for the first draw will automatically be enrolled in the next round with no additional registration required.
Hong Kong's private sector as a whole has dished out more than HK$190 million in perks and prizes in the effort to help breathe life into the vaccination campaign.
Business chambers, developers and retail chains have given away Teslas, iPhones, flight tickets and even gold, answering the government's appeal to help incentivise the citywide inoculation push.
The fear of side effects has been the main reason for vaccine hesitancy in Hong Kong, while public distrust of the government stemming from the 2019 protests has also been cited as a key factor in the lack of enthusiasm for the campaign.
The inoculation drive, which began in February, runs until the end of this month.
Inoculation rates among the city's elderly remain very low.
Only 30.7 per cent of those aged 70 to 79 have received two vaccine shots, while that figure stands at just 9.2 per cent for those aged 80 and above.
The government introduced a walk-in scheme for residents aged 70 and above in late July, with 4,600 slots offered daily at 24 community vaccination centres.