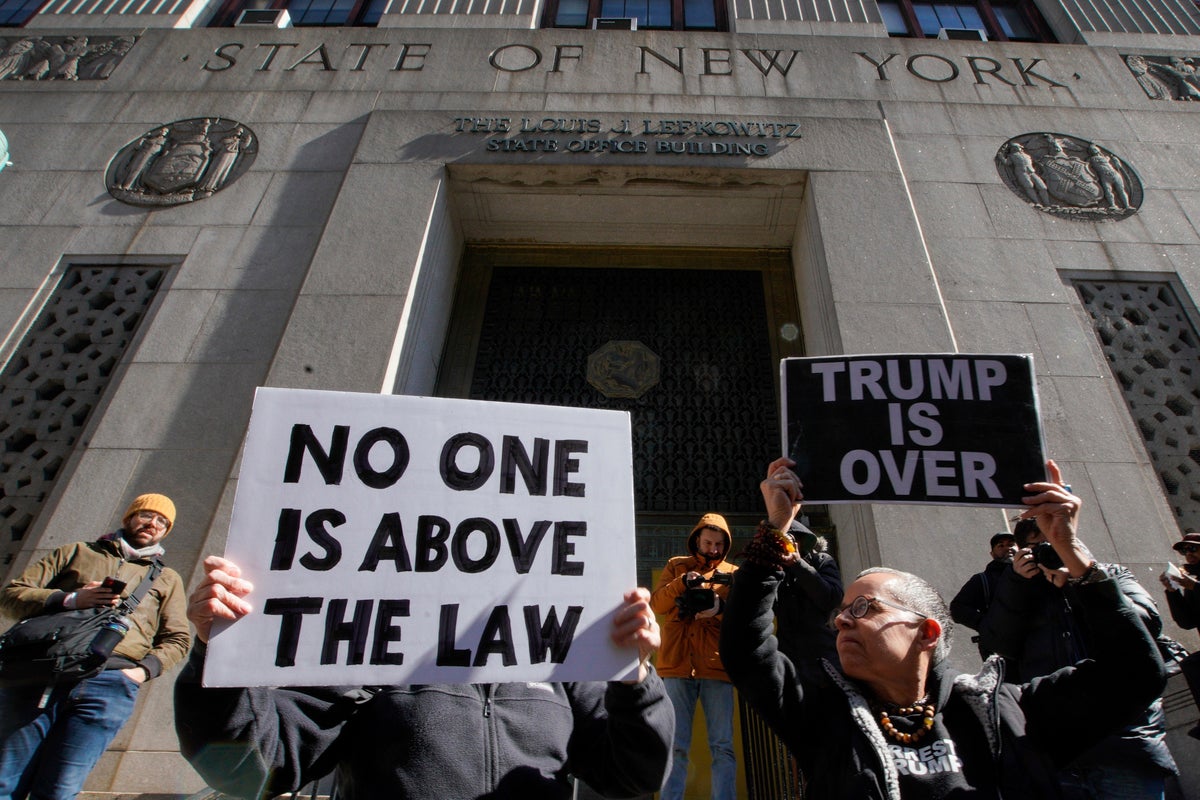 Workers began erecting barricades around the Manhattan Criminal Courthouse this week, bracing for a potential, unprecedented moment: Donald Trump arriving to face charges in a hush money probe, making him the first president in US history to face criminal charges.
Mr Trump announced over the weekend that he expected to be arrested on Tuesday, and called on his supporters to protest what he called the "corrupt and highly political Manhattan district attorney's office,"
"PROTEST, TAKE OUR NATION BACK!" Mr Trump blared on social media.
However, Team Trump soon began to rein in the former president. The probe into hush money payments made during the 2016 presidential campaign crawled on with additional witnesses through Monday and the grand jury didn't meet on Tuesday.
A Trump spokesperson clarified the former president's team has been given "no notification" of an impending arrest beside "illegal leaks".
Since then several media outlets have speculated on exactly when the legal move will come. What doesn't appear to be in doubt is that indictment is on the cards. Trump was given a chance to go before the grand jury - a typical sign that the office is preparing to indict. The grand jury will also need to vote on the indictment but voting down charges is highly irregular.
Trump himself is waiting it out in Florida while it is unclear whether any additional witnesses might be summoned as the grand jury recovenes.
Police and security officials met on Monday at the New York Police Department headquarters to plan for a potential arrest of Mr Trump.
"We'll be discussing how we bring Trump in," a source involved in the planning told Politico, "No decisions have been made yet."
Mr Trump's lawyers said over the weekend the president will surrender if indicted and there won't be a "stand-off at Mar-a-Lago".
A defendant who surrenders usually reports to the DA office for a pre-scheduled appointment. Mr Trump will need to have his fingerprints and mugshot taken. Karen Agnifilo, a former prosecutor in the Manhattan district attorney's office, told the Wall Street Journal that Trump would then be interviewed by detective investigators and arrested.
"And he would be issued a rap sheet reflecting this arrest, like every other person who is arrested and fingerprinted in this country," said Ms. Agnifilo.
She added that Trump would likely be spared being held in a holding cell like most defendents awaiting arraignment.
Supporters of Mr Trump, ranging from the New York Young Republicans to far-right figure Laura Loomer, said they planned to hold demonstrations to protest the charges at various sites around the country, while on far-right messageboards, some discussed preventing law enforcement from reaching Mr Trump at his Mar-a-Lago estate in Florida.
Mr Trump's main rival in the GOP 2024 field, Florida governor Ron DeSantis, spoke out on Monday about the potential charges.
"I don't know what goes into paying hush money to a porn star to secure silence over some kind of alleged affair," Mr DeSantis said at a news conference in Panama City. "I can't speak to that."
The former president also faces legal threats from a probe in Georgia examining his efforts to flip the 2020 election results, a federal special counsel investigating his role in the January 6 insurrection, and a New York suit alleging Mr Trump conducted corrupt business practices.