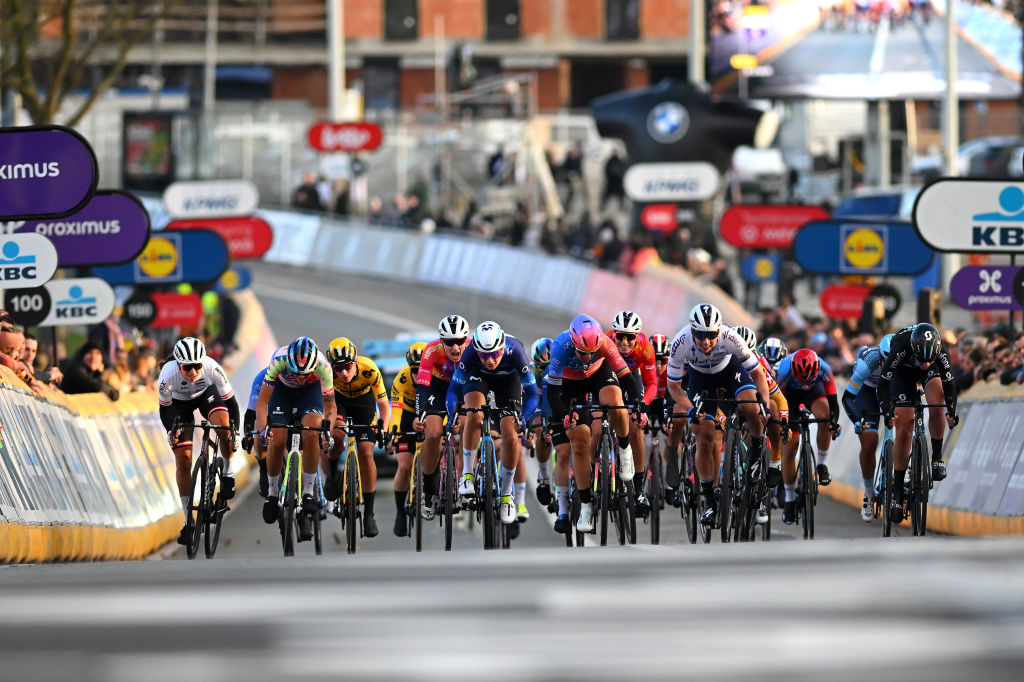 Three of the fastest sprinters in the women's peloton are preparing for the first real test of speed against one another ahead of the pan-flat cobbled Classic Brugge-De Panne on Thursday. 
In what is expected to be a thrilling sprint showdown, Lorena Wiebes (SD Worx), Charlotte Kool (Team DSM), and Elisa Balsamo (Trek-Segafredo) will go head-to-head in the next round of the Women's WorldTour.
"This is one of the few real sprinters' races. Maybe it will be the first real showdown with Charlotte Kool and Elisa Balsamo. I hope to win here because this race was marked on my calendar in advance," Wiebes said.
The three sprinters have already toed the start line as rivals during opening weekend's Omloop Het Nieuwsblad where SD Worx went 1-2, with Lotte Kopecky taking the win and Wiebes winning the reduced sprint for second place. However, there Balsamo finished 61 and Kool 97th on that day.
Cycling fans were treated to Wiebes and Kool sprinting against each other for the first time at the UAE Tour Women. In that three-day race, Kool won two stages, and Wiebes won one. 
The event offered Wiebes, who raced for Team DSM for the previous two seasons, and her new team SD Worx a chance to gel ahead of the Spring Classics in what is the team's first-ever dedicated lead-out sprint train. 
However, at Classic Brugge-De Panne, she will only have three other teammates Christine Majerus, Lonneke Uneken and Anna Shackley. Barbara Guarischi and Femke Markus were scheduled to race but were sidelined due to illness.
Kool, on the other hand, stepped into a sprint leadership role at Team DSM and proved to be on par with Wiebes in the bunch sprint while at the UAE Tour. Albert Timmer, Team DSM coach, believes that Kool's ability to win a race like Classic Brugge-De Panne while also fielding a team that could surprise with a rider like Pfeiffer Georgi, who is on the cusp of a breakthrough season.
"Like most of the time in the classics, we will be prepared for two potential scenarios - action in the wind or a bunch sprint. In the case of wind and echelons, we have a strong team here, with most of the girls already showing their strength in echelons at the UAE Tour already," he said.
"If we see the race unfolding like this, we will race aggressively and with an open approach to look for our chances. If it comes down to a bunch sprint, we will have Charlotte, one of the fastest riders in the peloton, as our finisher."
The 163.1km race begins at the Markt in Brugge and travels westward along the North Sea toward finishing circuits in De Panne with a new finish in Zeelaan. Riding in the opposite direction to previous editions, the circuit takes the peloton through the decisive De Moeren and offers few flashpoints for attackers but the perfect backdrop for a bunch sprint.
"Brugge-De Panne is going to be a great race, as I saw on Veloviewer that we'll get full on the wind with speeds of up to 30 kilometres per hour. So spectacle guaranteed with echelons, no doubt. It doesn't scare me because Team SD Worx is good at positioning. But we will have to be constantly alert," Wiebes said. "I expect a first real showdown with Charlotte Kool and Elisa Balsamo. The fans have been waiting for it for a while. Brugge-De Panne is one of the few really sprint races, except when the wind is on the side in De Moeren. Then it immediately gets a lot tougher, but I like to see that too."
Italian Champion Balsamo will line up as the defending champion in Brugge. Last year she had a remarkable week of racing that she called her 'golden week' after winning Trofeo Alfredo Binda, Brugge-De Panne and Gent-Wevelgem. 
She is slowly getting closer to an early-season WorldTour win after finishing fourth at Ronde van Drenthe, where Wiebes won, and second at Trofeo Alfredo Binda, behind her own Trek-Segafredo teammate Shirin van Anrooij. She will be looking to defend her title before turning her attention to Gent-Wevelgem.
Join Cyclingnews' live coverage of the 2023 Classic Brugge-De Panne Women with race reports, results, photo galleries, news and race analysis.