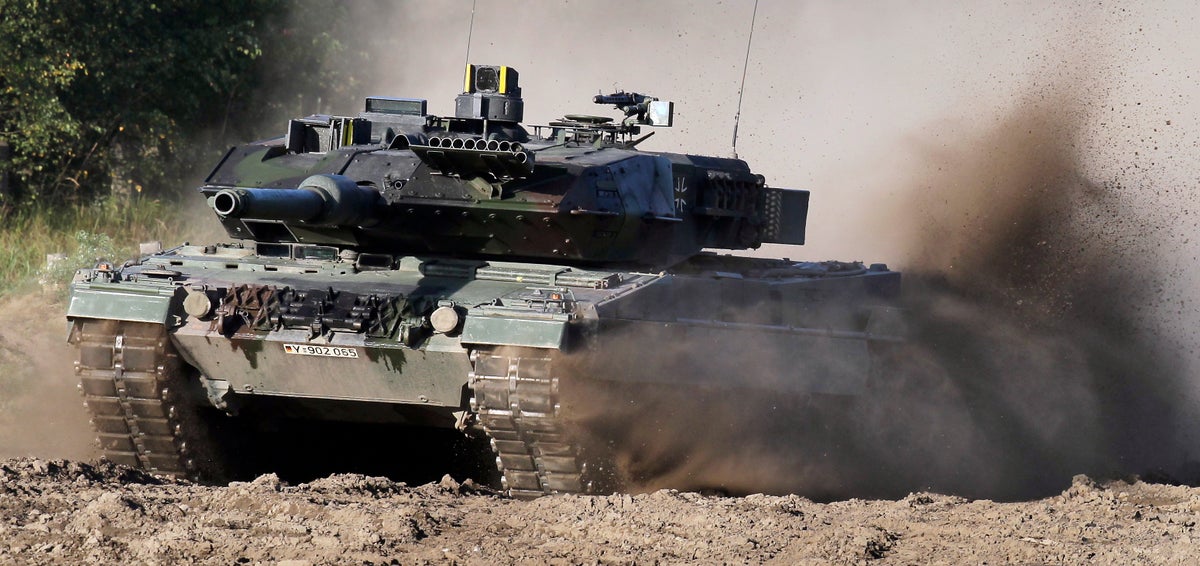 Germany has announced it is sending its Leopard 2 tanks to Ukraine – and will allow other nations to do so too. Berlin will send 14 to begin with, with Poland also saying it will send 14 and Canada saying it will send four.
Norway has also said it will send Leopards, while Spain has said it is open to providing them.
Ukraine's President Volodymyr Zelensky has said the tanks are crucial to replenish his nation's military hardaware ahead of what he believes will be increased Russian offences in the spring – with intense fighting having already been taking place in eastern Ukraine for weeks. Kyiv also wants them to try and recapture territory taken by Moscow's forces.
Why does Ukraine want the Leopard in particular?
The tank is regarded as one of the West's best. German defence company Krauss-Maffei Wegmann has built more than 3,500 Leopard 2 tanks since beginning production in 1978.
The tank weighs more than 60 tons, has a 120mm smoothbore gun and can hit targets at a distance of up to five km. It has a laser range finder that can measure distance to an object, meaning that aiming at moving targets while traveling over rough terrain becomes easier. Night vison capability also helps.
Some 20 nations operate the Leopard 2, which also makes it easier for Ukraine to manage maintenance and crew training.
Beyond the nations mentioned above, countries operating the Leopard include Denmark, Finland, Netherlands, Austria, Sweden and Turkey.
How many Leopards are available?
Germany has pledged 14 Leopard 2 tanks to begin with, with potenially dozens more to come. It will also allow other countries that hold them to re-export them to Kyiv.
The Leopard 2 is one of the most widely used Western tanks. But in general, three decades after the end of the Cold War, tanks and other heavy weapons are in scarce supply in most of the West. Many countries drastically reduced their armies after the fall of communism.
Germany has about 350 Leopard 2 tanks today, compared to some 4,000 battle main tanks at the height of the Cold War, German military expert Carl Schulze says.
Ukraine has said that it would like 300 tanks, although it is unlikely to get quite that number. More than 100 across the nations in Europe that hold Leopard 2s would be a more approachable figure, plus tanks from elsewhere.
It is all but impossible to buy a large amount of Leopard 2 tanks quickly. Germany's defence industry is banned by law from producing them for stock-keeping. Countries ordering new tanks need to be prepared to wait two to three years for delivery. Although German ministers have said they are looking to significantly speed up procurement.
Even if production were ramped up, experts say it could take at least two years for the first new tanks to leave the factory.
What other tanks have been pledged?
The UK has pledged a squadron, or 14, of its Challenger 2 battle tanks, which have a 120 mm rifled gun. As well as training for Ukrainian troops.
The US has also pledged to send 31 of its M1 Abram tanks, plus recovery vehicles. However, the logistics involved in getting the tanks to the battlefield, as well as the extensive and complex maintenance and required for the high-tech vehicle, mean that it may be some time before they appear on the frontlines.
Poland will also send an additional 60 of its PT-91 tanks, the Polish prime minister said in an interview with Canadian television on Thursday.
"Poland sent 250 tanks as the first country half a year ago or even more than that," Mateusz Morawiecki told CTV News, referring to Soviet-era T-72s that Ukraine has relied upon in the main.
"Right now, we are ready to send 60 of our modernised tanks, 30 of them PT-91. And on top of those tanks, 14 tanks, Leopard 2 tanks, from in our possession," Mr Morawiecki said.
The PT-91 is a Polish-made battle tank that came into service in the 1990s. It was developed from the T-72 range.
What had been the hold up in sending tanks – particularly the Leopard 2 – to Ukraine?
Germany's chancellor, Olaf Scholz, had come under increasing pressure to allow the re-export of the Leopard tanks, dozens of which are held by armies across Europe – but could not be sent to Ukraine with the express permission of Berlin.
Germany initially resisted such a move, saying Western tanks should only be supplied to Ukraine if there is agreement among Kyiv's main allies, particularly the United States. Berlin has been trying to strike a balance between ensuring Ukraine can defend itself and not supplying arms that could encourage Kyiv to make attacks on Russia or draw Nato into conflict with Moscow. Mr Zelensky has repeatedly said that the tanks are for defending Ukraine, and recovering Ukrainian territory lost to Moscow. Not for attacking Russia directly.
While Mr Scholz promised a "sea change" in Germany's defence and security policy in response to Vladimir Putin's invasion of his neighbour, that shift has appeared slow to Kyiv and its most vocal allies in Europe including Poland and the Baltic nations – who border either Russia itself or Belarus and Ukraine and fear the threat of Russia's war on its doorstep.
The German leader has repeatedly voiced concern over his country being perceived as escalating the war and provoking President Putin, who has hinted he could resort to nuclear weapons. Mr Scholz's SPD party has a long history of pacifism and a record of promoting closer ties with Russia.
Reuters contributed to this report