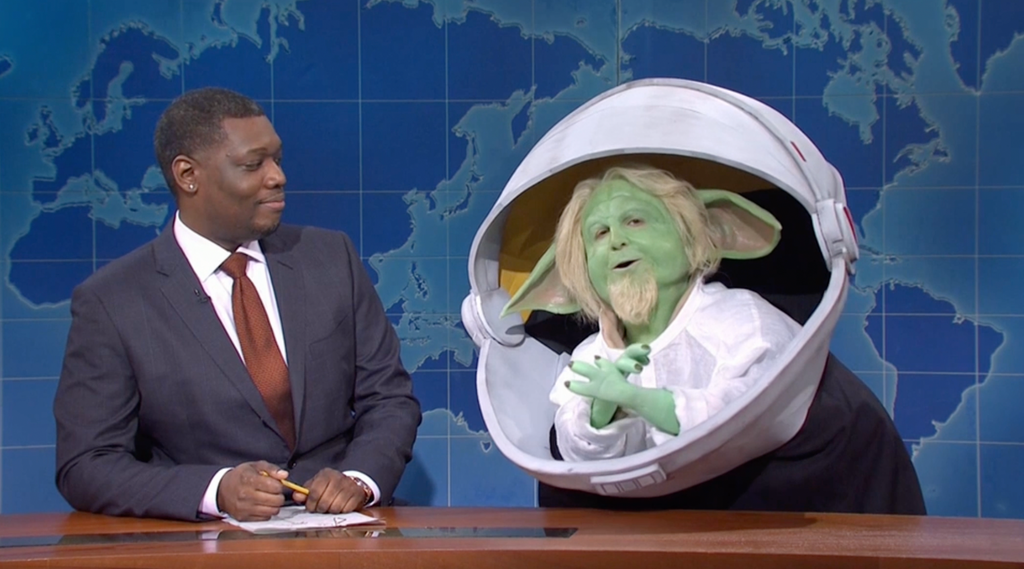 This weekend's (14 May) episode of Saturday Night Live featured another appearance of fan favourite character Baby Yoda.
The iconic creature from Disney+'s The Mandalorian has been parodied on the show multiple times, making his debut on the ninth episode of season 45.
Played by comedian Kyle Mooney, Baby Yoda has been a misunderstood figure with fans often confused by his monologues.
In this week's episode, to promo the forthcoming miniseries Obi-Wan Kenobi releasing on 27 May, Baby Yoda was invited back to share all things Star Wars.
However, things quickly took a turn when he pivoted to instead talk about his recent experience going on an ayahuasca retreat – a spiritual journey that occurs after one has taken psychadelics.
"I'm feeling really peaceful these days, all getting into crystals, rain sticks, spicy guacamole," he told Michael Che.
He further explained that he has a "group of mindful individuals" including Jared Leto, Santana featuring Rob Thomas, Bob the Builder, and Tila Tequila.
Currently, in its 47th season, Selena Gomez is hosting SNL's penultimate episode, with Natasha Lyonne taking over for the season finale.