It may be a stretch to call White Sox shortstop Tim Anderson the breakout star of Team USA. He is a two-time All-Star, a Silver Slugger winner, a top 10 MVP finisher, a .485 hitter in seven career postseason games and the leading hitter in the majors over the past four seasons (.318). But even being such an established star, Anderson deservedly is getting newfound praise for his play with Team USA. Why?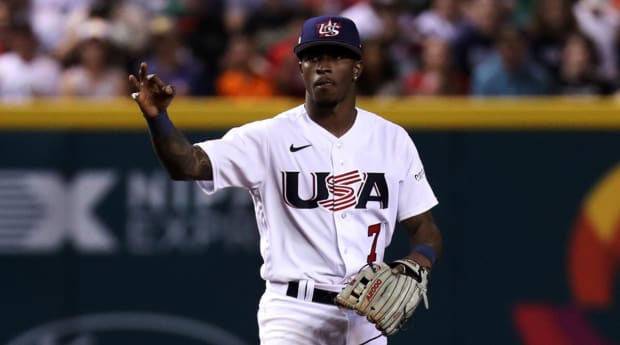 Immediately upon signing on with Team USA, Anderson volunteered to play second base so manager Mark DeRosa can put Trea Turner and Anderson in the same lineup against a lefthander. That's bold coming from somebody who never played the position in his 1,135 professional games across the minors and MLB. But Anderson is nothing but bold.
DeRosa says Anderson reminds him of Michael Young, the former Rangers infielder and one of Team USA's coaches. Like Young, Anderson has lightning-fast hands and can shoot base hits to rightfield almost at will. Through their age 29 seasons, Anderson has the slightly better OPS+ (105-104) with more home runs (97-94) and steals (104-46).
To appreciate Anderson even more, the better comp is Turner, who just signed an 11-year, $300 million contract with the Phillies. Anderson and Turner were born one week apart in 1993. They have similar skills. Turner has a slightly better résumé because he has learned to hit the ball in the air more, thus boosting his slugging. Anderson is more of an old-school wizard with the way he swings the stick.
Here's a look at how they compare on offense over the past four seasons:
When it comes to pure speed (measured in feet per second), Anderson (28.3 sprint speed, tied for 64th among those with 100 timed runs) is not as fast as Turner (30.3, second in MLB). But Anderson is the bolder baserunner:
Anderson is similar to Turner except for their contracts. Anderson is in the last guaranteed year of a seven-year, $37.5 million contract he signed in 2017, just after his rookie season. The White Sox hold an option for 2024 and are a lock to pick it up at $14 million. Including the option, Anderson will earn $51.5 million over his age 24-31 seasons. In those same years, Turner, by signing nothing but one-year contracts and then hitting free agency, will earn $100.9 million, or almost twice as much.
If the WBC hasn't quite made Anderson a "breakout star," it has confirmed his status as a catalyst and a bargain.
---
No egos here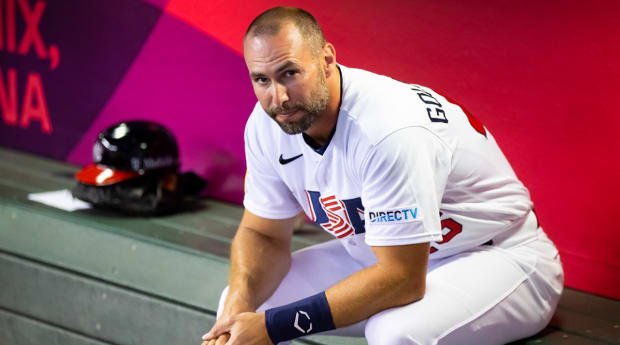 It sounds corny, but it's true: Team USA is blessed with superstars who have reputations as great teammates who don't need their egos stroked. Among them is Cardinals first baseman Paul Goldschmidt, and here's a story that proves it. Goldschmidt not only referred teammate Brendan Donovan to one of his personal trainers, he also helped pick up the offseason training tab for the second-year utility player who made the minimum salary last year ($700,000).
"I don't have one 'guy'," Goldschmidt says. "But this is someone I use in Jupiter and I helped Brendan get set up with him. Yes, I helped out with the cost."
In addition to adding strength, Donovan tweaked his setup to a more upright posture and is crushing the ball in spring training with a slash line of .290/.353/.677.
"He's always had great bat-to-ball skill," Goldschmidt says. "You layer more power on top of that and it's impressive."
---
Wonderful moment for Team Canada
Before there was Shohei Ohtani, there was Adam Loewen. Sort of. Loewen both pitched and hit in the majors, just not at the same time.
In a remarkable career that spoke to his athleticism and grit, Loewen was drafted fourth overall in 2002 by Baltimore and reached the majors as a pitcher, converted to the outfield after breaking his elbow and made it back to the big leagues that way with the Blue Jays, then converted back to pitching five years after giving it up and made it back to the majors again with the Phillies.
Loewen threw his last professional pitch in independent ball at age 34 in 2018. According to Sportsnet, he left the game to be with his wife, Lynda, who was diagnosed with breast cancer, and their two small children, Lucas and Lucy. Lynda died Dec. 10, 2021. She was 37 years old.
This year Loewen made an inspiring comeback to baseball for the WBC. After training at Driveline near his Washington home, Loewen joined Team Canada–17 years after he first played for them in the WBC. He wanted Lucas and Lucy to see their dad happily in his element: playing baseball.
With two outs in the fifth inning Monday night, Team Canada manager Ernie Whitt brought in Loewen, who turns 39 next month and hadn't thrown a competitive pitch in almost five years. The first batter he faced? Mike Trout. Throwing 84 mph fastballs that registered as changeups, Loewen walked the three-time MVP. He then walked Goldschmidt, another MVP. But then Loewen retired Nolan Arenado on a flyball.
Loewen opened the fifth by striking out World Series champion Kyle Tucker. That's when Whitt, with a big smile on his face, came to take the ball from Loewen. It was a sweet moment that nearly brought his teammates to tears.
Said Whitt, "It was a perfect way for him to possibly end his career."
---
'New' first impressions
One of the fun parts of the WBC is how opponents become teammates and gain a greater appreciation for certain players the more they see them up close. DeRosa said he came away from the 2013 WBC thinking shortstop Jimmy Rollins was even better than he already knew him to be. In that same tournament, David Wright had the same effect on many.
Here are some impressions from various Team USA staff members on selected players this time around after seeing the players train and play for a week:
Nolan Arenado: "More focused than any player I've ever been around. Everything he does, from cage work to infield to studying pitchers, is done with complete intent."
Bobby Witt Jr.: "Stud. He has the frame to add 25 to 30 pounds and still be one of the fastest players in baseball. He's going to dominate. I would put him at shortstop and leave him there, then if he outgrows it you move him to third. He's got a great attitude. He's like a little kid around these guys, always smiling." Witt is the only player in baseball faster than Turner when it comes to sprint speed (min. 100 timed runs).
Mookie Betts: "Special. Ultimate team player who asks a lot of questions. And you better be ready with answers for him. He wants to know the whys. We thought about hitting Trout leadoff and maybe Schwarber second to break up the righties. Mookie says, 'I'll hit leadoff. Don't overthink it.'" The USA bats righthanders Betts, Trout, Goldschmidt and Arenado in succession.
Kyle Tucker: "Great baseball temperament. If he were any more low key, I don't know if you'd find a pulse."
David Bednar: "Legit, nasty stuff. High velo with plus breaking ball and split. His stuff is impressive."
---
More WBC notes
Fastball machine Lance Lynn made 21 starts last year and threw 81 changeups, or only about four per start. When he did throw a changeup, it got waffled. Batters hit .391 against it and slugged .783. But catcher J.T. Realmuto called several changeups in Lynn's 65-pitch start against Canada and graded it as "really good." Said Realmuto, "He threw one in the dirt and I told him, 'Just aim it a little higher. That's good got movement.'" The next one he threw obtained a swing and miss ...
Teams love to complain when they lose their players to the WBC. The Rockies were not happy their closer, Daniel Bard, threw 33 pitches in his one outing and made a call to Team USA inquiring about it. Bard fought control problems against Mexico. And the Phillies called to say they'd like to see Schwarber get playing time in the outfield rather than just as a DH …
At 25 years old, Chase Field is showing its age. Players have remarked how dark the field is. "It's hard to pick up spin," said one about the lighting. Worse, after Team USA beat Great Britain in its opening game, there was no hot water. Like high school ball on the road, players left without taking a shower ...
After watching spring training games with a crisp pace because of the pitch timer, WBC games are like a bad trip down memory lane. Players who reach the WBC Final will have less than a week to re-acclimate to Ready Baseball–not an easy transition, especially for pitchers.