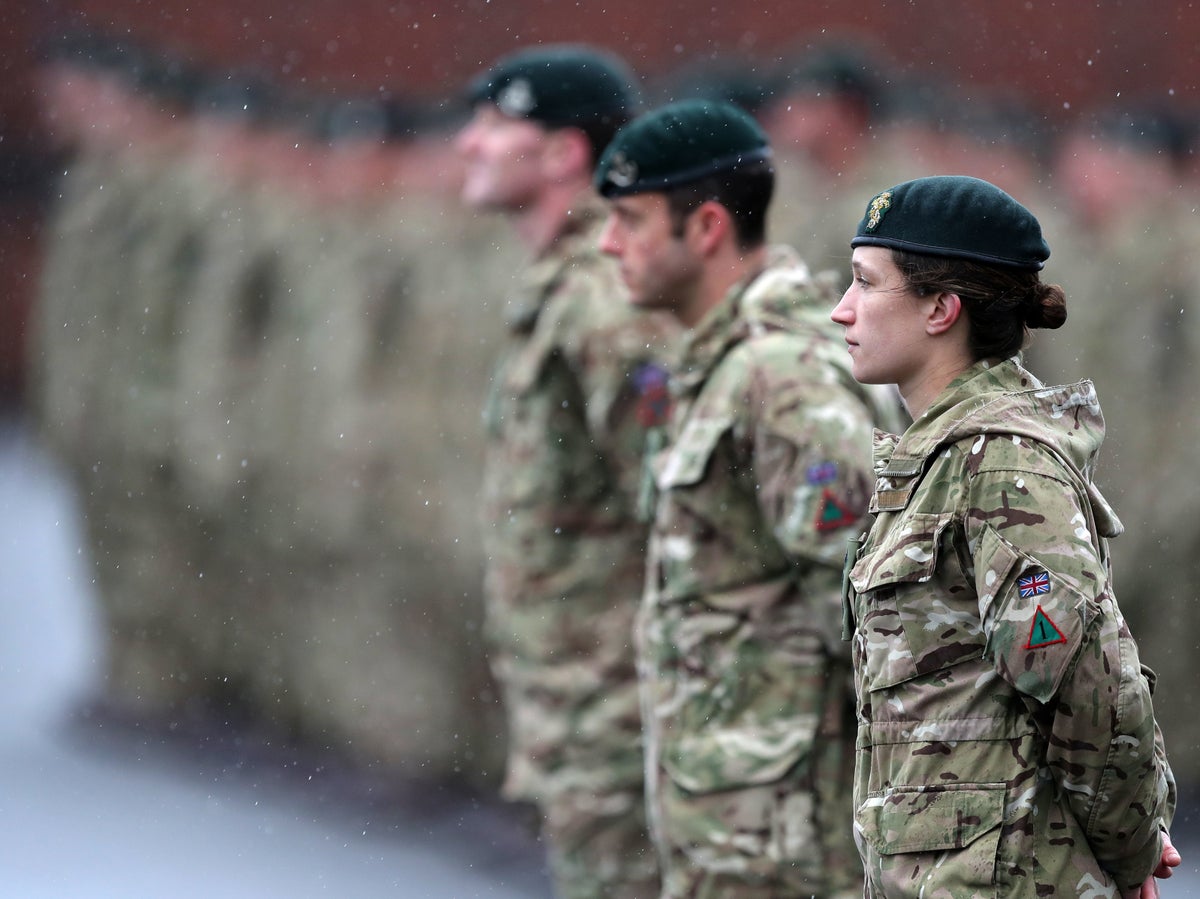 A junior servicewoman who says she was raped is among the whistleblowers exposing a "wider culture of institutional misogyny" within the armed forces, according to a new parliamentary committee report.
The Commons Defence Committee released a series of personal testimonies, collected by a forces medical team, revealing ongoing rape and sexual abuse within the military.
In a written submission, it details how the the alleged rape victim claimed she was moved across the country against her will to separate her from her attacker, whom she was told would remain with his elite unit.
They had been in a casual relationship and, when she approached a military GP about the alleged incident, they advised her to "choose her partners more carefully". She reported the incident after speaking to a second doctor.
Another account relating to a young servicewoman said she woke up in her bedroom to discover a male training staff member sniffing her underwear after previously waking up to see him "watching her sleeping".
It said that, in a separate incident, the same man was "holding her against a wall" as he told her she really joined the armed forces to "get the leg over as much as possible".
When the woman reported his behaviour to the senior training lead, she was informed her training would be halted, according to the newly released testimonies.
"She was then told that her case was too weak and the investigation would take time and resources not available in the unit whilst in training", the report states.
Another account refers to a servicewoman who says a male colleague subjected her to indecent exposure, groped her and forced her to kiss him at a work Christmas party.
Upon reporting the incident, her chain of command told her she "should understand that things get a little out of hand" and nothing had been meant by the incident.
"It was further suggested to her that she too has been drunk and raucous at work social events, so should understand", according to the report.
Few of the case studies involved women reporting incidents through an official complaints process, according to the evidence, but one who did ended up leaving the service with mental health issues while her alleged abusers "continue to serve and thrive", the written submissions said.
Committee chair Sarah Atherton, who also chaired a major inquiry into women in the armed forces in 2021, said: "The cases outlined in this evidence are heartrending and demonstrate serious failings within the military justice system and chain of command.
"Sexual assault and rape are heinous crimes. As this document shows, when these crimes take place in the armed forces, servicewomen often feel they have no option but to 'put up and shut up'.
"They are often made to feel as though they must choose between justice and their career, while perpetrators of abuse seem to be protected."
She said the submissions reinforce the group's view that cases of rape and sexual assault within the service should be handled by civilian courts.
The move was first proposed after the 2021 parliamentary report but the MoD rejected the recommendation.
Among the reforms the MoD unveiled after the initial sub-committee report was the removal of the chain of command from the complaints process.
Further measures included a review into strengthened powers to kick out those who are found to have committed sexual offences, and greater independence in the complaints process for bullying and harassment allegations.
Ms Atherton added said the MoD's response at the time was "largely positive" but added: "This damning evidence shows that serious problems persist. It reinforces our view that the complaints system is not functioning as it should be."
Ms Atherton warned the evidence "speaks to a wider culture of institutional misogyny", as well as "looking the other way and discouraging victims from coming forward, with senior personnel hiding behind the excuse of 'boys will be boys'."
Commenting on the findings, retired Lieutenant Colonel Diane Allen told The Independent: "The Ministry of Defence keeps painting a picture these issues are historic but evidence keeps showing this is a current and constant problem".
Lieut Col Allen, who stepped down in April 2020 over alleged discrimination, called for an independent defence watchdog to be established - something she noted has been recommended in many reports.
"Without an independent body with teeth holding the Ministry of Defence to account, this problem isn't going to go away," the ex-officer, who was one of the first women in history to train at Sandhurst at the age of 18, said.
Defence secretary Ben Wallace insisted "things are changing and getting better in the armed forces".
"I put a huge amount of effort in adopting Sarah Atherton's recommendations," he told a press conference in Northwood.
"The only one we differed was because there was no real evidence that after all the measures we put in place, that that would somehow make the difference."
A MoD spokesperson said: "The experiences set out in these cases are totally unacceptable. No one should be subjected to these incidents and any form of sexual assault, bullying, harassment, or discrimination will not be tolerated."