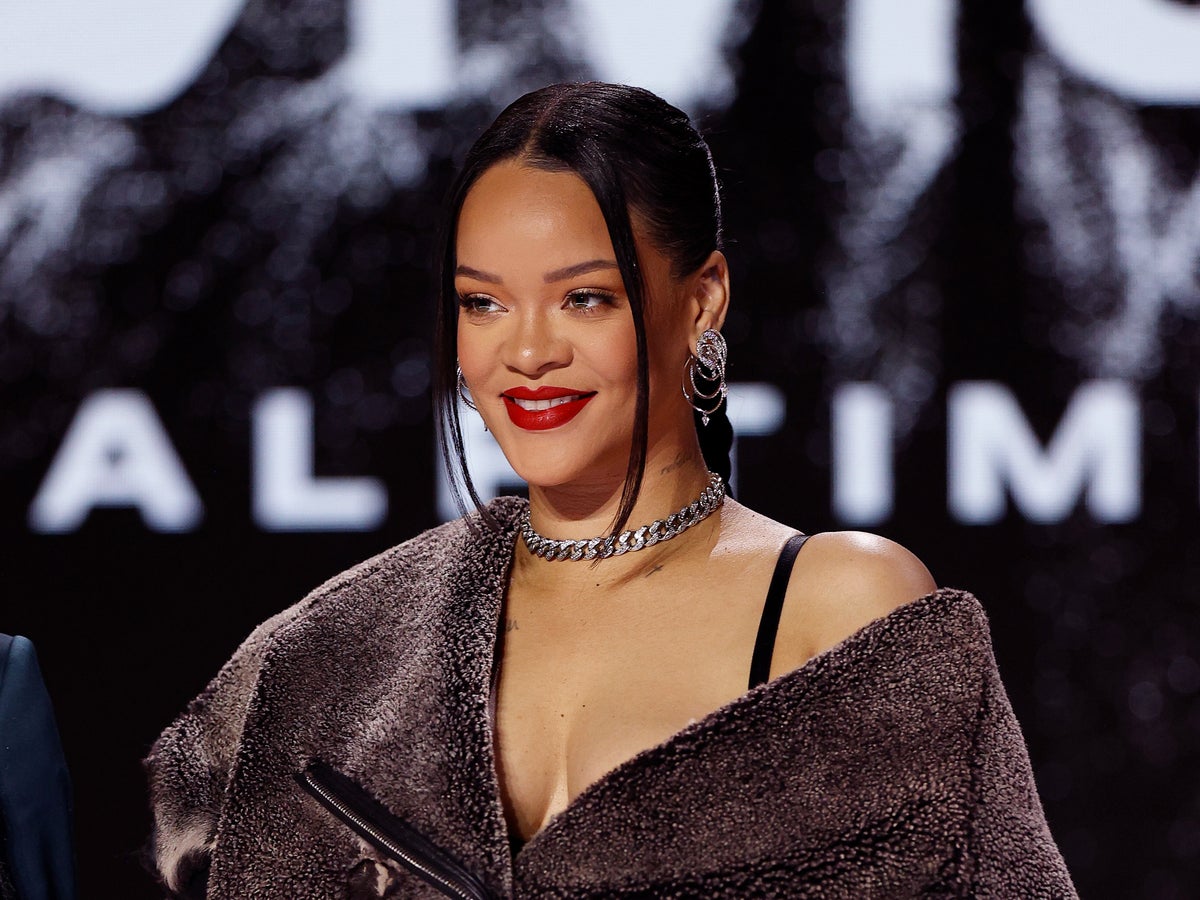 Rihanna and ASAP Rocky have reportedly welcomed their second child together.
On Monday (21 August), it was reported that the couple "secretly" welcomed another baby boy earlier this month. According to TMZ, the newest addition arrived on 3 August in Los Angeles. Shortly after, sources also confirmed the baby news to People and Entertainment Tonight.
"Rihanna and A$AP will spend the early days of parenthood out of the public eye and won't make any immediate plans to debut the new baby," one source told ET on Monday.
"Rihanna and A$AP are great right now," another source said. "They're so excited to grow their family and are so united when it comes to parenting. They have so much fun together and are very in love. They already shared a special connection and parenting together has made their bond even stronger."
In February, the Fenty Beauty founder announced she is pregnant with her second child while delivering a show-stopping halftime performance at the 2023 Super Bowl. A representative for Rihanna confirmed the pregnancy speculation in a statement to The Hollywood Reporter, after many viewers believed the she was sporting a baby bump during her halftime show performance.
The baby news comes 15 months after she and Rocky became first-time parents to their son, RZA Athelaston Meyers, in May 2022. Last year, Rihanna also shocked fans when she revealed in a baby bump-baring photoshoot that the couple - who have been together since 2020 - were expecting their first child together.
Throughout her two pregnancies, the Savage X Fenty designer has often spoken about becoming a first-time mother, her parenting style, and of course, her rebellious maternity fashion. As fans wait for the happy couple to debut their newest bundle of joy to the world, here's everything Rihanna has said about motherhood.
Why Rihanna decided to keep her son's name private
Nearly one year after welcoming their eldest son, his birth certificate - which was obtained by the Daily Mail - revealed his name to be RZA Athelston Mayers after the Wu-Tang Clan frontman, Robert Fitzgerald Diggs.
Their son's name was later confirmed by the "Praise the Lord" rapper last May, when he captioned an Instagram post in honour of their son's first birthday: "WU TANG IZ 4 DA CHUREN" HAPPY 1st BIRTHDAY TO MY 1st BORN . RZA"
In a March 2023 cover story for British Vogue, Rihanna explained why she was so protective over photographs of her son, and chose not to immediately reveal his name. "I just went straight into protective mode. Like there wasn't even time for rage," she said, recalling one moment when photos of her son were taken by paparazzi without her consent. "As parents it just feels so icky, like a violation."
"It's the thing you never want to happen," Rihanna added, as she reflected on the possibility that the world could see photos of her son without her permission. As parents, Rihanna said she believes it's within their right to introduce their child on their own terms.
"We get to decide as parents when and how we do that," she said. "End of story."
Rihanna shares first photos and video of her baby boy
After photos were allegedly taken of her son without her permission, Rihanna and Rocky came together to discuss how they wanted to handle the pictures potentially being leaked to the press. She recalled: "As we were speaking, we knew they were making calls and deals."
Rihanna decided to send some candid photos from her camera roll to a blog and joined TikTok – where she posted a now-viral video of her baby boy gurgling, smiling, and playing with his mother's phone.
Hollywood Unlocked exclusively obtained and published three photos of the then seven-month-old. In one of the pictures, the baby was wearing a white onesie and has a pacifier, while Rocky held him up to the camera in another.
Rihanna gives fans an update on her second pregnancy
Back in May, Rihanna gave fans an update on how her second pregnancy was coming along.
While speaking to E! News on the Met Gala red carpet, she shared that her second pregnancy has been "so different" from her first.
"Just everything. All of… no cravings, tons of nausea, everything is different," she continued, before adding: "But, I'm enjoying it. I'm enjoying it. I feel good, I feel energetic."
Why she feels finding a work-life balance has been impossible after becoming a mother
Ahead of the Super Bowl, Rihanna admitted at a press conference that finding a work-life balance has been "impossible" to achieve following the birth of her son.
"It's very different," she said. "The balance is almost impossible, because no matter how you look at it, work is always something that's going to rob you of time with your child.
"That's the currency now, and that's where it goes, the magnitude of how much it weighs. When you make decisions on what you're going to say yes to, it has to be worth it."
Her son is in the "cuddly stage"
Last November, Rihanna gave a rare update about her then six-month-old son.
In an interview with People, Rihanna said: "He is funny, he's happy – and he's fat! He's amazing. It's a real cuddly stage right now."
The "weird" thing that she's noticed about herself since becoming a mom
Since becoming a mother, Rihanna shared how she's come to realise how similar she is to her own mother, Monica Braithwaite.
"It is weird," she told E! News in November. "Even the little things that annoy me about her, I do it. I literally make all of the same faces. I say the same things. I clear my throat the same way. I move my mouth the same way.
"I either never noticed it or it never happened until I had a baby," she added.
Why she questioned if she is a "bad mom"
Becoming a first-time mother can be both stressful and anxiety-inducing. In a candid interview with Vogue, Rihanna revealed that she questioned whether she is a "bad mom" because she didn't want to throw a gender-reveal party for child.
She admitted that the decision made her question herself, so she sought advice from her doctor. "I asked my doctor: Is something wrong with me for not wanting this? Because people keep asking me. Am I a bad mom? When we're ready to tell the world, we'll just tell them," she explained.
Rihanna's approach to parenting
Two months before welcoming her son, Rihanna explained that she's been taking parenting tips from an unlikely role model: the Real Housewives.
During her third trimester, Rihanna revealed to Elle which Real Housewives cast member from the Bravo franchise she resonates with the most.
"Heather Dubrow is so chic while being a mom," she said about the Real Housewives of Orange County cast member. "Just love the way that she just allows her kids to be who they are. And that's really inspiring to me."
However, Rihanna said she can see herself being more like Teresa Giudice from the Real Housewives of New Jersey, as she noted: "But Teresa from Jersey does not play about her kids. She will flatten you about those kids, and that resonates with me a lot because I feel like that's the type of mom I'm going to be. Psycho about it."
The singer's "rebellious" maternity style
Since revealing in January 2022 that she was pregnant, the fashion designer stepped out in a number of memorable outfits which showed off her baby-bump. Rihanna rang in a new era of unique maternity style, including belly chains and negligee.
Speaking about her pregnancy fashion, the "Umbrella" singer told Bustle that her goal has been to embrace the opposite of what society has told her. "It's been me personally saying, I'm not going to buy maternity clothes. I'm not gonna buy maternity pants, jeans, dresses, or [do] whatever society told me to do before," she said.
The beauty mogul also defined her maternity style as "rebellious" because it challenges the maternity styles she has seen in the past.
"Maybe… rebellious? When I saw women dress during their pregnancy [in the past], I'd think that that was the only way," she explained. "So I challenged myself to push it further and really just have fun with [maternity style]. Because there's nothing more fun than a challenge for me. Like that's where I get creative. That's where I'm forced to come up with new ideas and new ways to make it work."