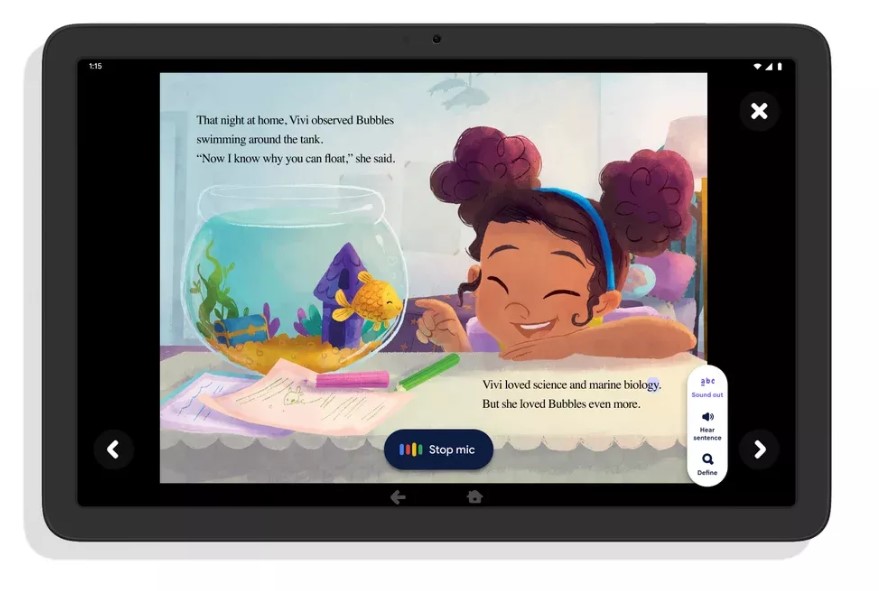 Reading Practice is a new feature from Google that is designed to make reading easier for emerging readers, and is available on Google Play Books and Google Kids Space. While using Reading Practice and reading ebooks, young readers have the opportunity to track their reading position, hear what a word sounds like if they get stuck, and lots more. 
After experimenting with Reading Practice myself, it's easy to see how it would be helpful for a new reader and how it might perform some of the functions of an encouraging caregiver or teacher. I particularly enjoyed the "hear a word" feature, which allows readers to tap a word they don't know how to pronounce. New readers often struggle with words they don't recognize or know, and, let's be honest, some adults still need help here and there – how do you pronounce "macabre" again? 
My only complaint is the default voice words and sentences are read in is cold and robotic. This isn't ideal given that this tool is geared toward kids, and I think Google should look into creating a fun, more kid-friendly voice for this tool and maybe even a cartoon persona to go with it. (Duolingo has done this very well with the quirky characters it features on its language learning tool.) 
Because it is built into many published ebooks, Reading Practice is a nice complement to other reading assistance tools such as Microsoft Immersive Reader, and offers plenty of learning opportunities for parents, teachers, and caregivers. 
Here's all you need to know about Reading Practice on Google Play Books. 
What is Reading Practice?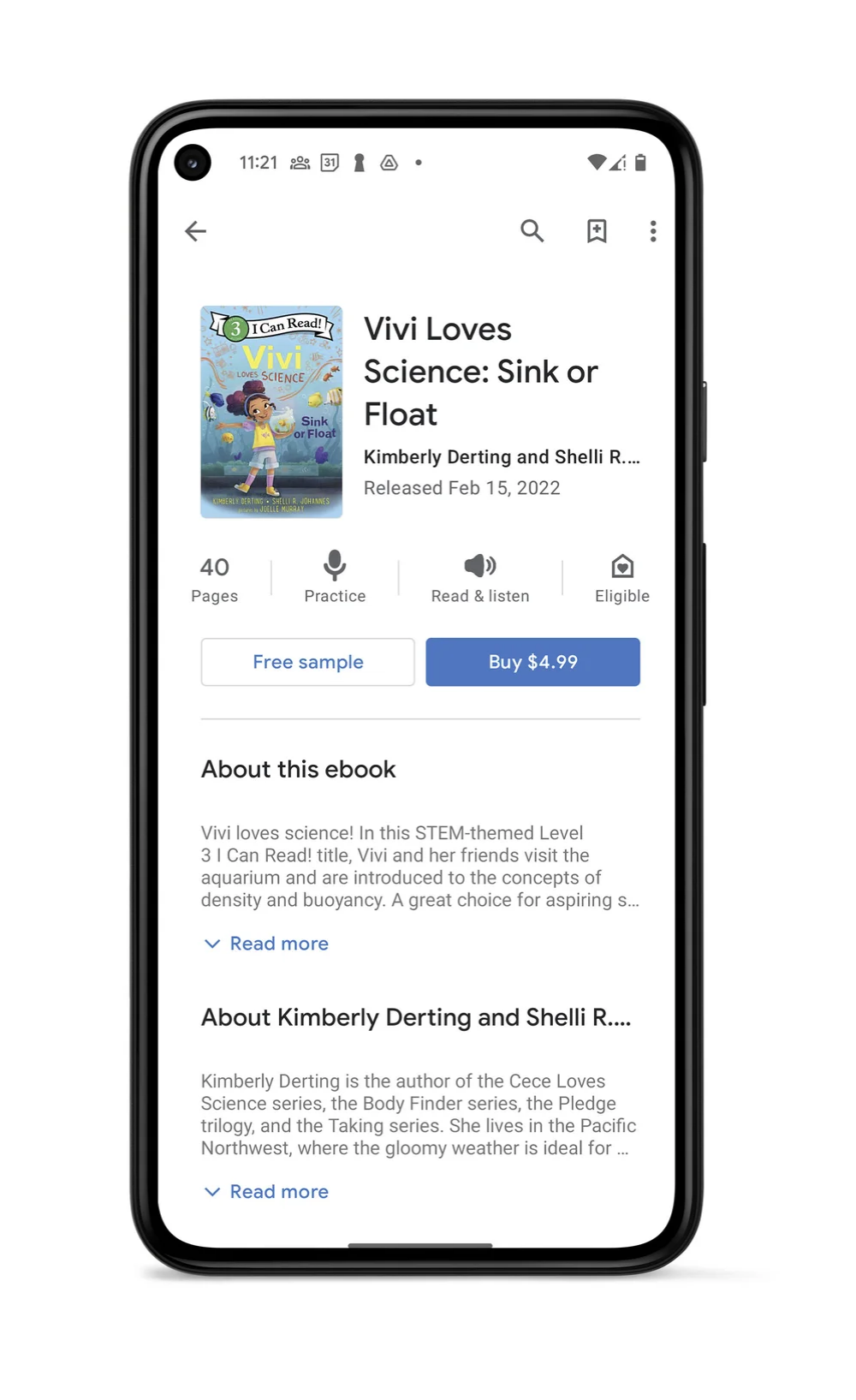 Reading practice is a reading aid or assistance tool designed to help new readers recognize words and learn new vocabulary. In a blog post announcing the release of Reading Practice on June 1, 2023, Google noted the tool can help early readers:  
Track their reading position: They'll see the text highlighted as they read out loud, tracking where they are in the book and helping them focus on the next word. 
Hear a word: If they're stuck on how to pronounce a word, they can simply tap it to hear what it sounds like. 
Sound it out: With a quick tap, they'll also hear a word broken down by syllable.
Hear a sentence: For even more context, new readers can listen to an entire sentence.
Define a word: To learn more, they can tap to see or hear a child-friendly definition of a word. 
Set a new reading position: They can tap any word to update their position in the book and start tracking from there. 
Practice a challenging word: At the end of the page, they'll have the option to practice any words they skipped or mispronounced. 
How Do You Access Reading Practice?  
Reading Practice is available on Google Play Books and Google Kids Space. Google Play Books has a curated selection of kid-friendly books, including some free options. 
Users can also search the general Google Play Books selection for children's ebooks. While not every book is Reading Practice enabled, most are and you can verify which ones are by looking for the "practice" badge. 
How Much Does Reading Practice Cost?  
Reading Practice is now a built a in feature of Google Play Books, so doesn't cost anything to enable. However, the ebooks it works with still have to be purchased in most cases, though there are some free selections with Reading Practice enabled.  
What Else Should Parents and Teachers Know About Reading Practice? 
Reading Practice is a fun new feature that educators may want to let their students know about as a possible tool to encourage summer reading. 
Educators should also be aware that it's a Google-specific product and won't work with ebooks purchased from other sources such as Kindle or Apple Books. 
Despite the limitations, for existing Google Play Books users it's a nifty new tool that I predict kids will enjoy and that may help parents and educators encourage reading. However, as with all technology, as good as it is, Reading Practice doesn't replace a caring parent, caregiver, or educator. 
To share your feedback and ideas on this article, consider joining our Tech & Learning online community here