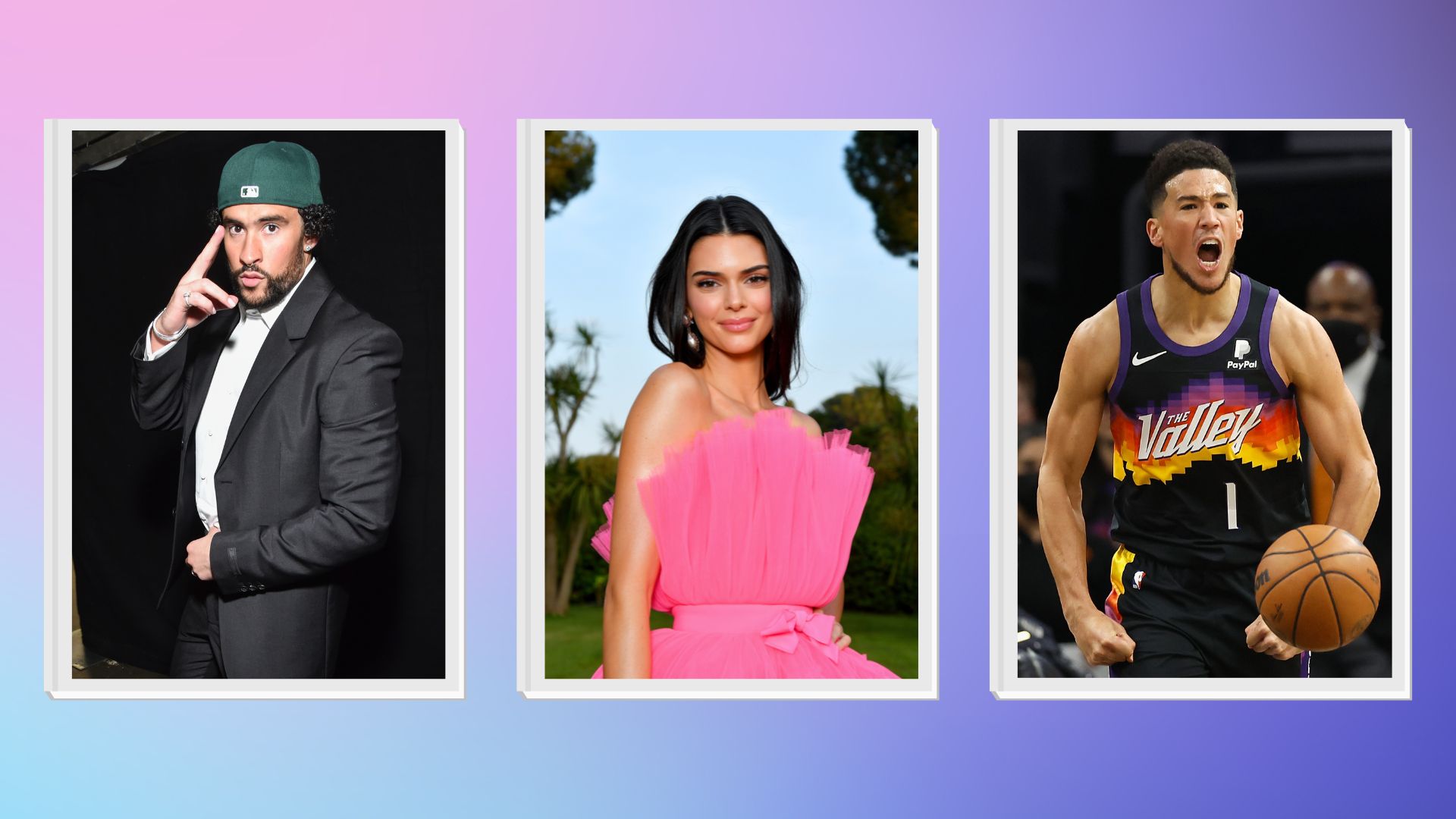 It appears trouble's brewing between Bad Bunny and Devin Booker. 
Devin Booker and Kendall Jenner were a romantic item in the not-so-distant past, but now, onlookers suspect that the model is Bad Bunny's girlfriend. A source told People: "They were introduced by friends. [Bad Bunny] moved to L.A. a few weeks ago and bought a house. She likes him and is having fun."
And now Kendall's new neighbor has allegedly taken aim at the Phoenix Suns shooting guard in a new song. Here's what the music superstar said, and what Jenner's response is. 
What is the drama between Bad Bunny and Devin Booker?
Bad Bunny's "Coco Chanel," which he sings with Eladio Carrión, seemingly includes a not-so-subtle reference to Kendall's famous ex. 
The lyrics read:
"Yo no soy malo, nah, bebé, eso e' un gimmick / Pero el sol de PR calienta má' que el de Phoenix / Ella lo sabe"
This translates to: 
"I'm not bad, baby that's a gimmick / But the sun in Puerto Rico is hotter than in Phoenix / She knows it"
Plus, it appears the Puerto Rican rapper is in tune with the astrological birth charts, as he adds: "las de escorpio son peligro" (a.k.a. "Scorpio women are dangerous"). Yep, you guessed it, Kendall Jenner is indeed a Scorpio, a fire sign born on November 3. 
In a now-deleted Instagram post, Devin said: "He worried about another MAN again," seemingly taking aim at Bad Bunny. Now that a bit of a fiasco has unraveled, where does Kendall stand in all of this?
What did Kendall say about Bad Bunny and Devin Booker's feud?
She's keepin' quiet, folks—at least for now. Kendall Jenner, clad in a Bottega Veneta faux fur coat, has been gallivanting around Europe the weekend of March 18, attending the Paris Saint-Germain and Stade Rennais match, shooting a cover for Vogue Italia and modeling for Marc Jacobs, all of which you can see via her Instagram Stories. 
So essentially, she's not speaking out on the clash or she's just ignoring it while she's busy doing Important Model Things. The feud will likely be around when she returns home to California, and time will tell how Kendall Jenner and Bad Bunny's relationship will turn out. Keep doing you, Kenny!