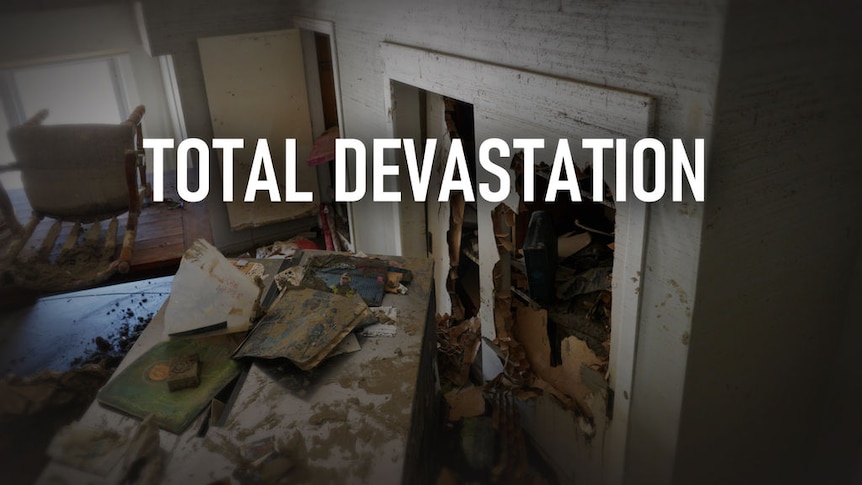 Walking through his home, Max Robertson has to crouch down despite the high ceilings.
Through every room, there's about 1.5 metres of silt and mud. It's hardened in some places. In others, you still sink in.
Max gave up on gumboots salvaging his trailer out the back. The thick, wet mud in the shed was above his knees.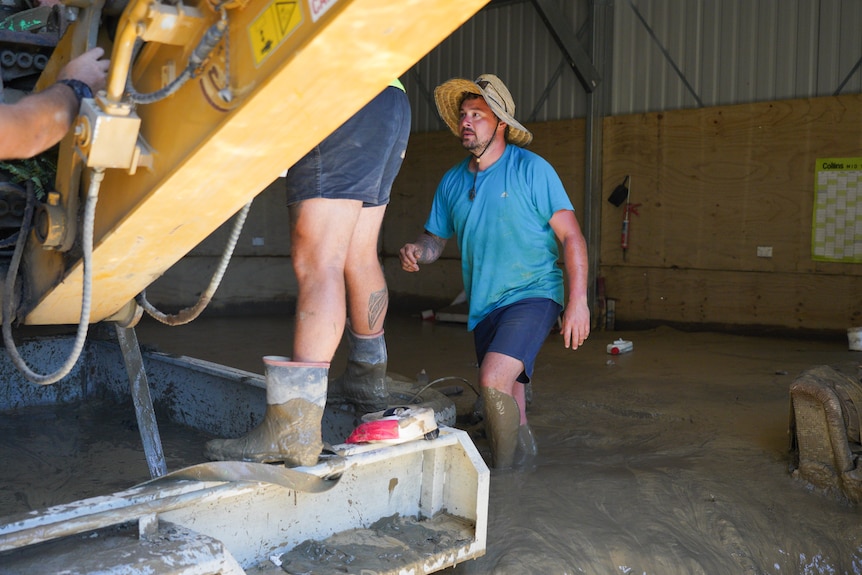 The floodwater came so high that the light fittings are full of silt. A hanging plant in his room somehow looks almost untouched, but right next to it is his mattress, covered in mud.
"It's not often you can walk over someone's bed in your muddy gumboots," he laughs, after pointing out his "new back door" – the window they had to smash in the granny flat out the back where his dad lives, in order to get back into the house after the flood.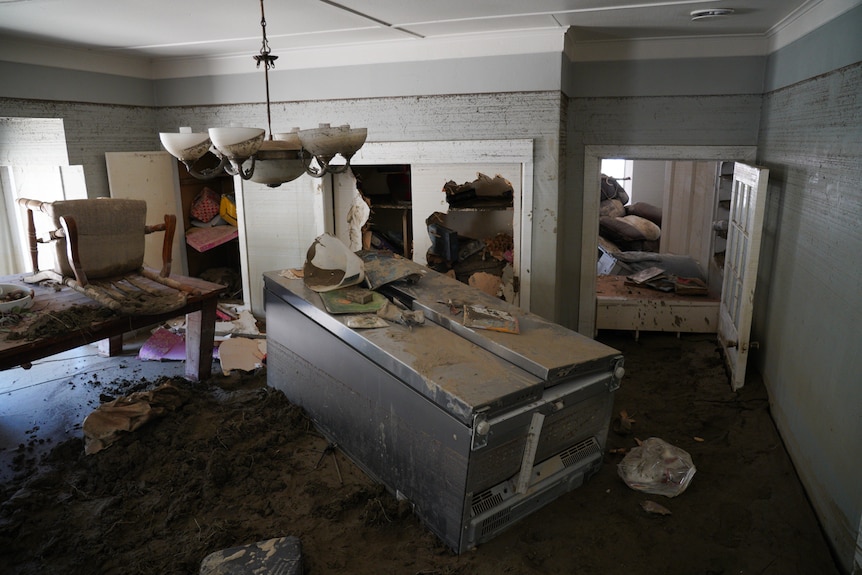 Early last week — as Cyclone Gabrielle was hitting New Zealand's North Island — Max was woken in the early hours.
He said the floodwater was only about ankle height, but by the time he woke his father Hector and retrieved their dogs, he was swimming.
Hector and the animals saw out the storm on the second floor of the neighbouring house — where Max's uncle lives.
But Max went to the other neighbours to help them. They ended up on the roof for hours.
"Just as we were getting on the roof I heard a lady come past screaming. I had no idea where she was or what happened," Max recalled.
"As soon as we got some form of light, I managed to see her hands holding on to something.
"So once I thought I could get in there and help her, I swum across and got her.
"She was 70, she was blue, so I took my clothes off and just got her as warm as possible."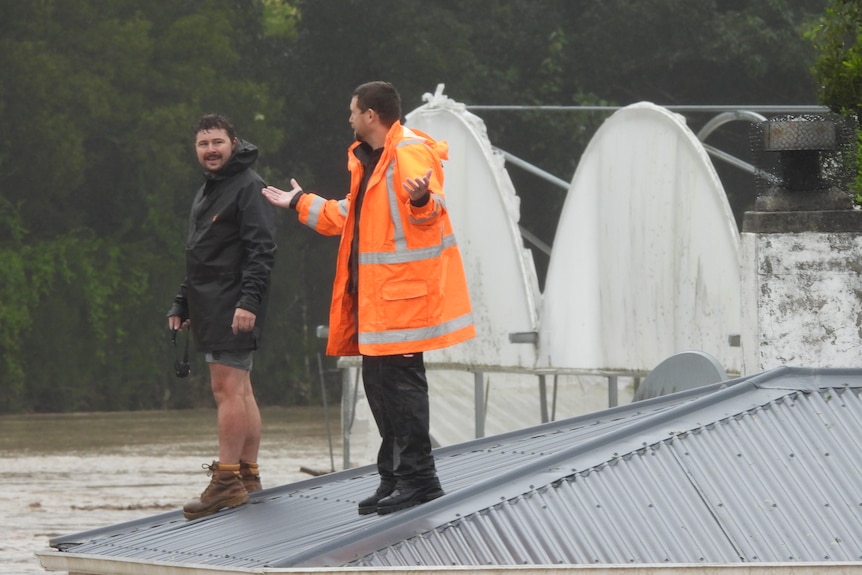 They were later rescued by some locals in a boat, Max said. They've now been nicknamed the Navy seals.
"She's right now, she came out [on Monday] to see me, which was pretty cool," Max said.
"Her and her family — that was pretty neat."
'We just had to dig our way in'
Max, his father and a group of friends and family have been coming out daily to salvage what they can — motorbikes, trailers, a gun safe.
Looking at the place, it's hard to imagine how they would've known where to start.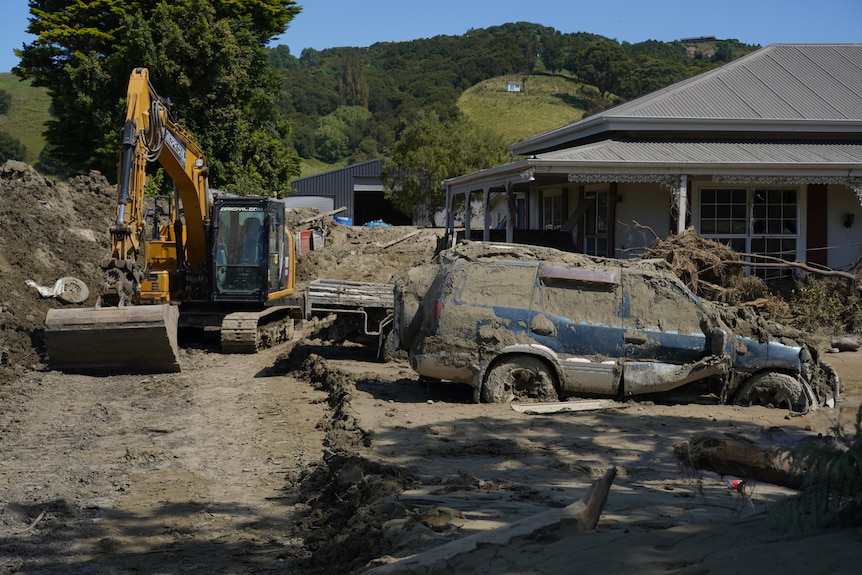 "We just had to dig our way in, I think," he laughed.
"We got the trucks out, that was the first thing … got a few things out the front of that shed, but that's fully buried so we gave up there.
"It's at a point now I think where we've got most things we can salvage."
Despite everything he's been through, Max is keen to rebuild in the same spot — if he's allowed to.
"I'd probably still live here, I'd still build here," he said.
"People probably say I'm crazy but this house has survived the earthquake, [Cyclone] Bola — it's a freak storm."
'Years and years to recover'
Former tropical cyclone Gabrielle was one of the worst storms to hit New Zealand in living memory.
The east coast of the North Island was the worst hit — Napier recorded its second-wettest day since records began in the 1950s.
Prime Minister Chris Hipkins said the clean-up bill is likely to be in the billions.
Hundreds of kilometres of state highway is being urgently repaired to provide access to isolated communities, and firefighters — including an Australian crew — are now methodically combing through properties where people are unaccounted-for.
"Having lived in Hastings all of my life, I'd never seen anything like it, the wind was terrifying," said Hastings District Council Mayor Sandra Hazlehurst.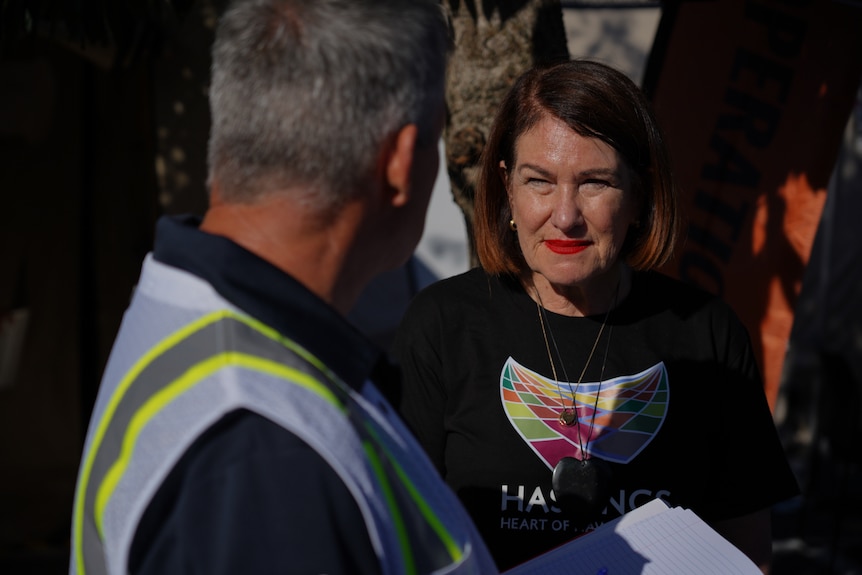 "This is the biggest devastation our region's ever, ever seen, and it's going to take us years and years to recover."
The region is an agricultural food bowl and Cr Hazlehurst said about 80 per cent of crops have been wiped out.
Cr Hazlehurst said the community will have to have some difficult conversations about where it's safe to live.
"How do we build in the right places to manage homes for people that aren't right alongside our waterways?" she said.
"We know what's happening with the impacts of climate change and we have to adapt, we have to find other ways."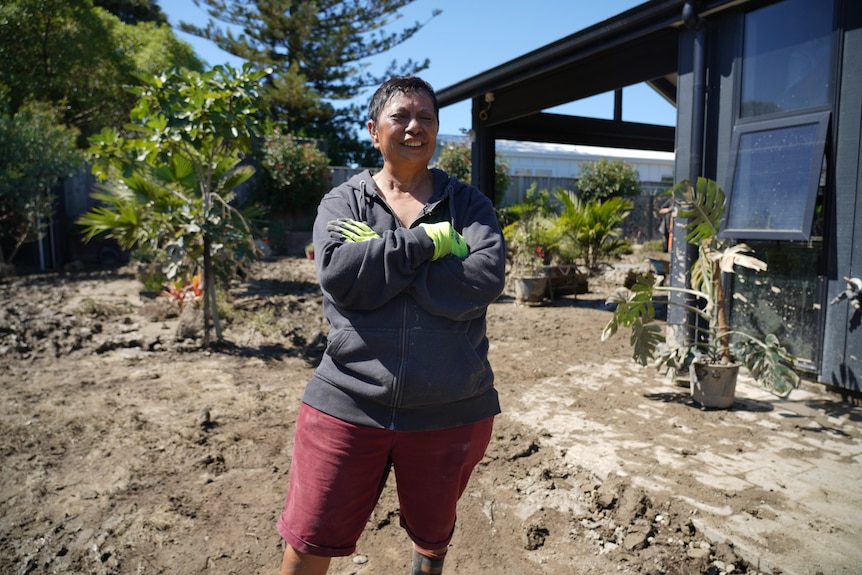 Coming up with better plans for the future
Ra Kupa, too, wants to continue to live in Eskdale.
She lives just back from the ocean, a few kilometres from Max Robertson's place.
She and her fiance, Maggie Braviner, have lived there for four years. Despite the mud, it's clear the garden was lush and beautiful, and their home full of creative, personal touches.
"We are absolutely emotionally gutted," she said.
"Now it's gone temporarily, but material things are easy to repair, so we're grateful none of us on the street lost our lives.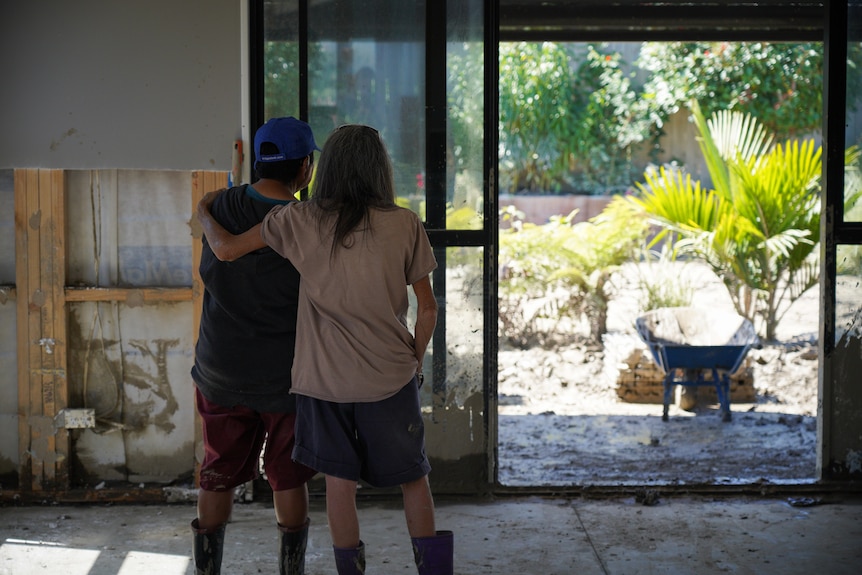 "We would live here even if a second flood came, because now we're coming up with a better emergency plan."
Her warmth hasn't faded — "I wish I could offer you a cup of coffee" she says as she enters her home — and repeatedly mentions how humbled she's been by the experience.
"Ben saved our lives," she said.
"We couldn't have ever done it on our own, the water was rapidly rising and it just humbles me."
At only 4 feet 7 inches — or 140 centimetres — Ra said she, Maggie and their dog Rusty owe their lives to a neighbour, Ben, who guided them to safety, pulling them along on a floating couch.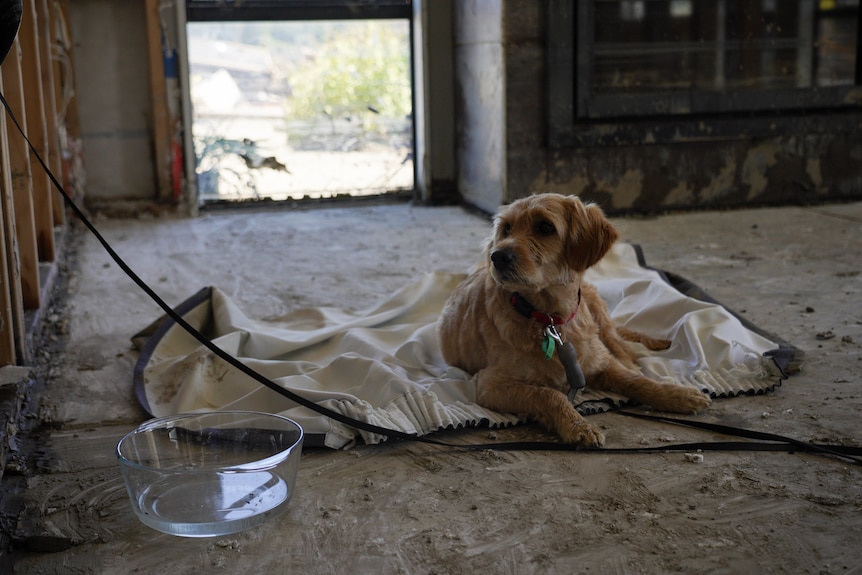 "If you see that and you see me, I was a goner," she said, pointing on the wall to show how high the water came compared to her height – it's basically level.
"Four minutes past four [in the morning], Ben was breaking down our sliding door to save us, because I've run out of energy to try and swim out.
"Ben went to every neighbour to save them all, so we'll never forget him for the rest of our lives."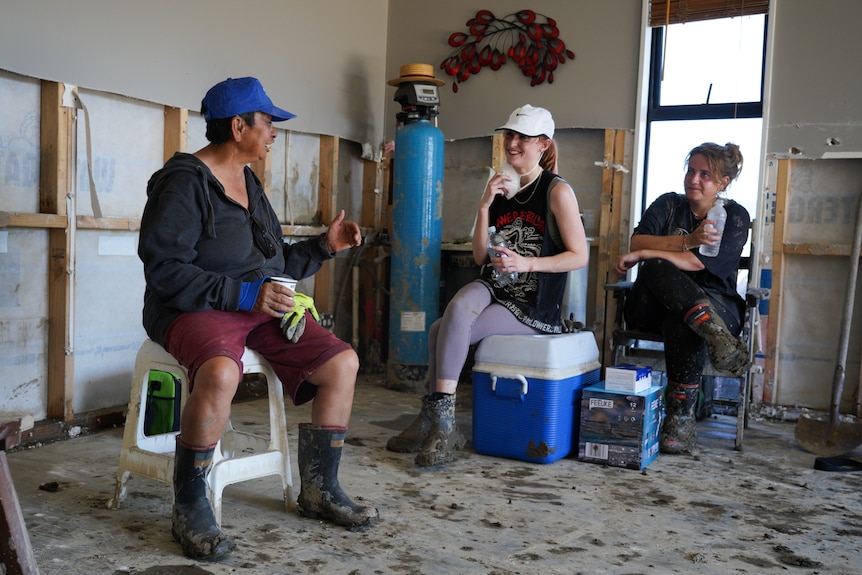 Finding strength in community
The volunteers helping clean up are some friends but also strangers.
The work is physical and hot — shovelling mud from the backyard and dumping it out on the street in wheelbarrows, alongside piles of ruined belongings and debris nearly 2 metres high.
A teenage boy who has taken two days off school to join the effort tells Ra and Maggie he feels really good being able to help, as they all gather to take a break from the sun and have a drink.
Ra is cracking jokes and quick to smile, and there's a noticeable feeling that she's replenishing the emotional energy many need to get them through.
"I'm a nurse, and I love my job, and our duty of care is to sustain life to everybody else," she said.
"But this time was turned around on me.
"But our house is repairable and we're still together with Rusty, our dog – and that's amazing."
Watch 7.30, Mondays to Thursdays 7.30pm on ABC iview and ABC TV