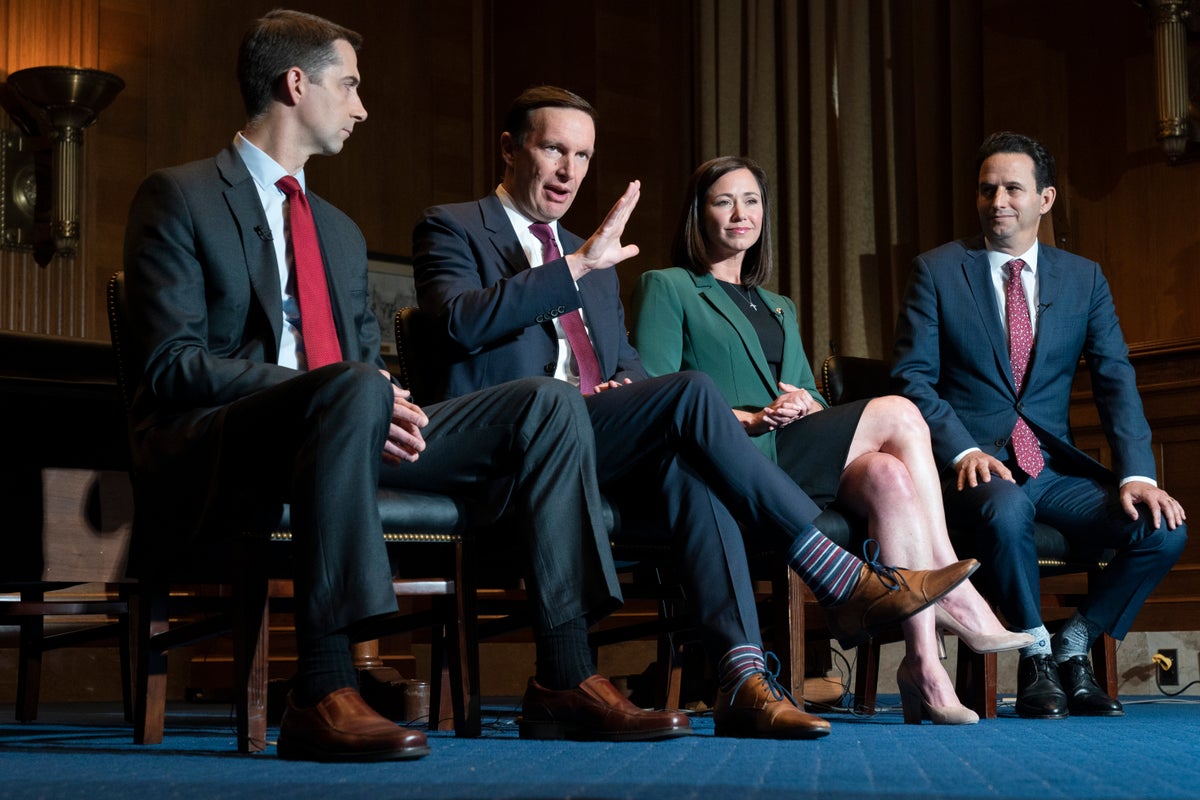 EDITORS/NEWS DIRECTORS:
The Associated Press is offering video of the following senators talking about bipartisan legislation that seeks to protect minors from social media. Use it on your websites, broadcasts, social media platforms and elsewhere.
HAWAII: Sen. Brian Schatz, Democrat
ALABAMA: Sen. Katie Britt, Republican
CONNECTICUT: Sen. Chris Murphy, Democrat
ARKANSAS: Sen. Tom Cotton, Republican
___
GET THE VIDEO
Bipartisan push to protect kids from social media
___
READ AP COVERAGE
Ban social media for kids? Fed-up parents in Senate say yes
___
PUBLISH THIS
A group of bipartisan senators introduced legislation that would block children 12 and under from using social media, citing concerns that the demographic is susceptible to the information that an algorithm is putting before them.
The senators are also parents, so the legislation they are trying to pass is personal as well.
Sen. Chris Murphy, D-Connecticut, said having a 14- and an 11-year-old, he saw the ups and downs of social media during the pandemic.
"It was an important tool for my kids to connect with friends. You know, sometimes the silly and entertaining content that they get on those sites brings joy to their life. But I've also seen the tremendous downside of seeing how some of their friends who are in trouble get very quickly spun into deep, dark corners of the internet with content promoting self-harm or celebrating eating disorders, encouraging kids to be ashamed of their body image," Murphy said.
Echoing Murphy, Sen. Katie Britt, R-Alabama, said the senators have heard from parents who support the legislation.
"I walk with my friends at 5:15 in the morning before I head off to here. And they sent me actually an article from from you all talking about this and saying, 'Thank you. This is what we need.' We all know that there will be pushback because we are putting the well-being of children over the profits of big tech. But we also know that that's worth fighting for. And so we're, you know, game on," Britt said.
But while the senators are gearing up for pushback from social media companies, they are not faltering from their focus on protecting children and families.
Sen. Brian Schaltz, D-Hawaii, said social media companies are using their trade associations and intermediaries right now to try and kill the legislation.
"I think they know that it would backfire if the company itself came out in opposition. But listen, we're willing to have a conversation, but they're not at the table here. Who's at the table? Our elected representatives of the people, parents and kids," Schaltz said.