Tyler Adams began 2022 confronting concerns about his role and future with RB Leipzig. The 23-year-old ended it as a midfield anchor for Leeds United, an ever-present and inspirational World Cup captain and U.S. Soccer's male player of the year.
Adams, who also lifted the DFB-Pokal before leaving Leipzig, was given the news Thursday during a Leeds team meeting via a video message from retired goalkeeper Tim Howard, a two-time winner of the award. U.S. Soccer then announced the honor on Friday as Leeds took the field at Aston Villa.
"To hear those words from [Howard] was very special, and I'm very thankful," Adams said. "Receiving this type of recognition is certainly special, but for me the team's success is the most important thing. Having the experience of going to the World Cup, performing well as a group and moving the sport forward in the United States was super important to me this year, and I couldn't have done it without my teammates."
U.S. Soccer's most prestigious annual award for male athletes was launched in 1984 and is voted on by current national team coaches and players, USSF directors, MLS and USL head coaches, media members, former players and administrators and fans. Adams was the runaway 2022 winner, polling at 71.6%. The prior year's honoree, Chelsea's Christian Pulisic, earned 14.7% of the vote. Arsenal goalkeeper Matt Turner finished third with 8.2%.
The award for female players was introduced in 1985 and was claimed last week by Portland Thorns forward Sophia Smith.
It's been a landmark eight months for Adams, who was struggling in early 2022 to earn consistent minutes under new (and now former) Leipzig manager Domenico Tedesco. The spring ended on a couple positive notes, however. In Berlin, Adams won his first major European trophy after coming on as a substitute in the DFB-Pokal final, which RBL won on penalties over Freiburg.
"When you go to Europe and you have those ambitions to play against the best players in the best competitions, you don't know what your odds are going to be about raising trophies, and so you know that one you won't forget," he said a few days later while in camp with the U.S.
The second sign that Adams's fortunes were changing came from Yorkshire, England, where Leeds escaped Premier League relegation and set out to bolster its lineup. With former Red Bull New York, Salzburg and Leipzig manager Jesse Marsch in charge, a reunion with Adams seemed inevitable. The midfielder moved in July for $24 million and quickly proved himself worthy of the sport's toughest circuit, starting 13 of 14 Premier League matches prior to the World Cup (and going all 90 minutes in 12).
"We haven't played against any opponent that's had a better defensive midfielder than how Tyler's been playing," Marsch told MLS in November. "I think his upside continues to be massive."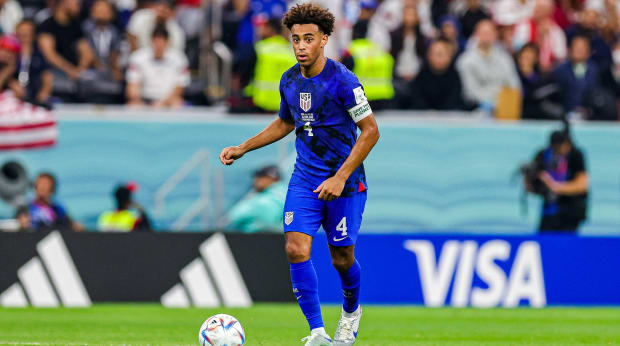 Then came the World Cup, where Adams's leadership, composure and competitiveness blossomed under the brightest spotlight. Voted captain by his teammates, Adams proved to be the ideal spokesman off the field while setting a high standard on it. He anchored the Americans' run to the knockout stage with relentless tackling and running, along with improved passing (he completed 90%). Only seven players in Qatar made more tackles per game during the group stage, and few ran farther—Adams hit eight miles covered against both Wales and Iran. He was brilliant on both sides of the ball against England as the U.S. won that high-profile midfield battle, then was presented with the game ball following the win over Iran. The Americans yielded just one goal during the group stage, a late penalty kick to Wales.
Adams and the U.S. ran out of gas against the Dutch in the round of 16, but he'd made a lasting impression.
"From the whole group, you've seen this increased focus as we entered the World Cup and from Tyler in particular, he's led not only off the field but on the field," U.S. coach Gregg Berhalter said following the group stage.
"We always talked about his ability to win the ball back and to help us in defensive transition moments, and it's been excellent this World Cup. The other thing is that our defensive shape has been really good, and he's responsible for coaching the players in front of him. I know they've given me that feedback that he's done a great job with that," Berhalter continued. "He's been great and really happy to see just this next level that he has in him."
Adams was one of three Americans to play every minute of Qatar, and he ended his memorable 2022 as the national team's leader in minutes and starts.
Here are the past U.S. Soccer male players of the year:
1984: Rick Davis
1985: Perry Van der Beck
1986: Paul Caligiuri
1987: Brent Goulet
1988: Peter Vermes
1989: Mike Windischmann
1990: Tab Ramos
1991: Hugo Pérez
1992: Marcelo Balboa
1993: Thomas Dooley
1994: Marcelo Balboa (2)
1995: Alexi Lalas
1996: Eric Wynalda
1997: Kasey Keller
1998: Cobi Jones
1999: Kasey Keller (2)
2000: Chris Armas
2001: Earnie Stewart
2002: Brad Friedel
2003: Landon Donovan
2004: Landon Donovan (2)
2005: Kasey Keller (3)
2006: Oguchi Onyewu
2007: Clint Dempsey
2008: Tim Howard
2009: Landon Donovan (3)
2010: Landon Donovan (4)
2011: Clint Dempsey (2)
2012: Clint Dempsey (3)
2013: Jozy Altidore
2014: Tim Howard (2)
2015: Michael Bradley
2016: Jozy Altidore (2)
2017: Christian Pulisic
2018: Zack Steffen
2019: Christian Pulisic (2)
2020: Weston McKennie
2021: Christian Pulisic (3)
2022: Tyler Adams