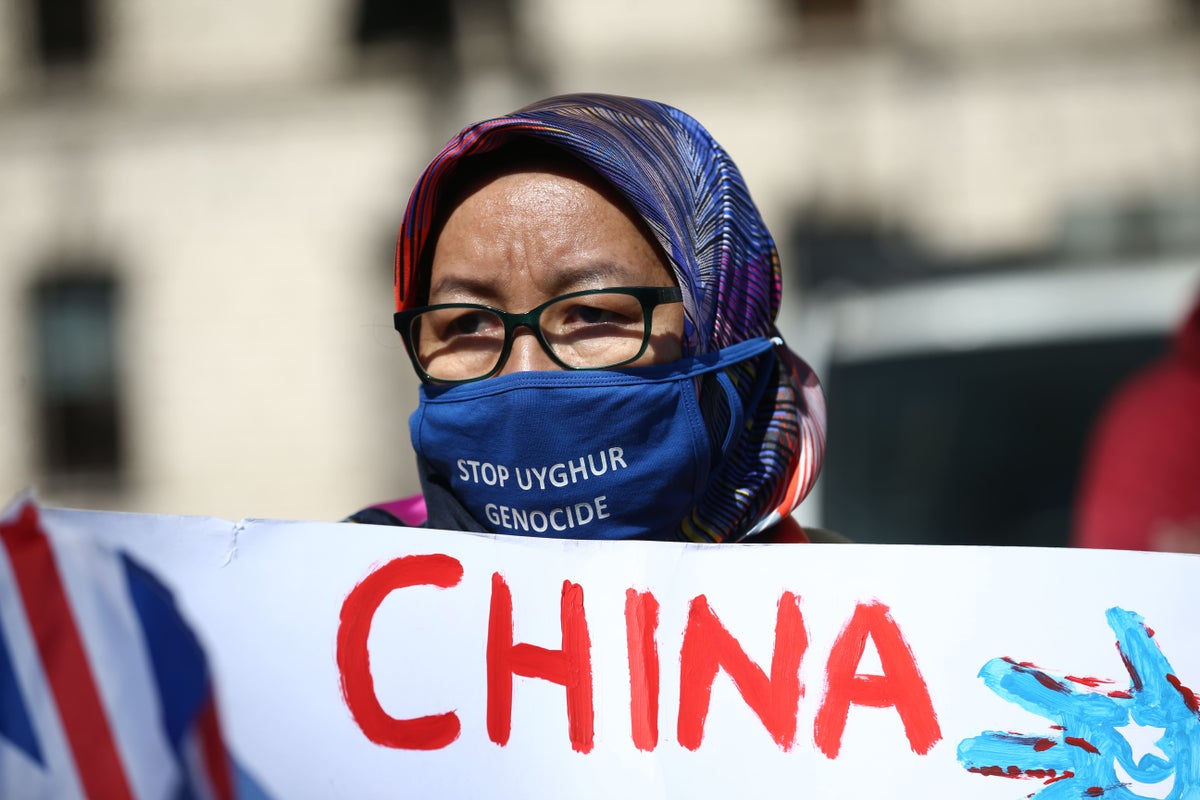 British MPs believe an official from a region of China accused of "genocide" should be arrested if he arrives in the UK for talks with the Foreign Office (FCDO).
The House of Commons heard the governor of Xinjiang, Erkin Tuniyaz, may travel to the UK next week and could meet FCDO directors at a currently undisclosed location, although not at its King Charles Street HQ.
Foreign Office minister Leo Docherty was pressed to ensure the UK government either sanctions the governor, denies him a visa, or seeks his arrest should he arrive in the country.
A group of seven MPs have written to attorney general Victoria Prentis asking her to give "serious consideration" to an application from a Kazakh man, who alleges he experienced "torture" in Xinjiang, to prosecute the governor while in the UK.
The FCDO was also widely condemned by MPs for entertaining the idea of talks with the governor given China's treatment of the Uighur Muslims in Xinjiang, which include allegations of forcibly sterilising women and putting children in "concentration camps".
In 2021, MPs approved a non-binding Commons motion which declared Uighur Muslims and other minorities are "suffering crimes against humanity and genocide" in Xinjiang.
Conservative former leader Sir Iain Duncan Smith, in the letter to the Attorney General, said: "We further understand that evidence has been submitted to the competent authority, the Metropolitan Police's war crimes team, SO15, for investigation and possible action when he arrives on Sunday.
"We hope that you will give this application serious consideration. In the absence of an international mechanism to hold to account those responsible for Uighur abuses, we must seize every opportunity to ensure accountability."
Mr Docherty, answering an urgent question, earlier told the House of Commons: "We understand from the Chinese embassy that the governor of Xinjiang may visit the UK next week.
"To be very clear – he has not been invited by the UK Government or by the FCDO and we have no confirmation that he will in fact travel.
"Our expectation is that he will be travelling on a diplomatic passport, and has not yet been granted, therefore, a visa.
"If he does visit, I can assure this House that under no circumstances will he be dignified with a ministerial meeting."
After claiming that the government would not "legitimise" China's actions in Xinjiang with such a meeting, Mr Docherty added that officials "would be prepared to offer him a meeting" but only "to make absolutely clear the UK's abhorrence at the treatment of the Uighur people".
There's really only one reason for having a meeting like this and it's to keep that man talking until the rozzers arrive with a stout pair of handcuffs

— Alistair Carmichael, Lib Dem MP
Sir Iain described the FCDO's response as "weak" before adding: "Whether or not the Foreign Office is tough, this is a propaganda coup for the Chinese government."
Conservative MP Alicia Kearns, who chairs the Foreign Affairs Committee, said: "In Xinjiang women are being forcibly sterilised, children are in concentration camps, there are forced labour camps and systemic rape, yet the minister has just confirmed from the despatch box that ministers approved of this visit to one of the masterminds of this genocide."
Ms Kearns added: "There is no legitimate reason to allow this man, Erkin Tuniyaz, into our country. (The) only meetings with him should be in a courtroom. So will the Government now sanction him?"
She later shouted "deny the visa or arrest him" after Conservative MP Bob Blackman (Harrow East) said: "I understand that the survivors of the camps have actually applied to the Attorney General for permission for him to be arrested on arrival."
Mr Docherty went on to tell MPs: "This individual will not be invited into King's Charles Street at the FCDO; this would be, I think, an external meeting if indeed it took place."
We will continue to reiterate this message so the Chinese authorities know they cannot hide their abuses.

— Prime Minister's spokesman
Liberal Democrat former minister Alistair Carmichael shot back: "Well, that'll really show him, won't it?
"There's really only one reason for having a meeting like this and it's to keep that man talking until the rozzers arrive with a stout pair of handcuffs."
The Prime Minister's official spokesman, when asked why Mr Tuniyaz had not been sanctioned, said in a briefing of journalists: "My understanding is that FCDO officials are meeting the governor of Xinjiang to make clear the UK's abhorrence over the treatment of the Uighur people and to underline that we will not relent from exposing the horrors from which they are being subjected.
"We will continue to reiterate this message so the Chinese authorities know they cannot hide their abuses. We do maintain diplomatic channels so we can pass on these messages and make clear our position."