UFC heavyweight champion punches Jackass star in family jewels in new movie trailer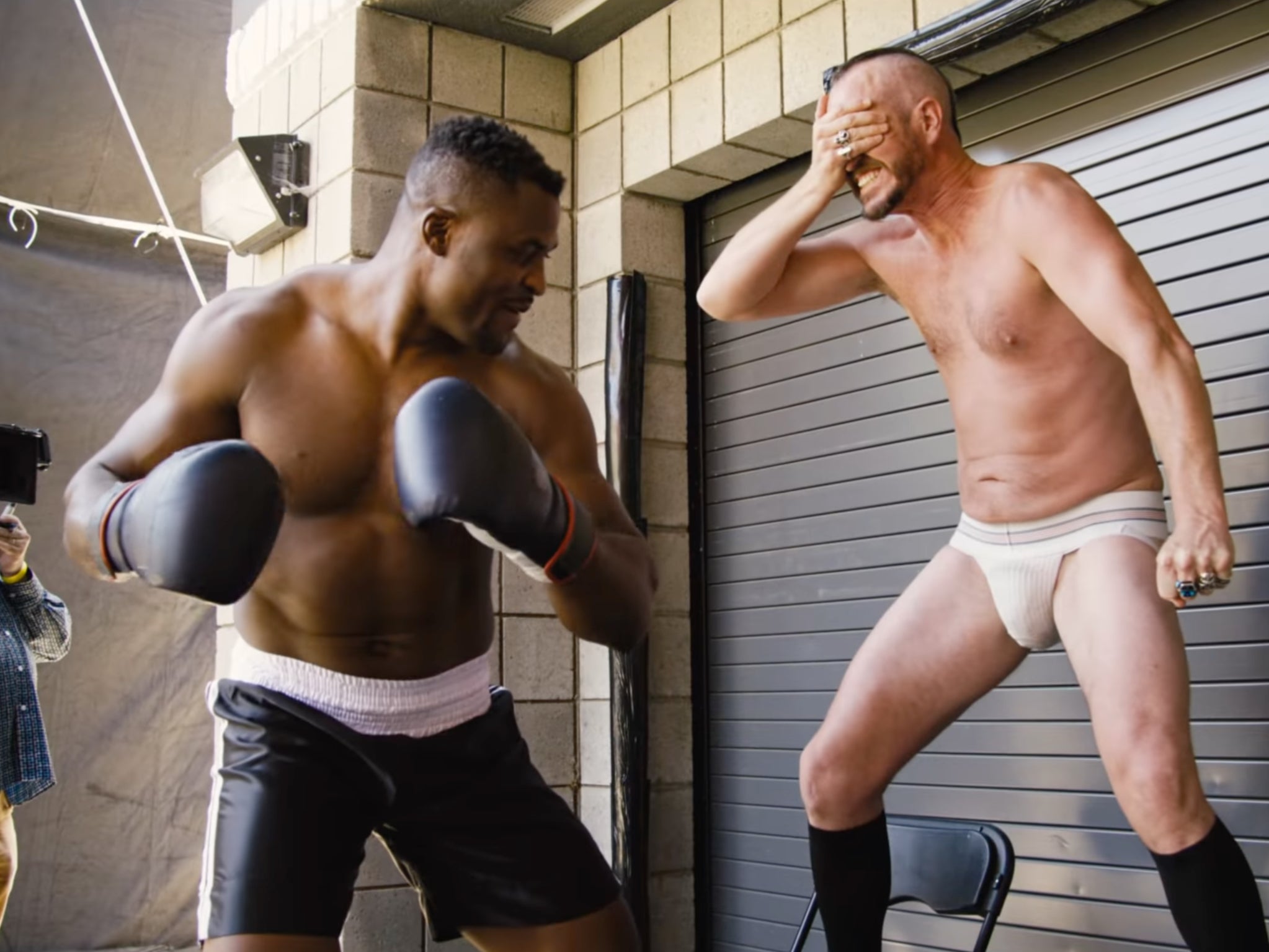 UFC heavyweight champion Francis Ngannou has showcased his formidable punching power outside of the ring in the brutal new trailer for Jackass Forever, due to hit screens in February,
The 35-year-old fighter has been exploring new ventures outside of his UFC career in the run-up to his contract expiring. The segment will be aired in the latest Jackass movie following their long-standing series about a group of friends and pranksters who play depraved tricks on one another and take part in ill-advised stunts.
In the trailer shared online, Ngannou is shown punching Jackass crew member Ehren McGhehey in the groin. Johnny Knoxville can be heard saying: "Francis hits harder than any heavyweight in MMA. I told Ehren (McGhehey) it was a lightweight."
A shirtless Ngannou is then captured walking around a corner, coming face to face with his victim, who exclaims: "That's not a lightweight. What are you guys talking about!"
Sign up to our new free Indy100 weekly newsletter
The clip cuts out just as the fighter swings a powerful blow presumably ending in agony for McGhehey.
Speaking about his cameo in the movie, the heavyweight champion said: "That's the craziest thing that I've ever seen. Man, I had to punch somebody in the nuts. I did it the first time, [they're like] 'Listen, man, we know you. People know that you're the hardest puncher in the world. It wasn't hard enough.'
"I was like, 'Are you kidding me? Like, I'm nervous. I don't know. I could hurt this guy. Did he at least have kids or something already?'"
The last time Ngannou was inside the octagon, he won the heavyweight title from Stipe Miocic. The star is the leading fighter in the UFC's top division and will defend his title against Cyril Gane this month.
Jackass Forever will be released on 4 February 2022.