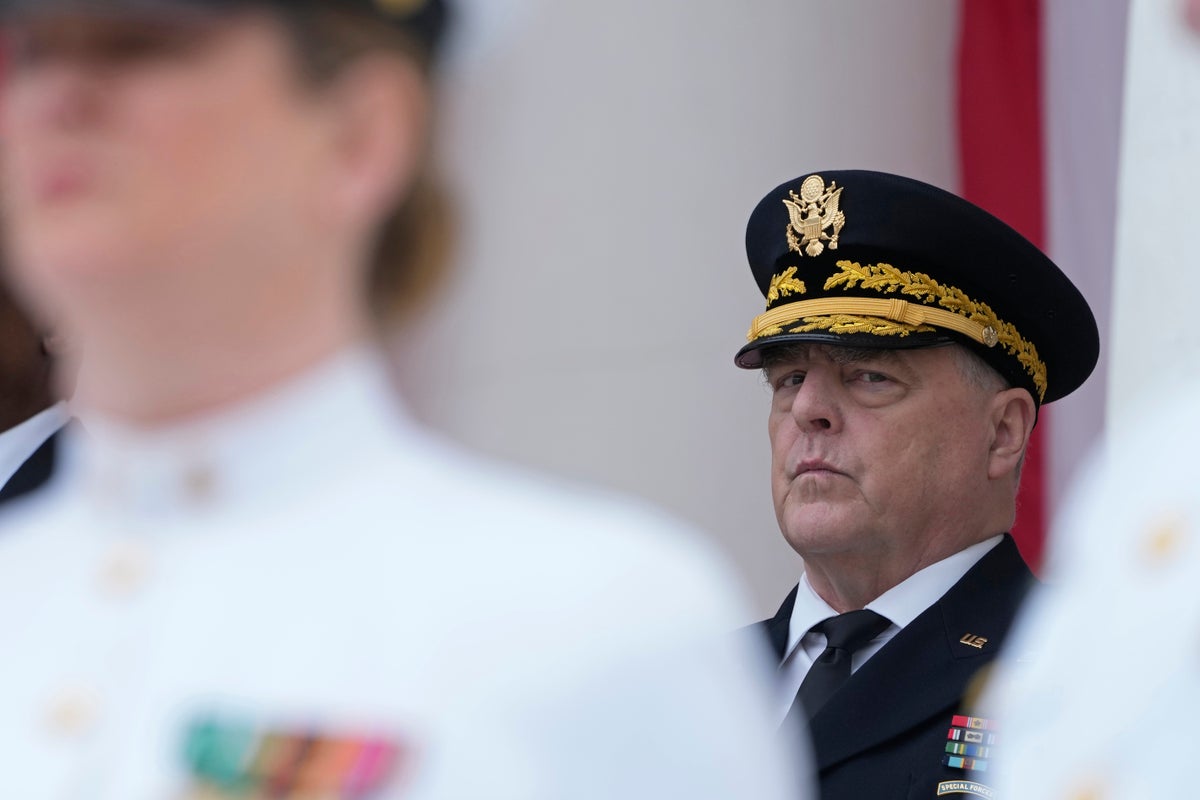 Training for Ukrainian forces on advanced U.S. Abrams tanks has begun, and while those systems will not be ready in time for the imminent counteroffensive, those weapons will be critical in the longer-term to Ukraine ultimately pushing Russia out of its occupied territories, Joint Chiefs chairman Gen. Mark Milley said.
Tank training began as the U.S. and allies began to work out agreements to train Ukrainians on F-16 fighter jets — another long-wished-for advanced capability. Ultimately, while the tanks are needed to expel Russian forces from Ukrainian territory, the F-16s would be part of a longer-term security plan to deter future attacks, Milley said Thursday.
"Everyone recognizes Ukraine needs a modernized Air Force," Milley said. "It's going to take a considerable amount of time."
Milley said detailed planning on class sizes, the types of flying tactics and locations for training was underway now between the U.S. and allies such as the Netherlands and the U.K. that have already pledged to provide F-16s. The U.S. has not said yet whether or not it will provide jets, but President Joe Biden has said the U.S. will support F-16 training.
As those details get worked out, Abrams tank training moved ahead. About 200 Ukrainian soldiers began an approximately 12-week training course in Germany on the U.S. tanks over the weekend to teach them how to maneuver, fire and conduct combined arms operations with the advanced armored system. Another 200 troops are getting trained on tank fueling and fuel truck maintenance.
The U.S. training schedule is timed to get the troops up to speed on the systems before 31 of the 70-ton Abrams tanks the U.S. has promised to Ukraine are scheduled arrive by this fall. Those Abrams tanks will make up part of a force of about 300 tanks total pledged by Western allies including Challenger tanks from the U.K., Leopard 2 tanks from Spain and Germany, and light tanks from France.
The U.S. and western allies balked for months at providing tanks, citing the significant maintenance and fueling challenges the systems require. Abrams tanks can burn through fuel at a rate of at least two gallons per mile (4.7 liters per kilometer), whether the tank is moving or idling, which means a constant supply convoy of fuel trucks must stay within reach so it can keep moving forward.
As with the recent decision on providing F-16 fighter jet training for Ukraine, U.S. approval to send its own Abrams systems was a necessary part of the allies' negotiations on tanks for Ukraine, so no western nation would be providing the systems alone, possibly incurring direct retaliation from Russia. In January, the Biden administration reversed course and agreed that Ukraine would get the tanks.
Milley is in France to mark the 79th anniversary of D-Day, which launched the allies' World War II massive ground counteroffensive to push back Nazi forces in Europe. World War II involved some of the largest armored battles in modern history, including a major Soviet counteroffensive against the Nazis in 1943 along the Dnieper River, the same edge along which tens of thousands of Ukrainian and Russian forces are now entrenched.
"You can look back to World War II and some of the biggest armored battles that were ever fought in history were fought, basically, in parts of Ukraine," Milley said to reporters traveling with him to the D-Day ceremonies. "So tanks are very important, both to the defense and the offense, and upgraded modern tanks, the training that goes with it, the ability to use them, will be fundamental to Ukrainian success."