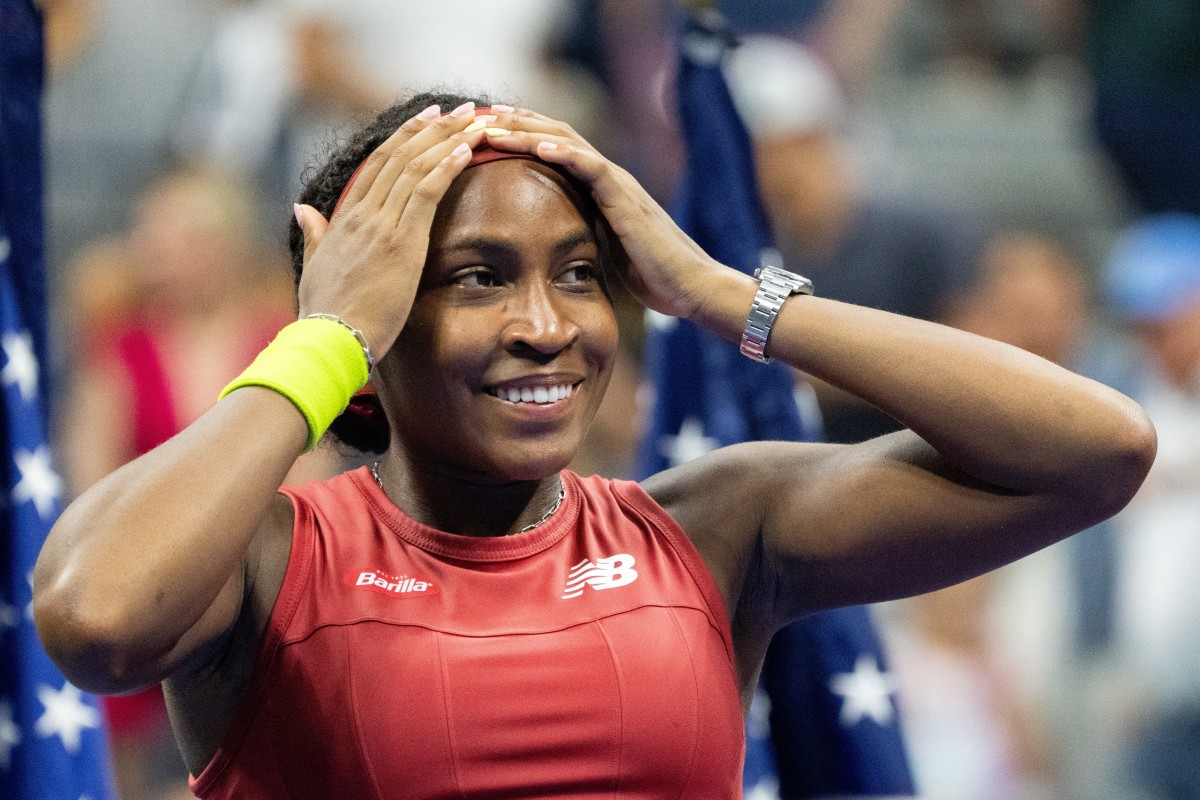 The U.S. Open showed another positive sign for women's sports in America.
Coco Gauff's first Grand Slam victory over Aryna Sabalenka on Sept. 9 delivered an average of 3.42 million viewers. The number was over a million more than the 2.32 million during the next day's U.S. Open men's finals match that saw Novak Djokovic win his 24th Grand Slam in a win over Daniil Medvedev.
Related: Tennis star says he can't watch his competitors due to Spectrum-Disney holdout
Gauff-Sabalenka crushed the ratings of last year's finals between Iga Swiatek and Ons Jabeur that averaged 1 million viewers, and even 2021's finals match between Emma Raducanu and Leylah Fernandez that averaged 1.4 million.
But the high draw for Gauff is obviously expected because she is the youngest American to win the U.S. Open since Serena Williams in 1999.
More ESPN:
Ben Shelton did make the men's semifinals, losing to Djokovic in straight sets. That Sept. 8 match averaged 2.26 million viewers, while Gauff's semifinals battle with Karolína Muchová the day prior averaged 1.83 million viewers.
One downer for the ratings of the men's event is that it played simultaneously as the first NFL Sunday, though the women's side also has to compete with a slate of NCAA college football games. Moreover, the Disney (DIS) -) and Charter Communications (CHTR) -) dispute also took from both days as it was only settled on Sept. 11.
The ratings are also fueled by the success of American women in tennis versus their male counterparts. The last few decades have seen the likes of the Williams sisters, Sloane Stephens, and now Gauff.
The men's side has been famously dominated by The Big Three of Djokovic, Rafael Nadal, and Roger Federer over the last two decades. And current Americans like Shelton, Francis Tiafoe, and Taylor Fritz are struggling to get over the hump with Djokovic in the fold and the emergence of Medvedev and Spain's Carlos Alcaraz.
US Open Finals viewership averages:

Coco Gauff vs Aryna Sabalenka: 3.422 million (with a pretty high peak at match point I'm assuming)

Novak Djokovic vs Daniil Medvedev: 2.321 million https://t.co/SUSdAemBX1

— Matt Dowell (@MattDowellTV) September 12, 2023
Get exclusive access to portfolio managers and their proven investing strategies with Real Money Pro. Get started now.
Editor's note: This story was updated to correct an error. Naomi Osaka was the first Japanese player to win a major singles title. She did not play professionally as an American.