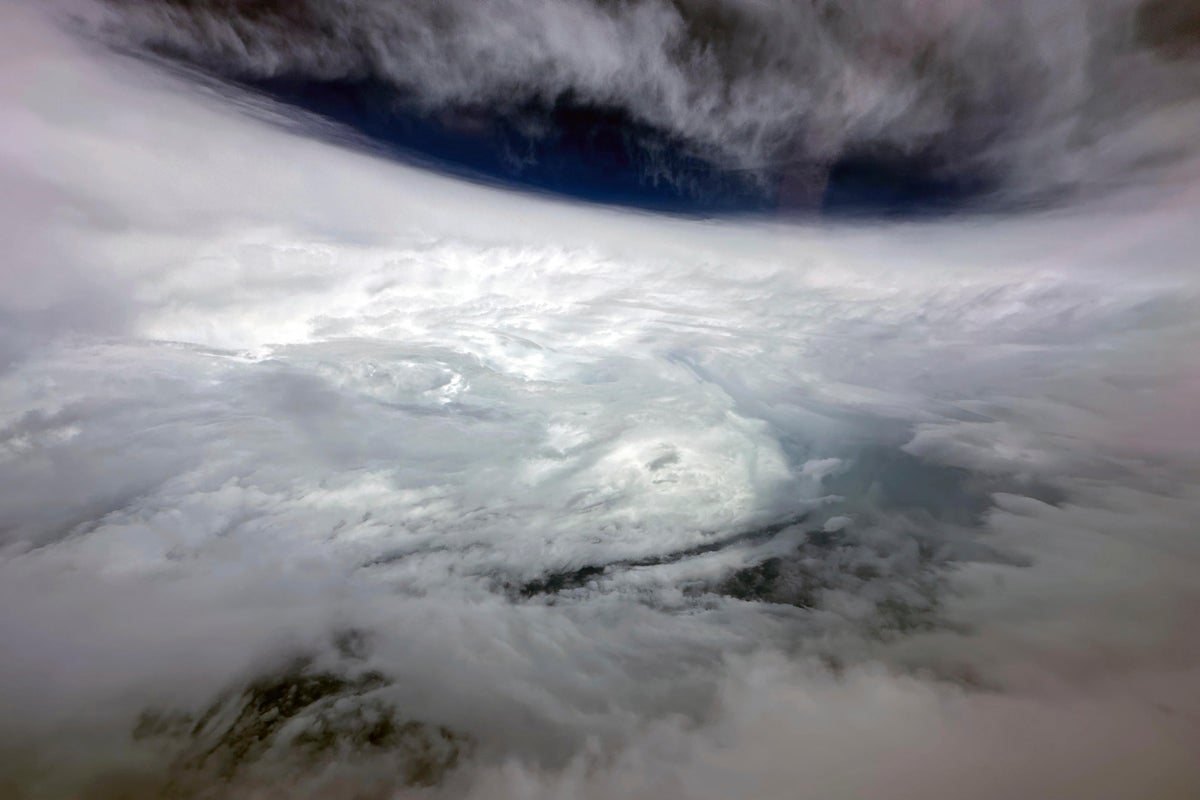 Typhoon Saola made landfall in southern China before dawn Saturday after nearly 900,000 people were moved to safety and most of Hong Kong and other parts of coastal southern China suspended business, transport and classes.
Guangdong province's meteorological bureau said the powerful storm churned into an outlying district of the city of Zhuhai, just south of Hong Kong at 3:30 a.m. It was forecast to move in a southwesterly direction along the Guangdong coast at a speed of around 17 kph (10 mph), gradually weakening before heading out to sea.
On Friday, 780,000 people in Guangdong were moved away from areas at risk as did 100,000 others in neighboring Fujian province. More than 80,000 fishing vessels returned to port.
Workers stayed at home and students in various cities saw the start of their school year postponed to next week. Trading on Hong Kong's stock market was suspended Friday and hundreds of people were stranded at the airport after about 460 flights were canceled in the key regional business and travel hub.
Rail authorities in mainland China halted all trains entering or leaving Guangdong province from Friday night to Saturday evening, state television CCTV reported.
The Hong Kong Observatory had issued a No. 10 hurricane alert, the highest warning under the city's weather system. It was the first No. 10 warning since Super Typhoon Mangkhut hit Hong Kong in 2018.
The observatory said Saola — with maximum sustained winds of 195 kilometers (121 miles) per hour — came its closest to the financial hub at around 11 p.m. Friday, skirting about 30 kilometers (19 miles) south of the city's Tsim Sha Tsui shopping district. The storm's eyewall, which surrounds its eye, was moving across the city overnight, "posing a high threat" to the territory, the agency said. By Saturday, morning, it said, maximum sustained wind speeds had fallen to 145 kilometers (90 miles) per hour.
The observatory warned of serious flooding in coastal areas and said the maximum water level might be similar to when Mangkhut felled trees and tore scaffolding off buildings in the city.
In recent months, China has experienced some of its heaviest rains and deadliest flooding in years in various regions, with dozens killed, including in outlying mountainous parts of the capital, Beijing.
As the storm's heavy rains and strong winds closed in on Hong Kong, about 400 people sought refuge at temporary shelters and ferry and bus services halted. Residents of low-lying areas placed sandbags at their doors hoping to prevent their homes from being flooded.
Dozens of trees were knocked down, and seven people were injured and sought treatment at public hospitals. Classes at all schools were to remain suspended Saturday.
Some residents, including security guard Shirley Ng, still had to go to work Friday. Ng said people were stocking up on food to prepare for the storm.
"I just hope that the typhoon won't cause causalities," she said.
Weather authorities in the nearby gambling hub of Macao also warned of flooding, forecasting that water levels might reach 1.5 meters (5 feet) in low-lying areas Saturday morning. The cross-border bridge connecting Hong Kong, Macao and Zhuhai city was closed at midafternoon. Macao leader Ho Iat Seng ordered a halt to casino operations.
Another storm, Haikui, was gradually moving toward eastern China. Coupled with the influence of Saola, parts of Guangdong, Fujian and Zhejiang provinces would experience strong winds and heavy rains, the meteorological administration said. It predicted Haikui would hit Taiwan's east coast Sunday.
Dozens of domestic flights were canceled along with air services to Hong Kong and Macao.
Despite the twin storms, China's military conducted more operations Friday night and early Saturday meant to intimidate Taiwan, a self-ruled island democracy that Beijing seeks to bring under Chinese sovereignty by force if necessary. Taiwan's Defense Ministry said it had detected six Chinese military aircraft and three naval vessels around Taiwan during the 24 hours leading up to 6 a.m. Saturday.
It said the island's armed forces were monitoring the situation and put aircraft, navy vessels and land-based missile systems on alert. However, it said there were no indications that the Chinese ships or aircraft had crossed the median line in the Taiwan Strait or entered Taiwan's air defense identification zone as they often do.
Saola passed just south of Taiwan on Wednesday before turning toward mainland China, with its outer bands hitting the island's southern cities with torrential rain. The typhoon also lashed the Philippines earlier this week, displacing tens of thousands of people in the northern part of the islands because of flooding.