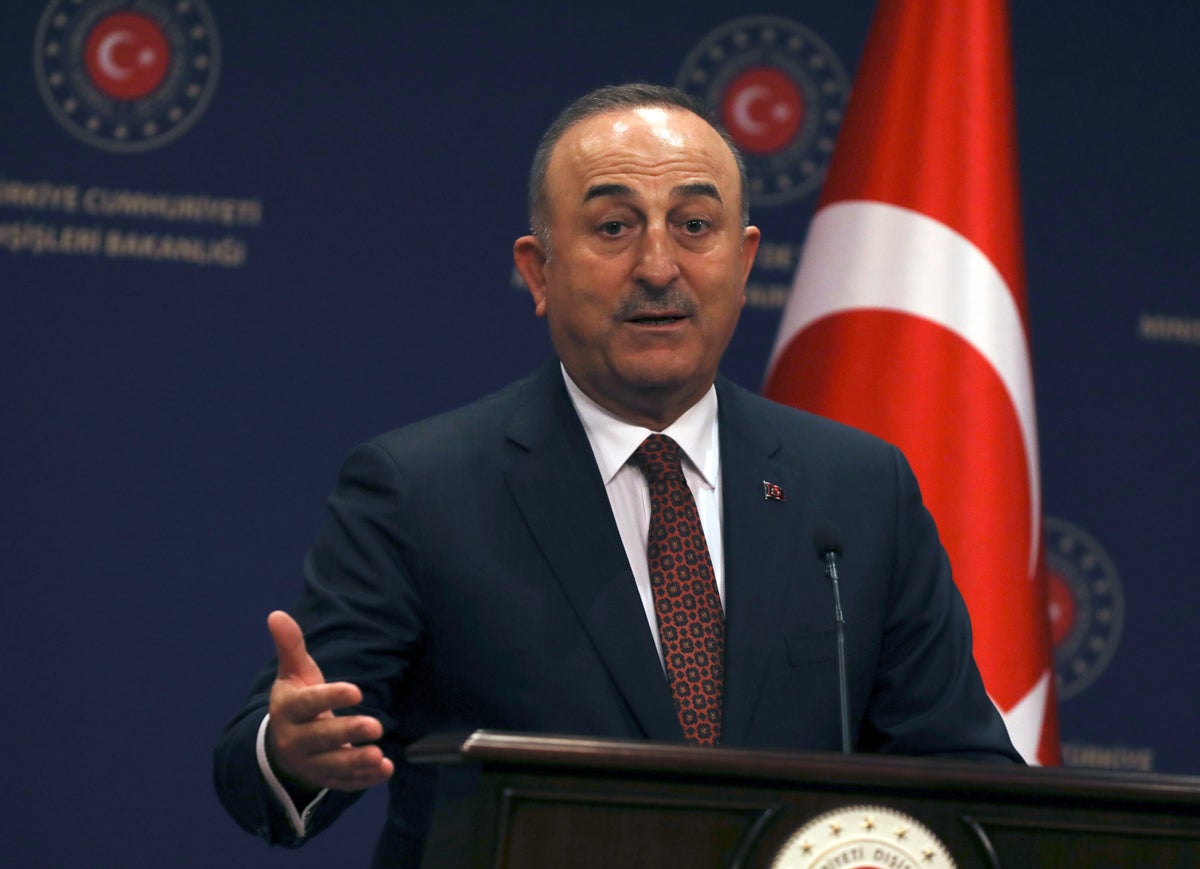 Turkey's foreign minister on Thursday accused Sweden of being complicit in a "hate and racist" crime for failing to prevent weekend protests in Stockholm by an anti-Islam and pro-Kurdish groups.
Mevlut Cavusoglu also confirmed that a key meeting in Brussels to discuss Sweden and Finland's NATO membership has been postponed, saying such a meeting would have been "meaningless" in the wake of the protests.
Turkey has been infuriated by a Quran-burning protest by anti-Islam activist Rasmus Paludan on Saturday and has criticized Swedish authorities for allowing the demonstration to take place outside the Turkish Embassy. Turkey's president this week cast serious doubt on NATO's expansion, warning Sweden not to expect support for its membership bid in the military alliance.
"The Swedish government has taken part in this vile action by allowing it to take place," Cavusoglu said during a joint news conference with his visiting Serbian counterpart. "It's that simple. No one can tell us the contrary."
"In this environment, a tripartite meeting would have been meaningless," Cavusoglu said. "It has been postponed because the current environment would have overshadowed it, it would not be a healthy meeting."
Sweden and Finland abandoned their long-standing policies of military nonalignment and applied for NATO membership after Russian forces launched a full-scale invasion of Ukraine on Feb. 24. NATO-member Turkey, which is pressing the two countries to crack down on Kurdish militants and other groups it considers as terrorists, hasn't yet endorsed their accession, which requires unanimous approval from all existing alliance members.
Asked about the possibility of Finland joining the alliance on its own if Sweden's bid is delayed further, Cavusoglu said Turkey had not received such a request. He said however, that "the problems we face with Finland are relatively fewer compared to Sweden."
There was no immediate reaction from Swedish officials to Cavusoglu's comments. But earlier Thursday Swedish Prime Minister Ulf Kristersson told a press conference that his overall view was that "no door has been closed" for Sweden's NATO membership.
"There are currently complications in the discussions and talks, it is quite obvious. But no door has been closed, I think it is important to say that" Kristersson said, according to the Expressen newspaper.
"Let's bring down the temperature and the heat, we need to get back to good talks so that we can complete the NATO process as quickly as possible," he said.
Anti-Islam activist Paludan, who holds both Danish and Swedish citizenship, established far-right parties in both countries that have failed to win any seats in national, regional or municipal elections. In last year's parliamentary election in Sweden, his party received just 156 votes nationwide.
His burning of the Quran sparked counter-protests in Turkey, where demonstrators burned his photograph and a Swedish flag.
Egypt's top religious institution on Wednesday called on Muslims across the world to boycott Swedish as well as Dutch products after Edwin Wagensveld, Dutch leader of the far-right Pegida movement, tore pages out of the Quran near the Dutch parliament in The Hague and stomped on them on Sunday.
Swedish officials have stressed that freedom of expression is guaranteed by the Swedish Constitution and gives people extensive rights to express their views publicly, though incitement to violence or hate speech isn't allowed.
__
Associated Press writer Jan M. Olsen contributed from Copenhagen.