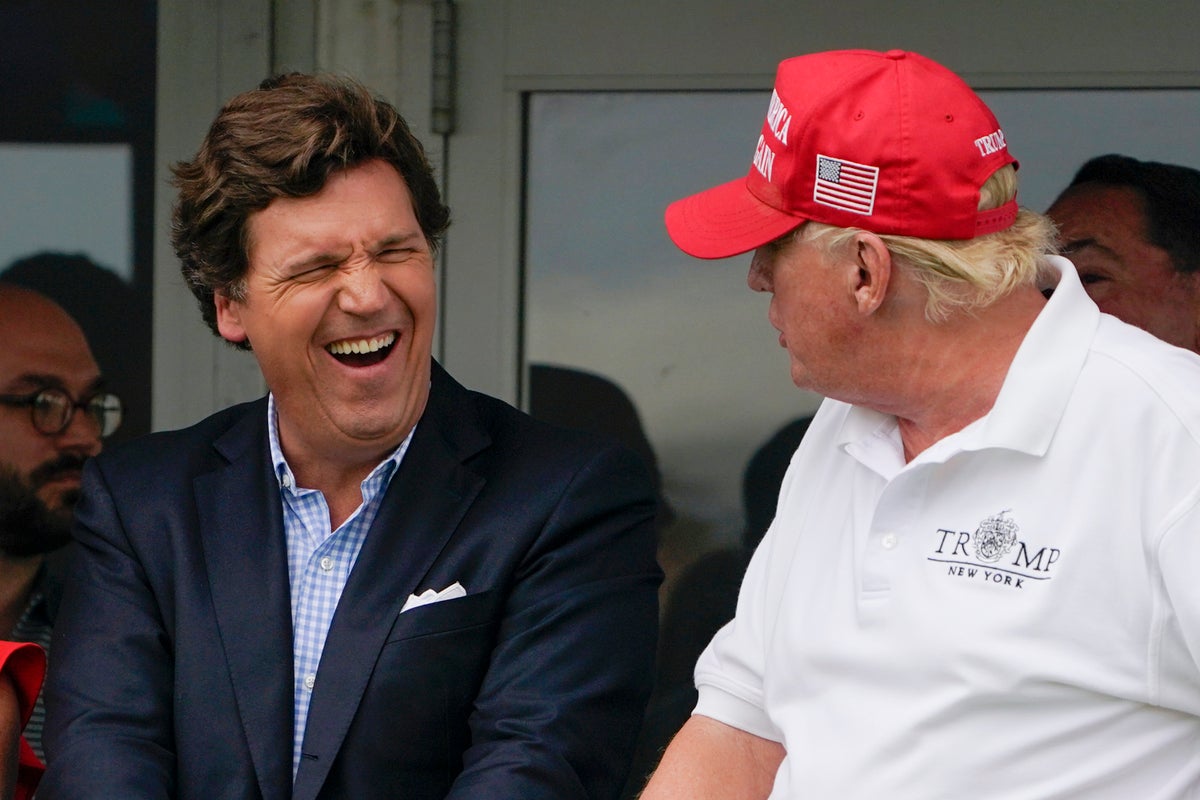 Fox News' Tucker Carlson has called on the Biden administration to stop the potential indictment of Donald Trump, warning that "America will never be the same" if it does not.
Last week, Mr Trump led much of the country to believe the Manhattan District Attorney's Office would indict him within the week. He initially predicted the arrest would occur on Tuesday, though the day came and went without any such outcome. The grand jury's meeting on Wednesday was called off, likely delaying any indictment.
Both Carlson and Mr Trump have framed the case against the former president — which alleges he paid hush-money to adult film star Stormy Daniels — as a political witch hunt, and stoke conspiracy theories by referring to prosecutor Alvin Bragg as "[George] Soros-funded."
It's unclear what, if anything, Mr Biden could do to halt a state-level prosecution. Mr Biden's pardon powers only apply to crimes at the federal level.
Carlson's call for Biden to step in was tinged with warning about the potential state of the country if Mr Trump is arrested.
"So in Manhattan tomorrow, what will certainly be an overwhelmingly liberal grand jury will meet," Carlson said. "And unless something unexpected happens, Democrats will have taken the unprecedented step of using a corrupt justice system to take out the front runner in the Republican presidential field in a presidential race."
He continued, saying if Mr Trump is arrested, "America will never be the same."
Carlson continued to insist that Mr Trump's arrest was politically motivated.
"You've got to hope that for the sake of the country, the Biden White House, which will be running against Trump, will put the country above partisanship and stop this," he said. "And that Merrick Garland at the DOJ will issue a very public statement saying that this is wrong—which it is—and therefore preserve for our grandchildren our justice system."
Police in Manhattan and Washington DC began setting up barricades in anticipation of possible unrest, though it is unclear if they did so with the knowledge the indictments were coming or simply as a precaution after Mr Trump called on his followers to protest his arrest.
In the meantime, Fox News personalities and other notable conservatives have been bouncing back and forth between downplaying the possible indictment and issuing apoplectic calls to rally around Mr Trump in his time of need.
Hosts on Fox News tried to convince their viewers that Mr Trump's infamous "lock her up" chants — which called for Hillary Clinton's imprisonment — were just "jokes," while failed gubernatorial candidate in Arizona Kari Lake called on supporters to pray for Mr Trump.
Senator Lindsey Graham told Fox & Friends that an indictment would "blow up our country."
While there has been a spike in online threats since the announcement of the possible indictment, reporters have found few of these translate into real-world action, and that pro-Trump protesters were few and far between on Tuesday.