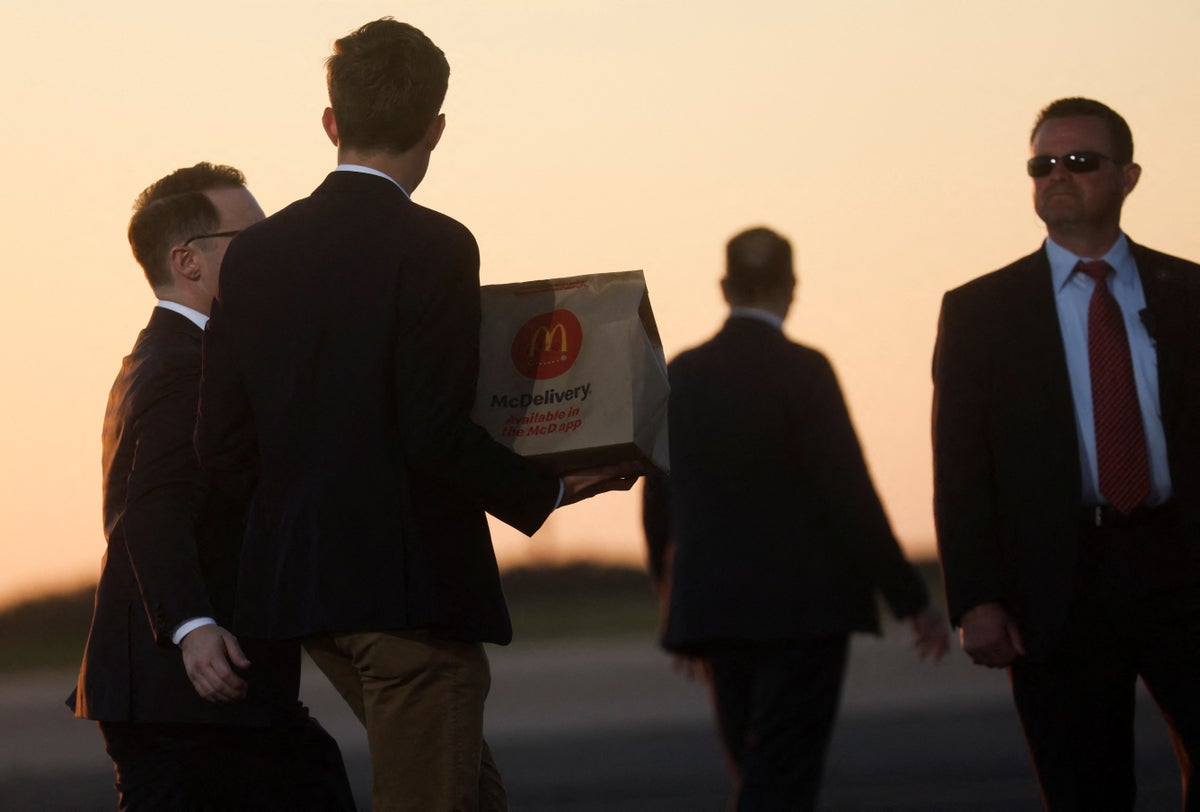 Donald Trump, at the end of a long rally to kick-off his 2024 presidential campaign, treated himself to perhaps his favourite food - McDonald's.
Boxes of food from the fast-food chain were seen being carried on to Mr Trump's private plane after the event in Waco, Texas, in pictures shared by the former president's adviser Jason Miller.
The image showed a box of 20 Chicken McNuggets and a Quarter-Pounder with cheese. "Tasty treats," Mr Miller wrote.
Mr Trump's staff was also photographed carring McDonald's bags onto the plane.
The 45th president bragged about his knowledge of the menu at a McDonald's outlet during a visit last month to a community impacted by a toxic train derailment in East Palestine, Ohio.
Accompanied by the press, Mr Trump walked into the McDonald's to order a "nice array" of food for himself.
"Hello, everybody. What's your speciality today?" he asked an employee, and went on to compliment the staff. "Hello everybody, that's a nice, beautiful looking group of people," he said.
"So I know this menu better than you do. I probably know it better than anybody in here," Mr Trump quipped to the employees.
"Knock it out fast for us... we'll be eating it on the plane back."
At Saturday's rally, Mr Trump opened with the song, Justice For All, sung by a choir of men imprisoned for their role in the January 6th insurrection at the US Capitol. Footage of the insurrection was also shown on large screens.
"You will be vindicated and proud and the thugs and criminals who are corrupting our justice system will be defeated, discredited and totally disgraced," Mr Trump told the crowd. "That's what's happening."
Mr Trump declared that his "enemies are desperate to stop us", and "our opponents have done everything they can to crush our spirit and to break our will".
He added: "But they failed. They've only made us stronger. And 2024 is the final battle, it's going to be the big one.
"You put me back in the White House, their reign will be over and America will be a free nation once again."
He also denied an affair with adult film star Stormy Daniels as he faces a potential criminal indictment from the Manhattan District Attorney's Office over allegations he paid hush money to her during the 2016 presidential campaign.