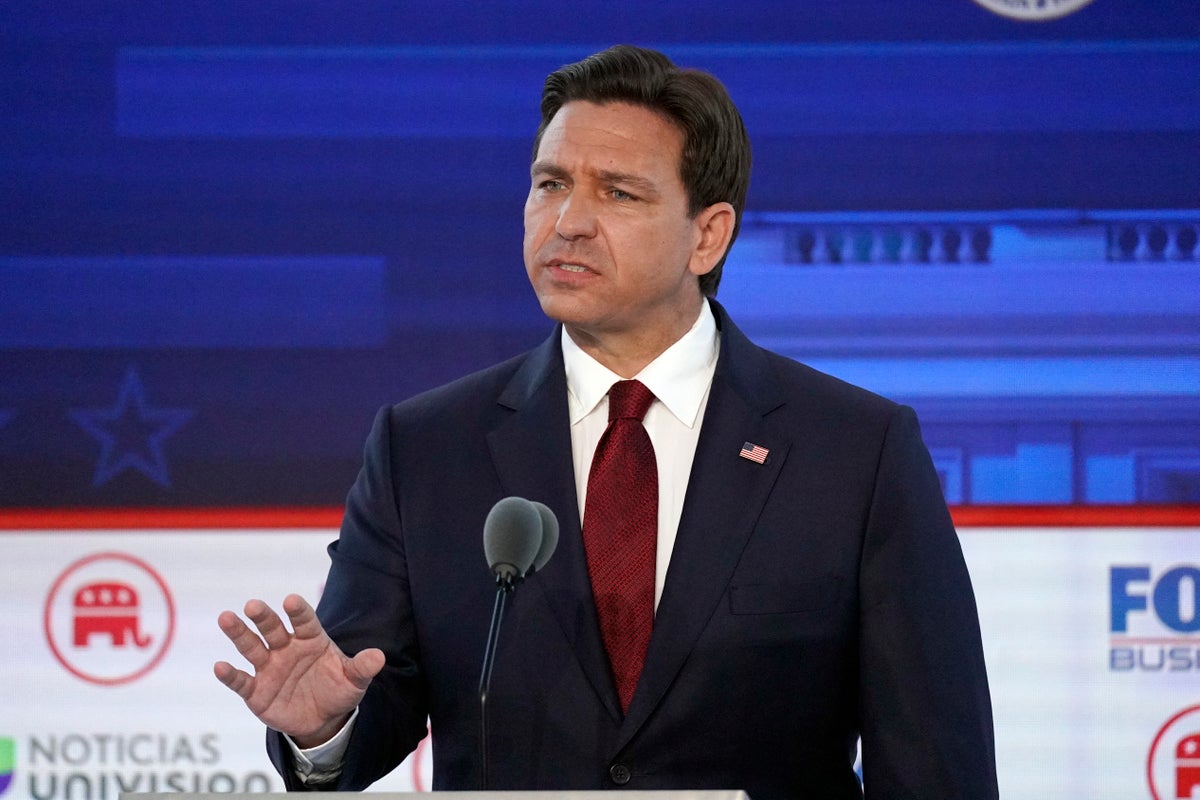 Ron DeSantis challenged Donald Trump to a one-on-one showdown on Wednesday as he skipped the second GOP debate - drawing mockery from the former president's team.
The Florida governor, who is currently second in the polls behind Mr Trump, slammed the former president for being "missing in action", saying he "owes it to" Republican voters to show up.
"You know what, maybe we can say since the former president didn't come here, maybe he'd be willing to do one with you and I," Mr DeSantis told Fox News' Sean Hannity after the second GOP primary debate.
"I think he owes it to our voters to come and make the case," Mr DeSantis argued. "Let's do it right … one's entitled to anything."
The former president's campaign team mocked Mr DeSantis for his request.
"Rob DeSanctimonious? The loser in 5th place in New Hampshire? His pathetic campaign is over. Good night, sweet prince," senior Trump adviser Jason Miller told The New York Post.
Meanwhile, Mr Trump's campaign spokesperson Steven Cheung tweeted: "Apparently Ron DeSantis challenged President Trump to a one-on-one debate. Sorry, Ron. We're not as thirsty and desperate like you or sleazeball partner Gavin Newsom."
During Wednesday night's debate, Mr Trump opted to visit a Michigan auto parts factory, and poked fun at the "job candidates" taking part in the debate.
"We are competing with the job candidates, they are all running for a job. They are all job candidates. They will do anything, Secretary of something, they even say VP. Has anyone seen a VP in that group? I don't think so," Mr Trump told the crowd at Drake Enterprises, an automotive manufacturing plant in Clinton Township.
He added: "They don't have a crowd like we have, thousands of people outside who couldn't get in."
Meanwhile, on the debate stage in California, former New Jersey governor Chris Christie cringingly gave Mr Trump a new nickname for skipping the event: "Donald Duck".
"I want to look in that camera now and tell you, Donald, I know you're watching, you can't help yourself," Mr Christie said.
"You're not here tonight, not because of polls and not because of your indictments. You're not here tonight because you're afraid of being on this stage and defending your record. You're ducking these things."
"Let me tell you what's going to happen," he continued. "You keep doing that, and no one up here is going to call you Donald Trump anymore. We're gonna call you Donald Duck."
The former president currently has a 42.2 point lead in the polls over Mr DeSantis, according to Real Clear Politics.