Trump's 'murder-suicide' style pact to overturn election in last days revealed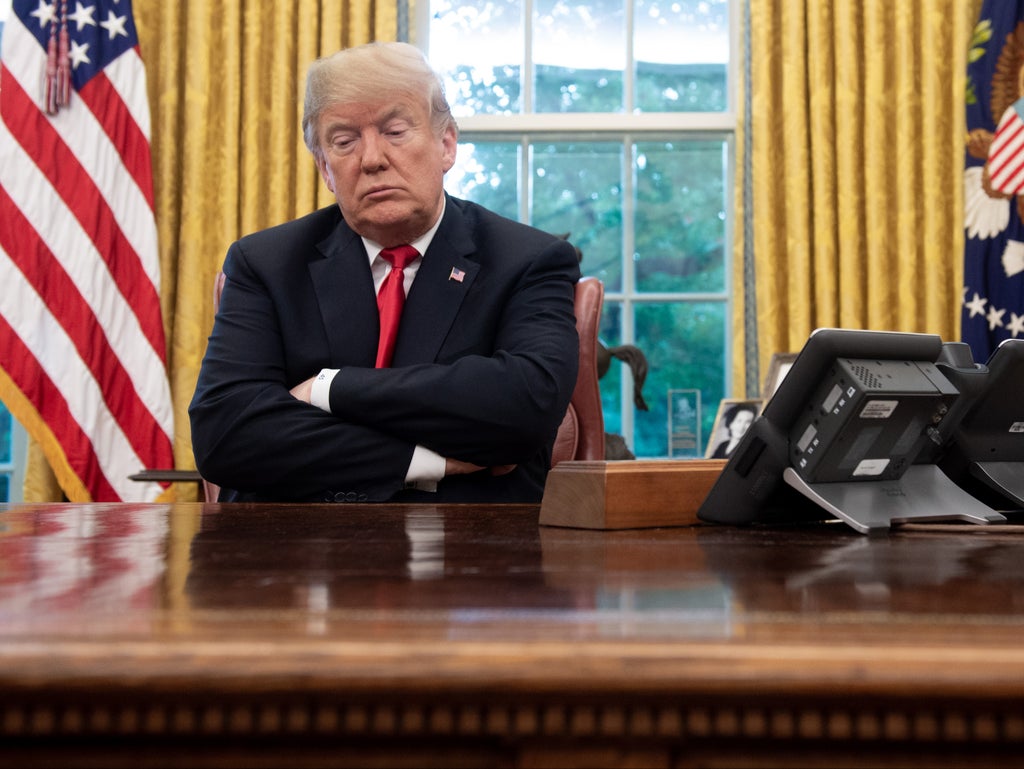 Government lawyers threatened to resign en masse if Donald Trump had followed through with plans to use the Justice Department to pursue unfounded claims of election fraud during his last days in office, according to a new report.
A Senate Judiciary Committee interim report examining the then-president's efforts to overturn the result of the 2020 presidential election specifically details a 3 January meeting at the White House at which officials fought with Mr Trump.
Then-acting attorney general Jeffrey Rosen and other senior administration figures met with Mr Trump in the Oval Office about the president's plan to replace Mr Rosen with a loyalist who would pursue the false claims of mass voter fraud.
Officials insisted that they would resign rather than go along with it – including White House counsel, Pat Cipollone, and his deputy.
According to the report, Mr Cipollone likened the president's plan to a "murder-suicide pact".
The report, titled Subverting Justice: How the Former President and His Allies Pressured DOJ to Overturn the 2020 Election, was released on Thursday.
Drawing on interviews and documents from top Justice Department officials, including Mr Rosen, his deputy Richard Donoghue, the report also includes more context about the role of Jeffrey Clark, the little-known department official allegedly in favour of pursuing the president's baseless claims of fraud to cast doubt on the election.
The New York Times has previously reported that Mr Clark was the loyalist that Mr Trump wanted to install as acting attorney general in his final weeks in office.
The flashpoint of the 3 January meeting was that Mr Trump and Mr Clark wanted the Justice Department to warn officials in Georgia of "irregularities" in voting in the state. Mr Clark also wanting similar messages sent to other states where results were being contested by Trump loyalists.
Both Mr Rosen and Mr Donoghue refused and, according to the report, the president believed by installing Mr Clark at the top of the Justice Department, he would get his wish.
It was at this point Mr Cipollone made his "murder-suicide" comment fearing a chain reaction would be set off within the government.
The report also found that Mr Trump had been pressuring Mr Rosen to intervene from the moment he became acting attorney general in December, following former attorney general William Barr's announcement that he found no evidence of fraud and was leaving the department.
Senate Majority Whip Dick Durbin, chair of the committee, said of the findings: "Today's report shows the American people just how close we came to a constitutional crisis. Thanks to a number of upstanding Americans in the Department of Justice, Donald Trump was unable to bend the Department to his will. But it was not due to a lack of effort."
He adds: "Donald Trump would have shredded the Constitution to stay in power. We must never allow this unprecedented abuse of power to happen again."
Republicans on the committee released a counter-report that highlighted how the president backed down from replacing Mr Rosen with Mr Clark and going through with the plan.
"President Trump's actions were consistent with his responsibilities as president to faithfully execute the law and oversee the executive branch," they argue.
However, based on the findings of the report, Senator Durbin has asked the DC Bar to open an investigation in to Mr Clark's compliance with rules of professional conduct.
Other findings of the report include Mr Trump forcing the resignation of US Attorney BJay Pak because he believed that he was not doing enough to support false claims of election fraud in Georgia. The president is also accused of going outside the line of succession to appoint Bobby Christine as Acting US Attorney because he believed Mr Christine would "do something" about his election fraud claims.
There are also new details of how, at former attorney general Barr's direction, the Justice Department deviated from decades-long practice meant to avoid inserting itself as an issue in the election, and instead pursued false claims of election fraud before votes were certified.