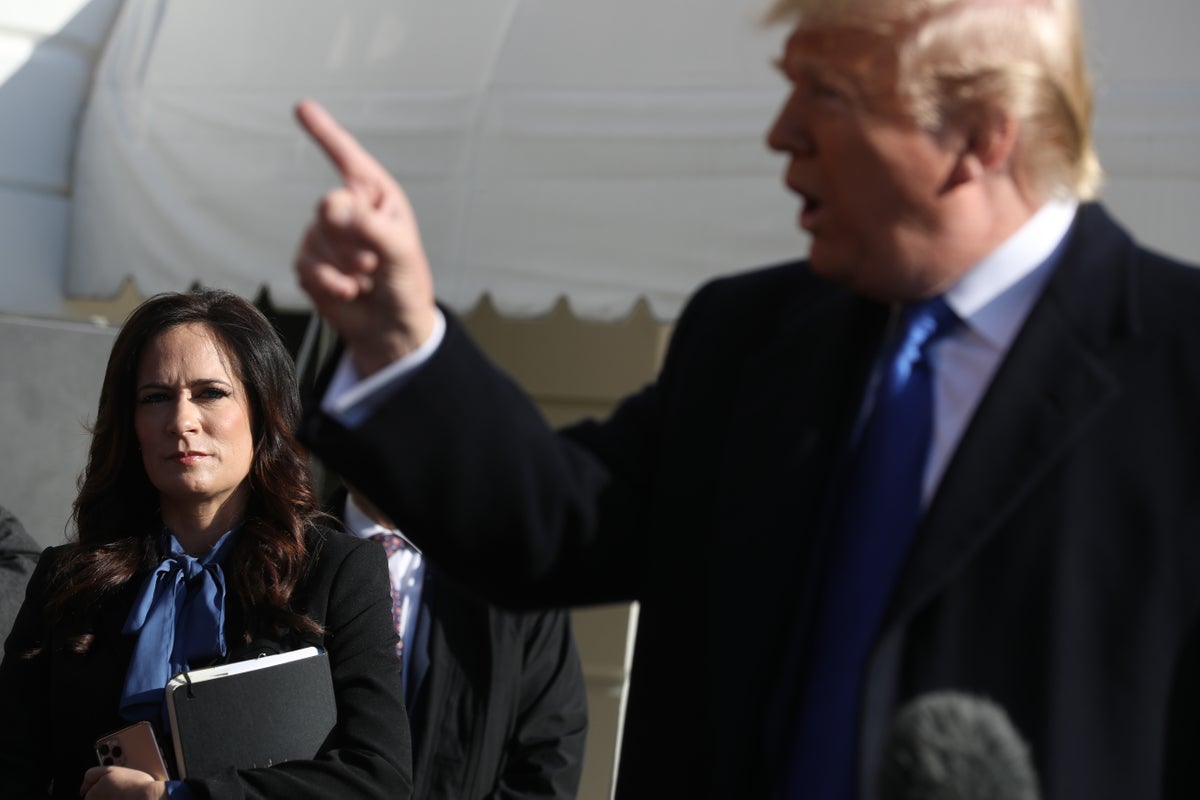 Former White House press secretary Stephanie Grisham has claimed that former president Donald Trump "did not handle classified documents properly" while in office – but has denied speculation that she was the source of images showing papers he had torn up floating in toilets.
Ms Grisham, who left the Trump administration after the 6 January Capitol riot, gave an interview just hours after federal agents on Monday searched Mr Trump's Mar-a-Lago home in Florida as part of an investigation into allegations that he removed classified documents from the White House.
The ex-president declared that his residence was "under siege, raided, and occupied by a large group of FBI agents" whom he said had "broken into" a safe belonging to him.
Reacting to the searches, Ms Grisham claimed she was witness to Mr Trump's mishandling of classified documents.
"I sat in an airplane with him, watched him go through documents — throw some away, rip some up, and put some in his pocket," the former press secretary told CNN.
"Because I remember specifically thinking, 'I wonder why those go in his pocket.' So I think this is going to be really interesting."
She added that handling classified information "was something that was really pressed upon us on a daily basis or weekly or monthly".
Ms Grisham continued: "I think that something big is there. I don't think it's going to be just letters. I think it could be about military operations.
"This is me speculating — I want to be clear. But I can see the former president thinking those were cool or fun, and we were not a White House that followed the rules."
However, when a Twitter user speculated that it was Ms Grisham who had leaked the pictures of torn presidential notes in toilet bowls, the former aide laughed it off.
"Lol I assure you I'm not", she wrote. "I would def not have followed that guy into the bathroom after he used it."
The implications of the FBI raid for Mr Trump are potentially extremely serious. If he is found to have kept hold of executive branch documents that should have been turned over to the National Archives, he could potentially be found to have broken the law – specifically a provision in the US Code that penalises anyone who "willfully and unlawfully conceals, removes, mutilates, obliterates, falsifies or destroys" confidential government records.
Among the penalities are that any violator "shall forfeit his office and be disqualified from holding any office under the United States".
When presidential documents were first discovered at Mar-a-Lago in February this year, sparking the investigation that led to this week's search, Ms Grisham said that she was not "not surprised".
"I think that what's important is this is another example of a White House and an administration that just – we had no rules. We followed no rules."
The Independent has reached out to Mr Trump for a comment on Stephanie Grisham's remarks CNN.