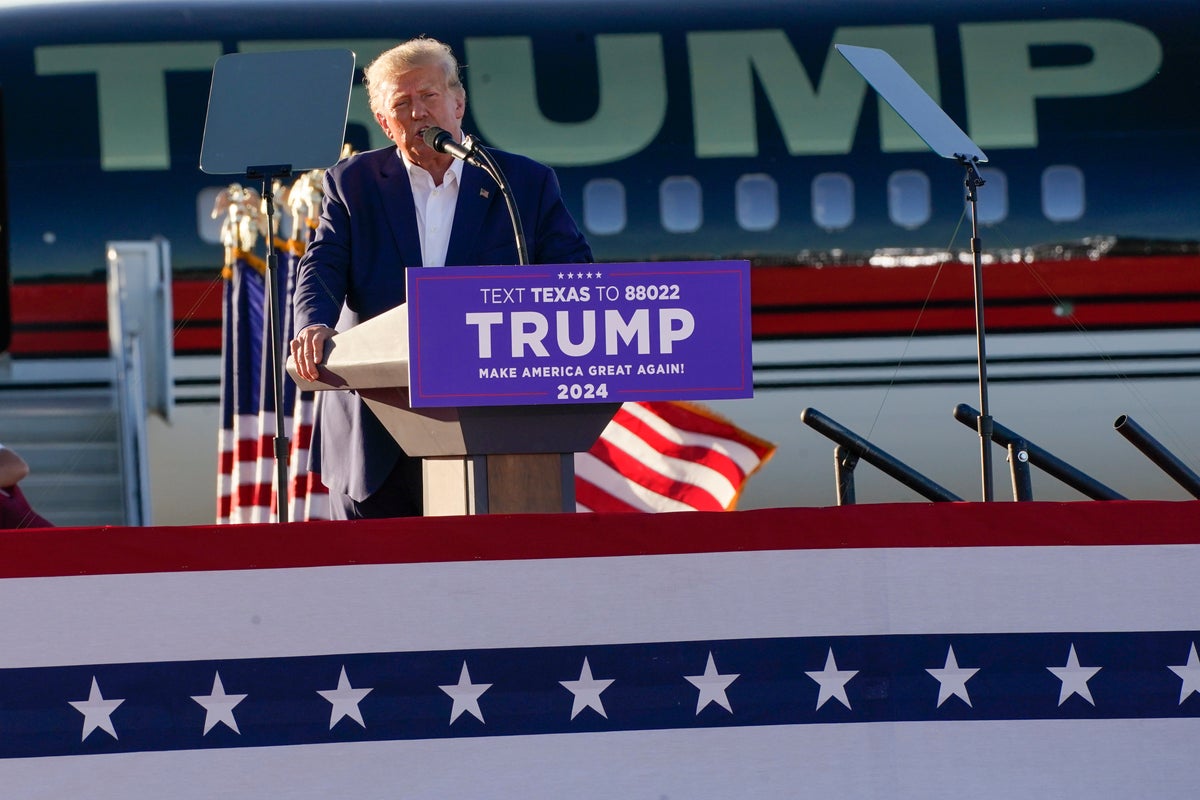 Former president Donald Trump ramped up his criticisms of his potential 2024 challenger Florida Governor Ron DeSantis during his rally in Waco, Texas on Saturday.
Mr Trump used the epithet he has coined for the governor, calling him Ron "DeSanctimonious". Mr Trump said that in 2018, Mr DeSantis begged the then-president to endorse him in the Republican primary for governor in Florida.
"But I'm a loyalist and and when a man comes to me tears in his eyes, he's had almost nothing in the polls," he told rallygoers. Mr Trump noted how at the time, Mr DeSantis registered much lower in the polls than then-agriculture commissioner Adam Putnam, who also had a significant money advantage.
"He's at almost nothing, He's got no cash," Mr Trump said. "And I said, I can't give you an endorsement. There's no way you can when you're dead."
In 2018, Mr DeSantis, then a congressman who helped start the House Freedom Caucus, tried to show his pro-Trump bona fides by doing an ad featuring himself building a toy version of Mr Trump's proposed wall on the US-Mexico border with his child.
Mr Trump said that Mr DeSantis won him over by criticising the investigation into Russian meddling into the 2016 presidential election and claims that Mr Trump's campaign colluded with Russia.
"He fought a little bit, just a little bit, on impeachment hoax number one, impeachment hoax number two, meaning on television, because I didn't know him very well," he said. Mr Trump added that Mr DeSantis begged for the endorsement.
"I said let's give it a shot Ron," he said. "I endorsed him. he became like a rocket ship. Within one day the race was over."
Mr DeSantis has yet to announce whether he will challenge Mr Trump. But many conservative activists have rallied behind him after he won re-election last year by almost 20 points.
Mr Trump, who also calls Mr DeSantis "DeSanctus," said he did not have the same support among groups of Republican voters.
"They keep saying 'I think DeSanctus could do well with farmers,'" he said. "I don't think so. Based on polls, he's not doing ok with anything."
Mr Trump continued his attack that Mr DeSantis wanted to cut Social Security.
"It's not good when you look at statistically how he did on Covid, not good at all," he said. "Look at how does on crime. Not good. We have great Republican governors, actually, who really did much better, who shut down their states for a very short time, or in some cases, didn't shut them down at all."
Earlier this week, Mr DeSantis said he would take no action if Mr Trump had to be extradited from Florida to New York if Manhattan District Attorney Alvin Bragg were to indict the former president. Mr Trump said last weekend that Mr Bragg planned to indict him for allegedly paying hush money to adult film actress to keep quiet about a sexual liaison.
Mr DeSantis took a swipe at Mr Trump during an event earlier this week.
"Look, I don't know what goes into paying hush money to a porn star to secure silence over some type of alleged affair. I can't speak to that," he said.
That earned sharp criticism from Mr Trump and his allies. But Mr DeSantis's numbers had begun to take a hit even before then after a series of missteps and calling Russia's invasion of Ukraine a "territorial dispute."